Netflix's 'Set It Up' Is Restoring Twitter's Faith In The Rom-Com Genre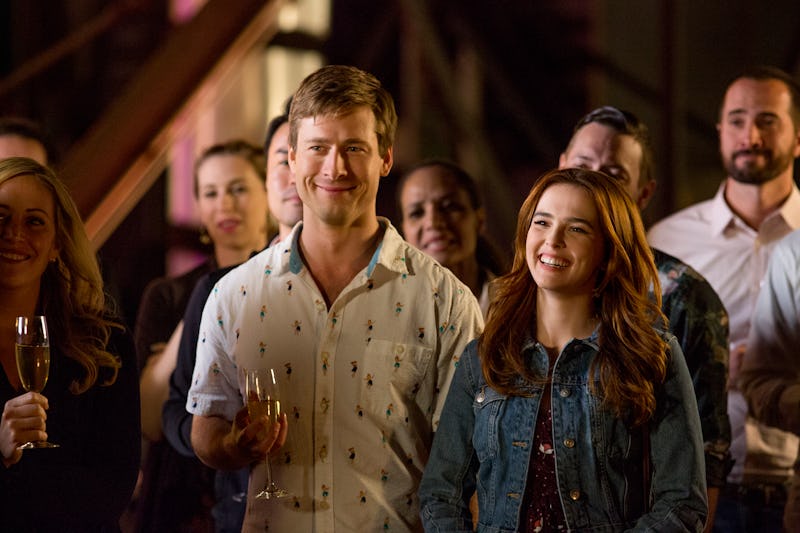 Netflix/KC Baily
If it wasn't for Netflix, the beloved rom-com genre would be as extinct as the dinosaurs. If you've missed the good old days of romantic comedies, you're not alone. Rom-coms have been on a significant decline since the late '90s and early 2000's, when a handful of them even became notable box office performers. There's no shame in loving a lighthearted rom-com, even if they're not the most highbrow, meaningful flicks out there. Still, they've nearly become nonexistent, and that's not cool. Luckily, a new film may be at the forefront of bringing back the genre's glory days and Twitter can't stop talking about how Set It Up is the movie we've been in dire need of.
The premise may be cheesy and lend itself to a predictable outcome, but honestly, who cares?! Isn't that why we love these films to begin with? In Set It Up, two assistants, played by Glen Powell and Zoey Deutch, work together to get their high-strung bosses, played Lucy Liu and Taye Diggs, in love and off their backs. Does it promise some escapism and mindless entertainment? Yes. Does it give hope to every single hopeless romantic working in corporate America? Heck yes. And Twitter is collectively saying amen to that.
Twitter user @astrobalter notes why this return of the rom-com is a significant one. The user tweeted, "ya'll netflix put out this movie called "Set It Up" and its the most wholesome and adorable rom com i've ever seen please watch it." And then they backed up their endorsement by noting that they're a philosophy student who has plenty of reasons to judge the genre.
Other users pointed out how it's reminiscent of the classics that audiences love so much:
And it seems the movie just makes you feel freaking happy. What's the harm in that?
Even though rom-coms have gotten a bad rap in recent years, this one is made for women, by women. And that rocks.
And, bonus, apparently there's an epic pizza scene and it worships food.
But where did rom-coms go anyway? A 2014 piece by LA Weekly points out a few possible factors that contributed to the disappearance of rom-coms. Some include the need to satisfy a younger, teenage audience (and a male audience), bad scripts, a lack of stars wanting to sign up for them, and the massive rise of superhero blockbusters.
In a recent interview with Bustle, Set It Up star Zoey Deutch predicted why the movie could reignite the genre for good. "I don't have delusions of grandeur and I certainly have a cynical side to me so I wouldn't say this lightly, when I say I think this movie will inspire a revamp of rom-coms," she told Bustle mid-June. For starters, the movie doesn't shy away from rom-com tropes fans love, according to the actor. Some include the New York City setting (very When Harry Met Sally), serendipitous run-ins, a kiss cam moment, and women in media (hello, How To Lose a Guy In 10 Days).
While Deutch acknowledged that many rom-coms became formulaic and uneventful, there's also nothing wrong with just wanting to escape. "You want to be able to be like, 'Oh f*ck I had a bad day, I want to just lay in bed and have a glass of wine and watch Set it Up." she said. "We're in such a time of political unrest and we all feel like floundering and like, what the f*ck is going on?" the actor added. "I just I wanna watch things [like Set it Up], I want to escape... I just want to laugh."
Even actor Glen Powell felt immediately drawn to the script and the story. In an interview with Decider, Powell explained why Set It Up was such a special experience. "I feel like it's been a three-year process putting this thing together but it's been absolutely wonderful," he said. "When [Zoey and I met]... we really hit it off... we were always like, 'We gotta make a rom-com together.' It felt like it was in the stars." He also tipped his hat to its female writer, saying, "Katie Silberman... is one of the most intelligent women that I've ever gotten a chance to work with. She is also insanely funny."
If Netflix really does revive the rom-com, it's clear from Twitter that fans will be forever in the streaming service's debt.