Netflix's 'She-Ra' Reboot Will Make You Feel Like A '90s Kid Again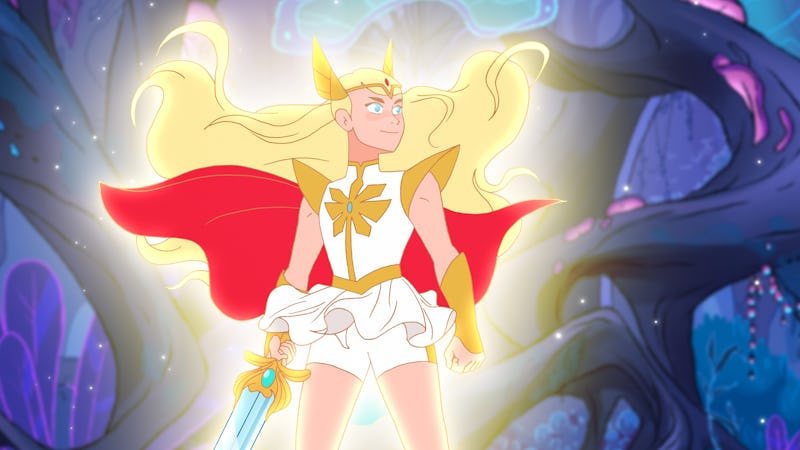 Netflix
She-Ra, Princess of Power was a powerful female character who connected with a generation — but a lot of the jokes, tropes, and characterizations in '80s cartoons can be problematic in retrospect. While recreations or revisits of childhood classics can often feature tone-deaf elements that make us cringe in 2018, the new Netflix adaptation of the Masters of the Universe character from artist and writer Noelle Stevenson is way more likely to make you jump for joy. The new footage and discussion at New York Comic-Con proved that She-Ra and the Princesses of Power is a nostalgic throwback with a modern feel that makes not being problematic look incredibly easy.
Here's the official description of the series from Netflix:
She-Ra and the Princesses of Power is the story of an orphan named Adora who leaves behind her former life in the evil Horde when she discovers a magic sword that transforms her into the mythical warrior princess She-Ra. Along the way, she finds a new family in the Rebellion as she unites a group of magical princesses in the ultimate fight against evil.
Watching the clips at NYCC felt like watching Saturday morning cartoons. The characters have big, sincere personalities; the villains are extra sinister. There are extra-wide grins and plenty of goofy noises. "You really get to go for it," black-ish star Marcus Scribner, who plays Bow, says of making those iconic cartoonish grunts and yells.
"It's fun to go above and beyond what you think you're allowed to do," adds Karen Fukuhara, who plays Glimmer, Bow's fellow rebel and BFF.
Then you start to notice that almost all of the characters on She-Ra are female — and the young women depicted in the animation are not sexualized or drawn with impossible hourglass figures like they are in many comics and cartoons you may have grown up with decades ago. The body positivity in She-Ra and the Princesses of Power is so subtle and effortless that no child will notice, but all children will be impacted. Stevenson has already brought this inclusive style to graphic novels with Nimona and Lumberjanes, and now she's taking on children's entertainment.
Stevenson says she chose to focus on a team of princesses to frame the show in a slightly different way while still "using the pieces that were set up by the original show." These princesses are multi-dimensional, too. Glimmer, for example, is a warrior with insecurities. "She is the daughter of a queen and she wants to just prove herself to her mother and to everyone else," Fukuhara says. "She's struggling with what she can do and what she hopes to do."
Meanwhile, Bow, one of the only boys on the good side, is a supporting character without being made to look emasculated or negatively impacted by his role on the team (though he is a little bummed that he's not a princess too). "I think Bow really brings a different aspect to the traditional male character on animated television show," Scribner says. "He's not down at the forefront like, 'Hey guys, I got this,' — he's there to support Glimmer, he's there to support Adora/She-Ra, he's there to support the rest of the Princesses of Power."
Bow also has two dads, as the NYCC panel let slip, and that small bit of LGBTQ representation in mainstream animation will go a long way.
"I think any kind of art, whether it's animated or live-action or visual or whatever, needs to be reflecting on the times that it's commenting on," says Aimee Carrero, who plays She-Ra/Adora. "I think Noelle does a beautiful job of in a way playing psychic and in a way playing historian — but also very much living in this present universe."
Carrero is no stranger to lending her voice to animated princesses — she also voices Disney's first Latina princess, Elena of Avalor. "I hope little girls, little boys, or anyone of any age and identity can watch this and be like, 'I don't really understand why I connect with it, maybe, but I connect with it on a level that hopefully means something and will be helpful,'" Carrero says.
The other characters and the voice cast are also incredibly diverse — they're almost all actors of color. Not only are Carrero, Fukuhara, and Scribner front and center, the other Princesses of Power and characters on the show include Crazy Ex-Girlfriend's Vella Lovell as Mermista, Hamilton's Jordan Fisher as Seahawk, Motown: The Musical star Krystal Joy Brown as Netossa, Killing Eve's Sandra Oh as Castaspella, Genesis Rodriguez from Big Hero 6 as Perfuma, Orange is the New Black's Lorraine Toussaint as the evil Shadow Weaver, and Reshma Shetty from Royal Pains as Queen Angela.
One of the key relationships in the new series that sets this She-Ra apart from the original and from other similar shows is the one between Catra (played by AJ Michalka) and Adora. In the original animated series, Catra is Adora's former fellow soldier and nemesis — but in the new series, they start off as close friends. It adds several layers to their relationship that gives every time they face off that much more complication, depth, and heartbreak.
"Adora and Catra are so co-dependent at the beginning of the show," says Stevenson. "So much of Adora's journey to being a hero and Catra's journey to being a villain [is] them having to figure out who they are outside of that relationship with each other. It's so fraught. It's so tragic in so many ways, especially for Catra. She takes it really, really, really, personally. For Catra it's personal; for Adora it's ideological."
They're not fighting over a boy. They're not personality-less kick*ss lady assassins. They have a complicated relationship that you rarely get to see between two women at all on screen let alone in a show meant for young girls.
"I think the rallying cry of the show is be brave," Stevenson says. "It doesn't mean that you have to know what you're doing every time. It doesn't mean that you have to get it right every time. If you fall down a hundred times, get up a hundred times and try again. I want people watching the show to see these heroines who are very powerful but also very flawed and see them fail often at the tasks they're trying to complete and not let that stop them. To keep pushing through. That's bravery. It's not letting that make you afraid or not do the right thing."
Thankfully, young girls can be exposed to She-Ra and the Princesses of Power and have all of the fun we had in the '80s and '90s without having to unpack those problematic tropes and cringe later on in life.