Neve Campbell Weighs In On A Potential 'Party Of Five' Reboot, But Leaves One Lingering Question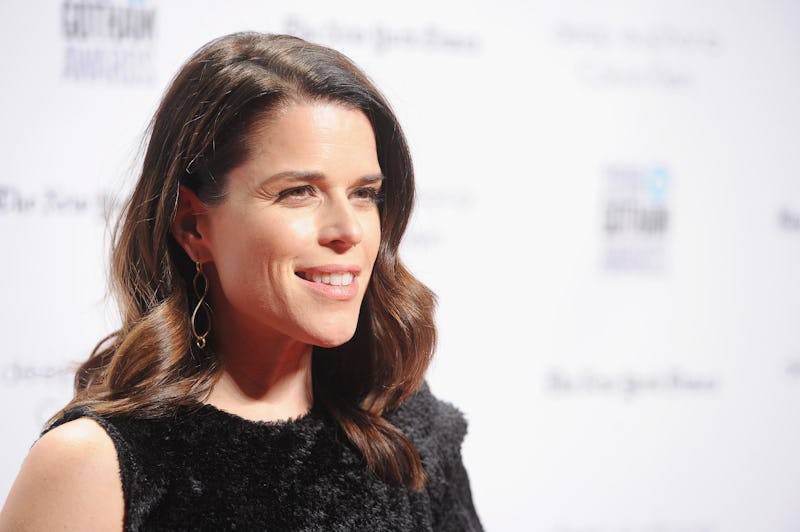 Jemal Countess/Getty Images Entertainment/Getty Images
Remakes are a big business these days, but their success — as well as fans' excitement about reviving beloved series — can be mixed. Neve Campbell is happy about the Party of Five reboot, though, and it sounds like she's all for the show's big plot twist, according to a recent conversation the OG Party of Five star had with Entertainment Tonight.
On July 7, Campbell spoke to ET's Kevin Frazier during a special fan screening of her new film, Skyscraper, in Hong Kong. "I think it's really wonderful," the star said of Freeform's Party of Five reimagining (the original show aired for six seasons on Fox). "I don't know if you heard of the new way they're doing it, but they're going to make it a Mexican family of kids whose parents are taken across the border from them," she explained.
"So, in the same way that our family [the Salingers, on the original show] lost their parents and had to find a way to survive," Campbell continued, "it's going to look at that story, which a lot of people are dealing with so I think it's really prevalent."
Deadline first broke the news that the beloved '90s family drama would be getting the revival treatment back in January, and revealed that the new immigration-themed spin came from the minds of the original show's creators, Chris Keyser, Amy Lippman, and studio Sony Pictures TV.
In addition to Campbell (who played Julia Salinger on the series), Party of Five helped launch the careers of several (then) up-and-coming stars, such as Scott Wolf (Bailey Salinger), Matthew Fox (Charlie Salinger), Jennifer Love Hewitt (Sarah Reeves), and an itty-bitty Lacey Chabert (Claudia Salinger), who was only 8-years-old at the start of the show.
Freeform has yet to make any announcements in regards to who will fill out the new Po5 cast, but none of the original stars have commented on whether or not they'll sign on as guest stars. When Campbell and Wolf appeared on Watch What Happens Live With Andy Cohen back in June 2017, though, they said that having their characters continue on with the old plot "wouldn't make any sense whatsoever," Campbell admitted. "If we haven't gotten over the death of our parents 20 years later, we've got a serious problem," she joked.
Both Campbell and Wolf also told Cohen that they felt like, overall, the various plot lines were generally genuine. "I don't think there was any big moment where its like, 'Ugh, that's so unrealistic,'" Campbell replied when asked whether or not she thought they ever "jumped the shark" over the course of the show's six-season run. "It wasn't that kind of show, I don't think," she said. "No," Wolf added. "It felt really honest, moment-to-moment, as we did it."
It's been nearly 25 years since Party of Five first aired, but now that the show is available in its entirety on Netflix, it's getting introduced to an entirely new generation. It's also getting re-watched by people who grew up with it, and — in Wolf's case — people who grew up on it.
"Now that it's on Netflix, I've had a couple of little, go down the Party of Five rabbit hole moments," the now-50-year-old star confessed. When Cohen asked him if he had a favorite episode, Wolf paused and took a moment to think. "The one that sticks out for me was the intervention episode ["The Intervention," from Season 3]," he said. "Because it's all about [your character, Bailey]," Campbell joked.
There's no news yet about when the Party of Five reboot will air, but it will undoubtedly generate a lot of buzz due to the timely immigration plot twist. It'd be cool to see some of the show's former stars like Campbell and Wolf at least make brief appearances, but for now, fans will just have to wait and see.