The 'Party Of Five' Reboot Has Twitter Buzzing For This Important Reason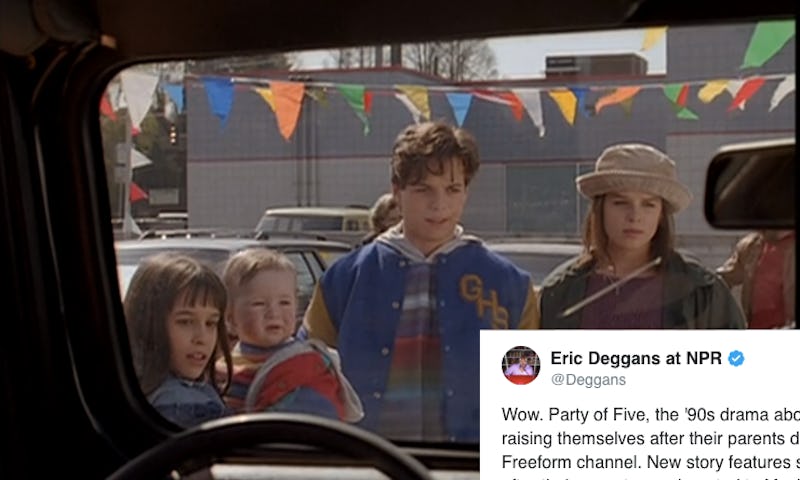 Sony Pictures Television
There's another reboot of a '90s TV show potentially heading your way, but this one comes with a timely twist. Freeform is rebooting Party of Five, the beloved family drama about five siblings left to raise each other after their parents died in a drunk driving accident. Unlike some reboots, Freeform's take on Party of Five is looking to capture the attention of a modern audience by giving the premise a socially conscious update. The five kids in the new Party of Five will be trying to keep their family together after their parents are deported to Mexico.
According to Deadline, Freeform has ordered Party of Five with a put pilot commitment, which means it's likely the pilot will air as a special, even if it doesn't get picked up to series so the network doesn't face a penalty fee. The reboot is being written by the original series' creators, Amy Lippman and Chris Keyser, but they've wisely brought in first-generation American writer Michal Zebede as their co-writer. The pilot is being directed by Rodrigo Garcia, who is also set to serve as an executive producer on this series.
This all suggests that Keyser and Lippman are serious about tackling the subjects surrounding immigration laws in the U.S., and bringing in relevant voices to make sure they get this all-too-familiar American story right. Let's be real, no one needed a series focused on the adult Salinger siblings, but the Buendias kids, who will be at the heart of the reboot, sound like they'll be facing issues that are painfully timely.
While the reboot was only announced on Thursday, Jan. 18, Twitter is already taking notice of the new Party of Five's potential.
Twitter user @TippittJason went so far as to say, "this is the reboot we need," and he's not wrong. While there's nothing wrong with reboots that simply capitalize on nostalgia by reuniting casts or sticking with the exact same premise, it's always nice to see a network add a new twist to a classic idea. By turning the Salingers into the Buendias, the Party of Five reboot is not only becoming a more inclusive series, it's becoming one that can explore the ramifications immigration laws have on a typical modern American family.
At this early stage, the premise is the only thing anyone knows for sure about the new Party of Five, but the potential for the show to address DREAMers is there. If any one of the five children wasn't born in the U.S., then the potential series could add another layer of poignancy and bring awareness of DACA to a wider audience. Add in the drama of the kids' parents still being alive and the family being torn apart by political circumstances, and you have a series that could make viewers cry and think about the reality undocumented immigrants face each day. The original Party of Five was an issue-oriented show, so there's no reason to doubt its successor will be as well — especially with the original creators on board.
Of course, not everyone on Twitter is excited about the possibility of a Party of Five reboot. As is the norm when it comes to these announcements, many people are asking why the show needs to be remade or they're worried about the show's legacy being tarnished somehow. These concerns plague most reboots, but in the case of Party of Five, the creators seem to have an excellent reason to revisit the premise: because it could be impactful and speak to a new generation.
There are few reasons to produce a reboot that are more valid than those two. While having a politically relevant premise doesn't automatically guarantee the potential series will be good, it does give it a hook that could draw in both fans of the original and a younger group of viewers who may have never heard of the Salingers.
Freeform hasn't formally ordered the Party of Five reboot to series just yet, but the show already has people talking about an important topic, which is further proof that this timely reboot may be exactly what the TV landscape needs right now.