Sean Spicer Was Once A White House Easter Bunny (Yes, Really)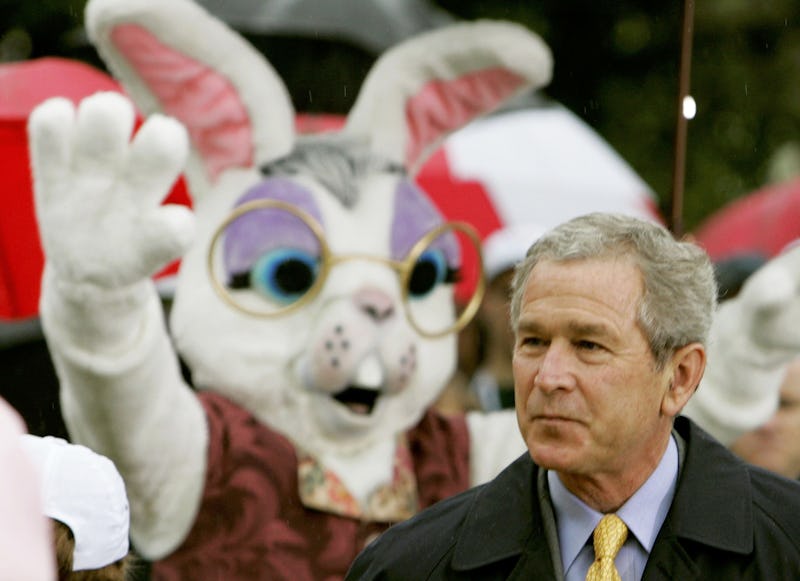 Mark Wilson/Getty Images News/Getty Images
As Easter Sunday approaches this weekend, the White House is also busily gearing up for Monday's traditional White House Easter Egg Roll. While the White House Easter celebration will be a new endeavor for many members of the Trump administration, one has particularly specialized experience: Sean Spicer, a former White House Easter Bunny and current White House Press Secretary.
During the George W. Bush administration, Spicer served a assistant United States trade representative for media and public affairs. He also volunteered as one of the White House Easter Bunnies several times during the annual White House Easter Egg Roll.
The Easter Egg Roll constitutes a tradition that was started in 1878 during Rutherford B. Hayes' administration, when President Hayes opened the White House lawn to children desiring to roll their Easter eggs after they were rejected from the U.S. capitol lawn. Since that time, the event has become one of the most time-honored White House traditions. In 1969, the Nixon administration introduced the first official White House Easter Bunny, who has been a staple of White House Easter Egg Rolls ever since. Multiple White House staffers typically serve as the Easter Bunny during the Egg Roll and, for two years during the second Bush administration, Spicer was one of these bunnies. Indeed, Spicer seems quite proud of this role and has directly acknowledged his former White House bunny service on his official GOP biography.
Before his time as Trump's Press Secretary, Spicer gave a particularly endearing interview in 2008 about the logistics of serving as the Easter Bunny and what the role meant to him. In regards to logistics, Spicer emphasized to Politico that the bunny costume was "very hot" and that he "[couldn't] see too much" in it. He also explained that the bunny "does not talk" and requires a "handler" to help him get around.
However, despite the vision constraints and excessive heat from the costume, Spicer seemed to genuinely enjoy the role. He explained his passion for playing the role of the bunny to POLITICO, saying:
Kids love the Easter Bunny. There is something real special about seeing all the families on the White House lawn .... every child is special on this day. Most children are so excited to see the bunny that they are on their best behavior. I really get a kick out of the ones that thank the bunny for their basket or a gift they got on Easter.
Clearly, serving as the White House Easter Bunny many years ago seemed to hold a special place in Spicer's heart. Now, maybe Spicer will revive the coveted role during this year's White House event. Then again, maybe he feels he has moved beyond Easter Bunny duties.