These Photos From The New Season Of 'Fear The Walking Dead' Are Full Of Tantalizing Clues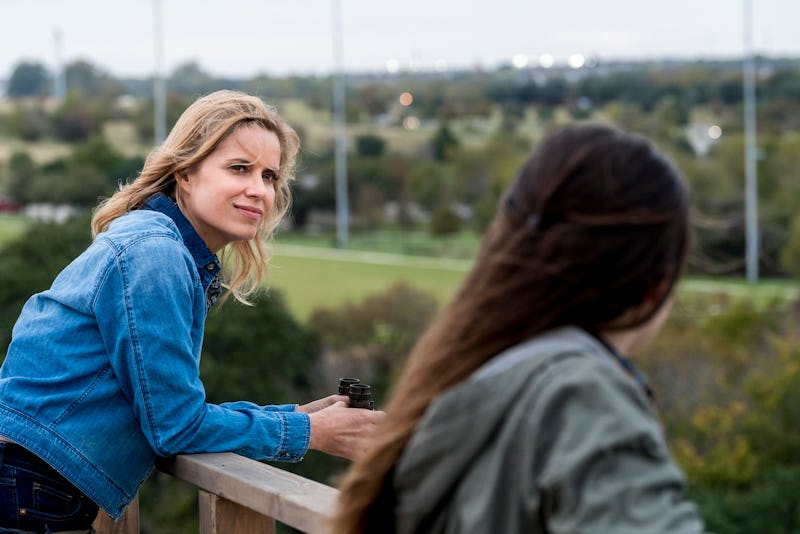 Christine Ramage/AMC Networks
Fear The Walking Dead Season 3 ended with a series of potential disasters that left everyone's fate up in the air. They literally broke a dam — the ultimate metaphor for change and revelation. In Fear The Walking Dead Season 4, which premieres April 15, the family is on the move again, and encountering some (hopefully) friendly new faces. These exclusive preview photos from the upcoming season are full of clues about what's happening next.
Here is an official description of the new season from AMC:
"In Season 4 of Fear the Walking Dead, we will see the world of Madison Clark and her family through new eyes — the eyes of Morgan Jones, joining the story from the world of The Walking Dead. The characters' immediate past mixes with an uncertain present of struggle and discovery as they meet new friends, foes and threats. They fight for each other, against each other and against a legion of the dead to somehow build an existence against the crushing pressure of lives coming apart. There will be darkness and light; terror and grace; the heroic, mercenary, and craven, all crashing together towards a new reality for Fear the Walking Dead."
It's still not clear (get it) exactly when in Morgan's story he encounters the cast of Fear, given the staggered nature of the two series. The spin-off premiered several seasons into the original series, but Season 1 of Fear The Walking Dead initially took place during the 4-5 weeks that Rick Grimes was in a coma, before he ever met Morgan on The Walking Dead. How much time has passed for Madison and her family during the first three seasons of Fear? Hopefully Morgan's arrival with give us some answers.
Here's what else we can expect from the new season. Above is Madison and what looks like the back of her daughter's head, looking out over a lush landscape with binoculars and everything. Is this a new safe haven? Fear The Walking Dead is mostly cast in sepia tones. If you look closely, the glints and glares from what might be electrical lighting could indicate that this is a flashback. Is this the "immediate past" that the press release is alluding to? Madison is such a fascinating and complex character, it's always good to learn about what she was like before the apocalypse.
Next up is a look at the new Season 4 character, John, played by Garrett Dillahunt — who you might recognize from Deadwood and/or The Mindy Project. By the looks of his costume, he's rocking a steampunk aesthetic and by the looks of his environment, he knows how to survive.
"John is a man of fascinating contradictions," said co-showrunner Ian Goldberg in an interview with Entertainment Weekly. "He loves people but has spent a great deal of time on his own. He's a gentle soul — an innocent in many ways — but is no stranger to violence. He can be soft-spoken and disarmingly funny all at once."
The back of that truck, or house, certainly looks like someone who has made a solitary home. Will he turn out to be a villain? According to The Hollywood Reporter, Dillahunt once campaigned to play Negan in the AMC universe, before Jeffery Dean Morgan went to bat in the role.
"When we started to think about an actor who could embody all these contradictions and then some, our minds immediately went to Garret Dillahunt," added Goldberg. "It's been so much fun watching Garret breathe life into the role and to see his character navigating the FTWD world."
The next photo, just of this former police vehicle, shouldn't be too surprising for fans of the series. Fear The Walking Dead has always included a lot of military/law enforcement imagery. Not too much that fans can glean from this image until we know who or what is inside it. Possibly John, by the looks of the windows? We'll see.
Before you ask, that's not the same jean jacket that Madison is wearing in the above photo. So, we know that both Alicia and Nick survived, and are together. They appear to be encountering a new threat.
Who's that third, blurry person? It looks like it might be Lee, also known as Crazy Dog. At the end of the Season 3 finale, their intended destination was Houston, TX thanks to the villainous Proctor John. Do they make it? Is Alicia finally in charge?
There are so many questions left to answer when Fear The Walking Dead returns — but as for new threats, the West Coast survivors are more than capable.