These New Statistics On Opioid Overdoses In The U.S. Are Absolutely Daunting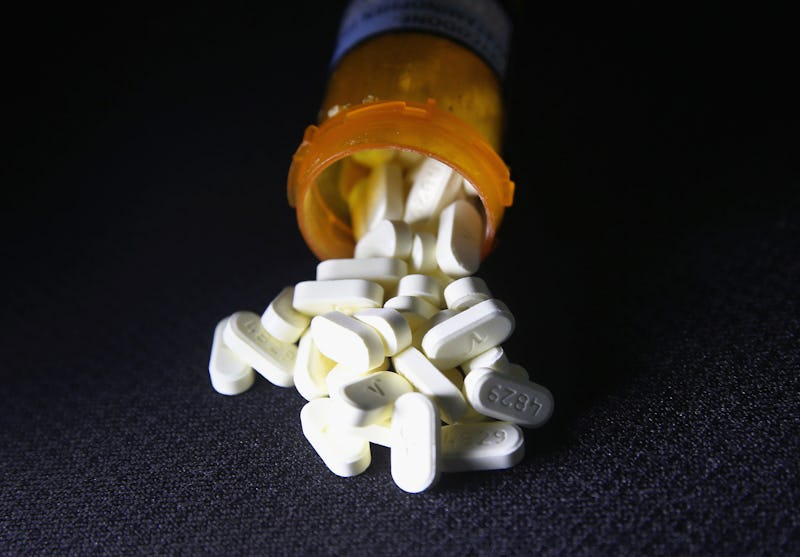 John Moore/Getty Images News/Getty Images
According to the U.S. Department of Health and Human services, 116 people die from opioid-related overdoses every day. These numbers reached record highs in 2016, prompting President Trump to temporarily declare a state of emergency in late 2017, but new opioid overdose statistics analyzed by Salon show the crisis could actually be getting worse.
Data from the Centers for Disease Control and Prevention show a 6.6 percent increase in provisional drug overdose deaths between 2016 and 2017. According to the CDC, nearly 72,000 people died from drug overdose in 2017. The graphed data can be isolated by drug type, showing the immense hold opioids have on society.
Of the nearly 72,000 deaths, over 48,000 are from opioid overdoses alone — a new record high. That's 8,000 more than the number of fatalities from 2017 car accidents, according to the National Safety Council.
While a handful of states saw a decrease in all drug deaths between 2016 and 2017, the majority of the United States saw an increase. In particular, Nebraska, North Carolina, New Jersey, and Indiana report the highest percent increases, ranging from 14.5 percent to just over 33 percent.
Unfortunately, the opioid epidemic is nothing new. Abuse of prescription drugs and dangerous synthetic counterparts have become increasingly common, so much so that drug overdoses became the leading cause of death for Americans under 50 last year, The New York Times reports.
Many Americans suffering from chronic pain or cancer are first prescribed legal opioids (such as OxyContin and Vicodin) for legitimate reasons, but then become addicted. From there, they may turn to synthetic versions of the drug, primarily fentanyl. According to a research letter from the American Medical Association, almost half of all drug overdoses in 2016 were caused by synthetic opioids.
For young people growing up in this environment, opioids pose a unique threat. "I would say the biggest problem with opioids is the reservoir of prescription medications that can be found in medicine cabinets in homes around the country," Sharon Levy, director of the Adolescent Substance Abuse Program at Boston Children's Hospital, told Bustle last year. "Many of those pills were prescribed to someone else in the family and are just sitting around in places where kids can get into them."
The nation's glut of opioids can also be traced to over-prescribing. According to the CDC, U.S. sales of prescription opioids nearly quadrupled between 1999 and 2014, but there was little change in the amount of pain Americans reported. During this time, deaths from opioid overdoses increased with a similar trend.
In an attempt to abate this issue, the U.S. Drug Enforcement Agency and the Department of Justice last week proposed to cut 2019 production quotas for some of the most abused opioids. The Department of Justice also announced Wednesday that it's successfully arrested several dark net fentanyl vendors as a part of "Operation Darkness Falls." This ongoing program fights opioid trafficking into the Unite States.
Awareness of the issue is also increasing. In a March 2018 special report, TIME magazine published a series of photos titled "The Opioid Dairies," telling the stories of individuals whose lives and families have been hurt by opioid addiction.
Despite these efforts to ease the crisis, professionals don't expect a sudden improvement in opioid abuse numbers. Society maintains a lot of stigma around addiction: the American Society of Addiction Medicine defines addiction as a chronic medical condition, but some people see the resulting substance abuse as a choice. Thus many people addicted to opioids don't seek the help they need.
"Because it's a drug epidemic as opposed to an infectious disease epidemic like Zika, the response is slower," Dan Ciccarone, a professor of family and community medicine at the University of California, San Francisco, told The New York Times. "Because of the forces of stigma, the population is reluctant to seek care. I wouldn't expect a rapid downturn; I would expect a slow, smooth downturn." Only the 2018 data will be able to determine whether that downturn happens.