Nick Carter Has Denied Raping Dream Singer Melissa Schuman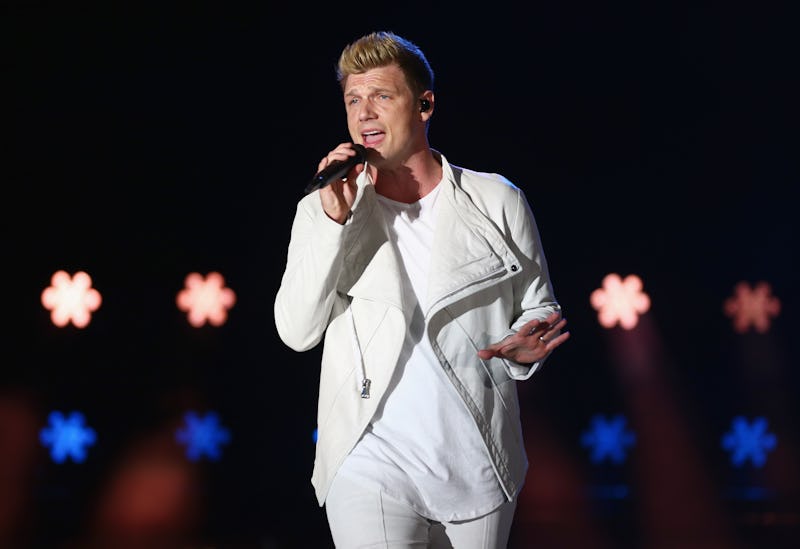 Rich Fury/Getty Images Entertainment/Getty Images
The day after allegations of sexual assault made by Dream singer Melissa Schuman made headlines, Nick Carter has denied Schuman's claim of rape. In a statement sent to Bustle via his rep, Carter says,
I am shocked and saddened by Ms. Schuman's accusations. Melissa never expressed to me while we were together or at any time since that anything we did was not consensual. We went on to record a song and perform together, and I was always respectful and supportive of Melissa both personally and professionally. This is the first that I am hearing about these accusations, nearly two decades later. It is contrary to my nature and everything I hold dear to intentionally cause someone discomfort or harm.
On Tuesday, Schuman's allegations drew much media attention even though it had been nearly three weeks since she first voiced her claims on her blog, Melissa Explains It All. In a Nov. 2 post, Schuman claimed that years ago, when she was 18 (Schuman is currently 33) and in the girl group Dream, she was hanging out with Carter, a friend of hers, and a friend of his at Carter's apartment in Santa Monica. At the time, Schuman says she and Carter had been cast in the same made-for-TV movie.
While at Carter's apartment, Schuman claims that he asked her to come to his office to listen to music he was working on, which she says she did. While listening to the music, Schuman writes that "naturally we started to kiss." It was at this point that she claims things took a turn.
Schuman claims that he took her hand and brought her into his bathroom. She claims she asked what they were doing in there, but he allegedly unbuttoned her pants and performed oral sex on her even though she claims she asked him to stop. Schuman then claims Carter asked that she perform oral sex on him. She claims she did so because he allegedly got upset when she initially declined and that she could not see a way out of the situation. After that, Schuman claims that Carter took her to his bedroom where he allegedly raped her.
In her blog post, Schuman also notes that she was a virgin and that it was very important to her that she only lose her virginity once she was married. She claims that this is something Carter was aware of and that she brought up during the alleged assault. "He was aware that I was a virgin and that I held to religious conservative christian values," Schuman writes. "I was vocal about this. Everyone knew about this, including those who repped me."
Schuman claims that after the alleged assault, Carter tried to contact her for weeks. Eventually, Schuman says that her manager set up a showcase for her for a major label at which she was to perform a duet with Carter. She says she decided to perform the duet because, "I tried to justify that maybe something good to come out of something very bad. Maybe this song might help me get signed as a solo artist and I could move on and put everything behind me."
Schuman says that she decided to voice her allegations now, not because of the numerous sexual assault claims currently coming out about powerful famous men, but because she promised herself "that if another victim ever came forward I would then feel the responsibility to show my support by sharing my story." She says she saw an October 2017 Radar Online story about an investigation of alleged sexual assault by Carter involving an anonymous fan in 2006. (Carter denied the claims of assault via a statement from his rep to Radar.) In the comments of that story, Schuman says she saw the alleged victim being shamed, which led her to voice her own allegations.
Schuman finishes her post, writing, "I feel I have an obligation now to come forward with the hope and intention to inspire and encourage other victims to tell their story. We are stronger in numbers. If you are reading this and you have been assaulted, know you don't have to be silent and you are not alone. I know it's scary. I'm scared."
If you or someone you know has been sexually assaulted, call the National Sexual Assault Telephone Hotline at 800-656-HOPE (4673) or visit online.rainn.org.