Nick Carter Is Accused Of Sexual Assault By Dream's Melissa Schuman — UPDATE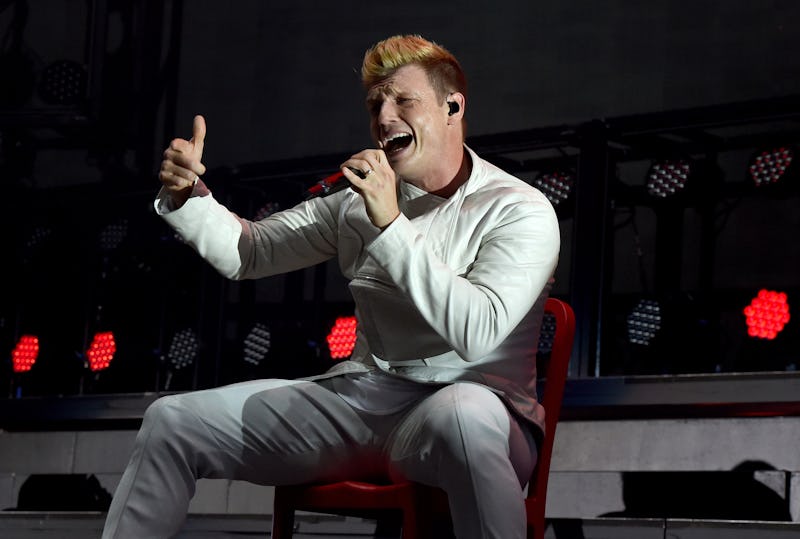 Kevin Winter/Getty Images Entertainment/Getty Images
In the wake of the recent allegations that have been brought against many members of the entertainment industry, former Dream singer Melissa Schuman claims that Nick Carter sexually assaulted her when she was 18 years old. Schuman — who was in the early '00s pop group alongside an original roster of Holly Blake-Arnstein, Ashley Poole, and Alex Chester — wrote an extensive post on her blog, Melissa Explains It All, in which she detailed an alleged encounter with the former boy bander that occurred in the early '00s. Carter has yet to publicly comment on these allegations. (Bustle has reached out to Carter's reps and Schuman's rep for comment, but did not receive an immediate response.)
UPDATE: On Wednesday, Carter's reps released a statement to Bustle that read:
"I am shocked and saddened by Ms. Schuman's accusations. Melissa never expressed to me while we were together or at any time since that anything we did was not consensual. We went on to record a song and perform together, and I was always respectful and supportive of Melissa both personally and professionally. This is the first that I am hearing about these accusations, nearly two decades later. It is contrary to my nature and everything I hold dear to intentionally cause someone discomfort or harm."
EARLIER: According to Schuman, she was reportedly told by her label's rep that Carter had romantic feelings for her, and though she was dating someone at the time, she agreed to speak with him on the phone. She claims that a few years later when they were cast in the same television movie, he reportedly invited her to hang out at his Santa Monica apartment on their day off, which she agreed to and brought her roommate along. It was at that apartment that Schuman claims that Carter sexually assaulted her, after allegedly bringing her upstairs to his office to listen to new music he claimed to be working on.
When the two were together, Carter allegedly brought Schuman into the bathroom, and here's what she claims happened next:
"He shut the door and we continued to kiss. I asked him what we were doing in there. He didn't respond and continued to kiss me. He then pick me up, put me on the bathroom counter and started to unbutton my pants. I told him I didn't want to go any further."
After that, Carter allegedly performed oral sex on her. When he allegedly asked her to return the favor, Schuman declined. "I felt scared and trapped. He was visually and clearly growing very angry and impatient with me. I couldn't leave," she wrote.
As for what allegedly happened next, the story becomes more graphic. Schuman claims that Carter then brought her into the bedroom, and despite her saying that she was a virgin and saving herself for her future husband, he didn't listen and allegedly forced himself inside her. "He was relentless, refusing to take my no's for an answer. He was heavy, too heavy to get out from under him. Then I felt it, he put something inside of me," Schuman claims.
The Dream singer claims he repeatedly called her after and demanded he speak with her, but she did not answer. She also thought she'd never see him again, but then signed with his manager and the two performed a duet together. However, when they went to perform the song at a live showcase, she and Carter allegedly had a tense interaction once she admitted she had a boyfriend. After the performance, Schuman claims she was told her vocals were "weak" and that they were taking the song elsewhere.
"I quickly lost interest in pursuing a career as a recording artist," she wrote in the blog post. Schuman also describes feeling "broken," "tired," and "traumatized" by the alleged incident. And while she admits reliving the situation is "painful," Schuman says that she promised herself that she would speak out "if another victim ever came forward I would then feel the responsibility to show my support by sharing my story."
While the singer writes that she doesn't want to be "known" for this, she also feels obligated to speak out "with the hope and intention to inspire and encourage other victims to tell their story." To other alleged victims, she writes, "I believe you. I stand with you and together I hope we can bring light to things that have been lost in the darkness for so long."
After sharing her story, Schuman then thanked fans for their support, tweeting on Tuesday,
"I just want to thank everyone for the outpouring of love and support. Thank you for bearing witness to my story. Thank you for providing me a safe place to be open and vulnerable. I love you all. Thank you for aiding me in the healing that I so desperately needed. I am free now."
If you or someone you know has been sexually assaulted, call the National Sexual Assault Telephone Hotline at 800-656-HOPE (4673) or visit online.rainn.org.
Additional reporting by Kadeen Griffiths.