Nick Jonas Just Shared A Rare Photo Of His Vacation With Priyanka Chopra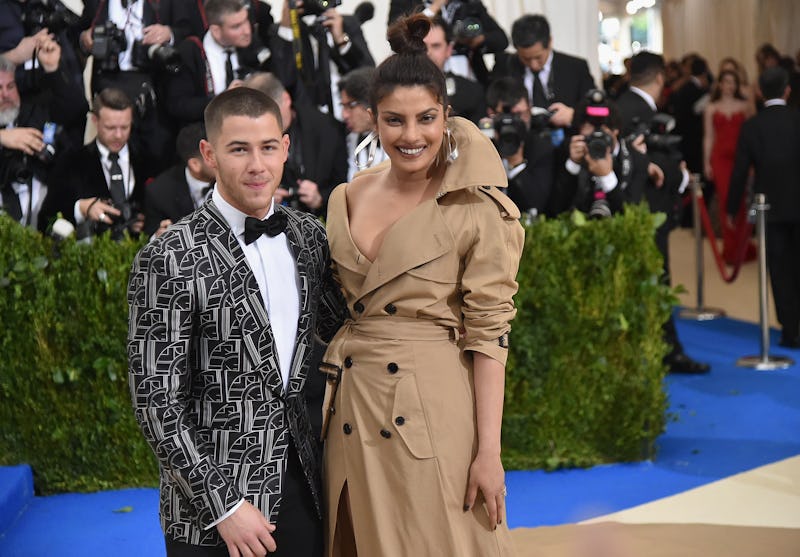 Mike Coppola/Getty Images Entertainment/Getty Images
Nick Jonas and Priyanka Chopra are two halves of a mysterious, enigmatic, glamorous celebrity couple, and people are always itching to know more about their notoriously private relationship. That's why when Nick Jonas and Priyanka Chopra vacationed in the mountains, and Jonas posted a rare photo credited to his fiance, it was a subtle, but meaningful gesture.
The pair has been more inclined to share details about their romance in recent months — they confirmed that they were engaged on Instagram in what appear to be coordinated posts on each of their feeds — but even that carefully curated move drove home the idea that they're working together to share exactly as much of their personal lives with the public as they choose.
But as they inch closer and closer to whatever wedding plans will inevitably unfold, Chopra and Jonas appear to be settling into their permanent lives together, and that could include sharing vacation snapshots of more of their intimate moments together. In a post late Saturday night, just days after they were reportedly in Mexico, the musician shared a photo of himself enjoying a Coors Light while perched atop a beautiful peak, and he credited Chopra in the caption as the person who took the photo.
It's a tiny treat, but it's one that anyone who's been keeping up with the couple will enjoy. Chopra herself didn't appear in the photo, though People reported the Quantico star's Instagram story included footage of their vacation spot, which she deemed "magical." People also stated in the same article that the spot featured in the photo is Mammoth Mountain, California, and that it's a retreat Jonas has visited frequently over the years.
Jonas and Chopra have stepped out together in the past, including, notably, at 2018's Met Gala — and it really can't get any more glamorous than that. However, since they became a couple, the two have avoided public outings such as red carpets, preferring to keep their relationship out of the media as much as possible. Chopra in particular has spoken out about how she doesn't want to divulge every detail of what goes on behind closed doors. "My entire life — my personal life — is not for public consumption," she said at a Q&A panel earlier this month, according to E! News. "Ninety percent of my life is for public consumption, but 10 percent is for me. I'm a girl; I have the right to keep that to myself."
The stress of dating in the public eye, especially when you're a longtime actor with countless credits under your belt, and your partner is a musician fans swoon over, can't be easy. And Chopra said she doesn't feel the need to entertain everyone's questions, no matter how intrigued they might be. "My family, my friendships and my relationships are things I don't think I need to defend or explain to anyone," she continued in the same piece. "I am not running for office, so I don't think I need to give explanations."
She's totally right — Jonas and Chopra may seem elusive, but really, they're probably just attempting to maintain some sort of normalcy away from prying eyes. That doesn't mean fans won't get excited when the couple does give away a little nugget of information — but at least we can all know they're doing things on their own terms.