OMG, Nick Jonas & Priyanka Chopra Just Confirmed Their Engagement In A Super Sweet Way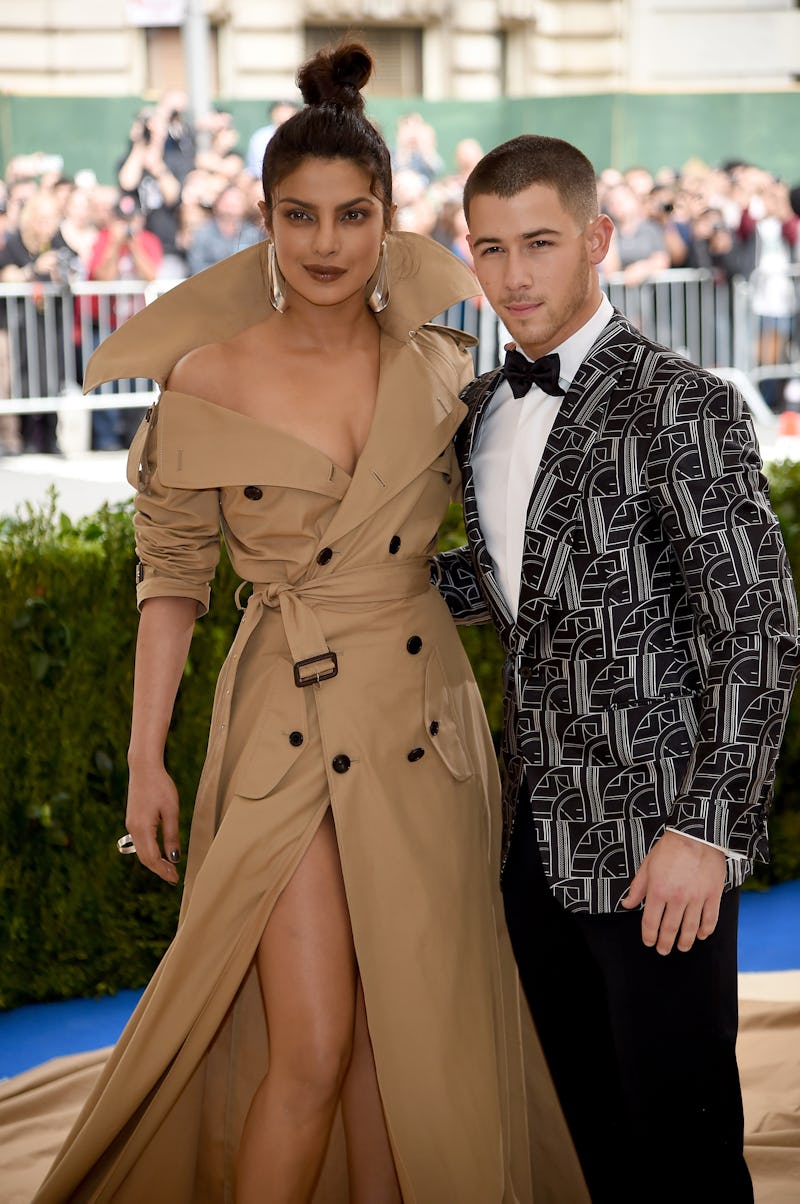 Dimitrios Kambouris/Getty Images Entertainment/Getty Images
After tons of speculation and "congratulations" getting thrown around, it happened: Nick Jonas and Priyanka Chopra confirmed their engagement — and they did so in such a lovely way. Early Saturday morning, Chopra and Jonas took to Instagram to share a brightly colored selfie, gazing into one another's eyes. And as fans would hope, Chopra's engagement ring is on full display (and yes, it is stunning).
In the caption, the Quantico actor wrote, "Taken.. With all my heart and soul.." As the geotag indicates, the snapshot is from their recently rumored trip to Mumbai, where their families were supposed to meet. That theory was confirmed by another photo gallery Chopra posted to Instagram, showing the Jonas and Chopra fams posing together. She captioned the series of images, "The only way to do this... with Family and God. Thank you all for your wishes and blessings."
As for the future groom, Jonas shared the same selfie with Chopra and wrote, "Future Mrs. Jonas. My heart. My love." Not only that, but Jonas also commented on Chopra's pic too. The singer jokingly wrote, "Wow congrats... He's the luckiest guy in the world," along with a smug face emoji and a heart. For a couple that previously kept things so under wraps, they're really embracing their relationship in the spotlight finally and no wonder they're so happy.
Almost as soon as Chopra and Jonas posted the image on Saturday morning, the celebratory comments flooded in. At the time of reporting, Chopra's pic was posted just four hours ago and has nearly 2.5 million likes. Sure, people were excited about the engagement when it was merely a rumor back in July, but this is next-level joy — and it's totally warranted. Finally, they're sharing their love story on their terms and they genuinely seem thrilled.
If you're just catching up to speed, Chopra and Jonas first were spotted together in May 2017 when they attended the Met Gala, but they spun it as a friendly scenario. It wasn't until an entire year later, May 2018, that the dating rumors actually began. That month, they reportedly saw Beauty and the Beast Live at the Hollywood Bowl, spent Memorial Day Weekend together on a boat, and the rest is history.
Aside from the occasional flirty Instagram comment, there wasn't really concrete confirmation that these two were really a thing. But then, in July, the engagement rumors spread like wildfire According to People, Jonas closed an entire Tiffany's store to buy a ring before asking Chopra to marry him on her 36th birthday in London. If that really is the way the proposal went down, it's over-the-top yet undeniably adorable.
Earlier this month, Chopra talked about keeping her personal life private while appearing on a panel. According to E! News, the actor told the audience,
"My entire life — my personal life — is not for public consumption. Ninety percent of my life is for public consumption, but 10 percent is for me. I'm a girl; I have the right to keep that to myself."
She also said, "My family, my friendships and my relationships are things I don't think I need to defend or explain to anyone. I am not running for office, so I don't think I need to give explanations." That's a totally fair explanation; just because she stars on screen, it doesn't mean her personal life should be an open book. And that also adds context to why Chopra and Jonas took their time confirming the rumors — they waited until they were actually ready.
Now that the news is out there, fans can officially celebrate. It looks like Jonas and Chopra are getting their happily-ever-after, and it's so sweet to see.