Nick Jonas & Priyanka Chopra's Heartfelt Wedding IG Posts Are All About Family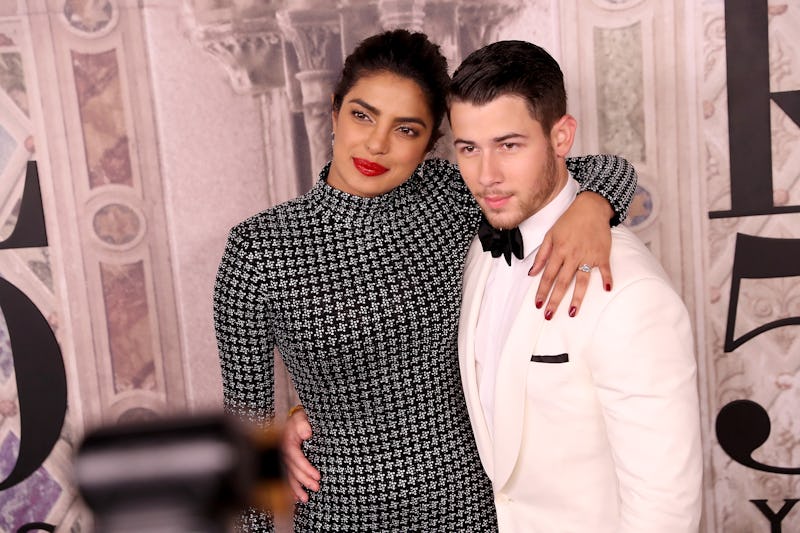 Rob Kim/Getty Images Entertainment/Getty Images
Just four months after getting engaged, Nick Jonas and Priyanka Chopra are officially married. The two tied the knot on Saturday (Dec. 1) at the Umaid Bhawan Palace in Jodhpur in what sounds like an elegant affair. Unfortunately, fans are still waiting to see the photos, but thanks to Jonas' wedding Instagram fans are getting a beautiful peek into the lead up to their big day. It's Jonas' caption, though, which is all about what it means to have Chopra and her family in his life, that will warm your heart. Seriously, grab the Kleenex, you're gonna need them.
"One of the most special things that our relationship has given us," Jonas wrote, "is a merging of families who love and respect each other's faiths and cultures. And so planning our wedding with an amalgamation of both was so amazing." According to People, Jonas' dad Paul Kevin Jonas, Sr. officiated the Christian ceremony. On Sunday (Dec. 2) the two will continue their wedding festivities with a Hindu ceremony in honor of Chopra's faith.
To show that love and respect, Jonas' photos weren't of their wedding, but of the Mehendi ceremony. This is an important part of a Hindu bride-to-be's wedding celebration in which she gets henna painted on her hands and feet with her family and friends all around her. And Jonas knew it was very important for Chopra to have the celebration be exactly what she wanted. That meant it would also be another way to bring their families and their cultures together.
"Once again," Jonas wrote of the Mehendi ceremony, "we made it our own and it was an afternoon that kicked off the celebrations in the way we both dreamed." No surprise, these colorful photos, which Chopra also shared on her IG with the same caption, show just how dreamy this celebration was.
This album of pre-wedding photos includes shots of the two laughing together with Chopra wearing a vintage Abu Jani Sandeep Khosla 48-multipanelled organdy sherwani embellished in silk detailing. The event was co-ed with Jonas, who also wore AJSK, getting his own celebration with Chopra's family. Not to mention, his own henna tattoos on his hands, which he shows off in the photos.
The Jonas contingent was also well-represented with Sophie Turner, Joe Jonas' fiancée making an appearance in the photos, laughing right alongside the bride. What stands out about these pics is just how happy everyone looks to be celebrating these two.
The couple, whose official name is now NickYanka, also doesn't seem to be taking themselves too seriously. Their wedding welcome bags certainly proved this. According to Entertainment Tonight, they included a 'Taste of India,' which gifted guests "traditional foods, spices and treats from India so guests can get a taste of Priyanka's culture."
Jonas and Chopra also provided their guests with something so extra it's hard not to love it: an "Oh Sh*t Kit," for anyone who has a little too much fun during the festivities and needs a hangover cure.
Clearly, NickYanka is making the most of their nuptials and bringing their friends and family along for the ride. Even better, they've made sure everyone is prepared for any bumps in the road by packing extra aspirin.