Sophie Turner & Joe Jonas Look Like They Had The BEST Time At The US Open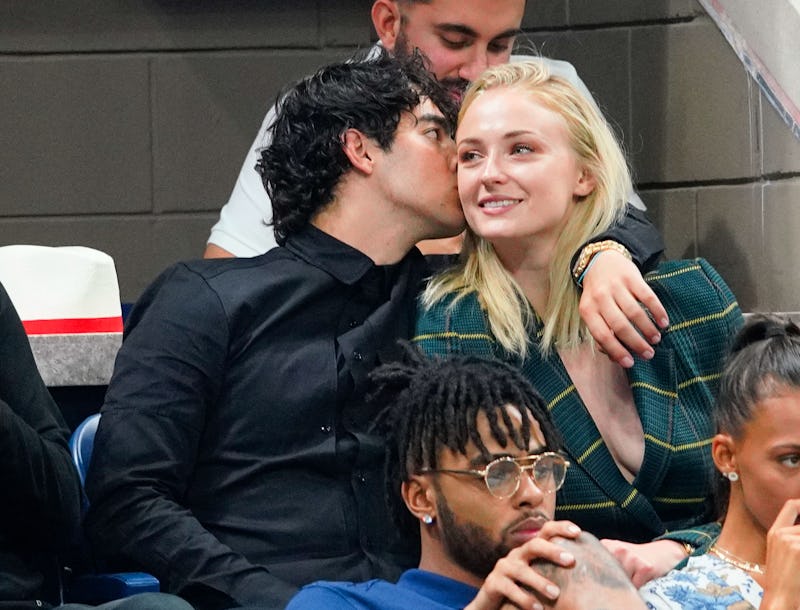 Photo by Gotham/GC Images
It's official: the celebrity couple that knows how to have the most fun is Sansa Stark and the coolest Jonas Brother. Over the weekend, Sophie Turner and Joe Jonas attended the U.S. Open, and the photos are a priceless look at just how wonderfully playful these two can be. The couple is notorious for messing with the paparazzi, but they took things to a whole new level this time. Forget that epic living art reenactment from earlier in the summer, they stole the show at the U.S. Open — and that's no easy task when there are actual living legends like Serena and Venus Williams on the court.
The photos of Jonas and Turner at the event are truly a journey. There's some sweet PDA, impressive reaction shots, and at one point, Turner pretends to be pregnant by stuffing a seat cushion under her jacket. Seriously, there are enough twists and turns to fill a season of Game of Thrones. One thing is clear throughout, these two seem to compliment one another beautifully. And they definitely share a healthy sense of humor.
In October, Jonas and Turner announced their engagement on Instagram. They haven't shared a date for their wedding just yet, but whenever they do tie the knot, you can bet there will be some laughs at the ceremony. One thing this couple has made clear is that they make their own fun wherever they go.
Before the shenanigans got underway, the couple made time for some PDA. And look, PDA can be annoying sometimes, and it shouldn't be charming at a sporting event. And yet, it totally is when it involves Turner and Jonas. Seeing how genuinely affectionate they are is a sweet reminder of just how perfect these two celebs appear to be for one another.
PDA aside though, it's the hijinks that really made their day at the U.S. Open so unforgettable. Like that time Turner showed off her jazz hands.
It's unclear what prompted such a pure expression of joy, but let's just pretended it involved one of the Williams sisters doing something awesome. Yes, there were probably other tennis players there, but the idea that one of the Williams sisters could make the person who plays Sansa Stark that happy is priceless. Either way, Turner is clearly celebrating something, while Jonas looks super proud... or maybe bemused? It's a fun face, no matter what prompted it.
And then Jonas disappeared for a second — presumably to get food, because he's pictured with what could be fries in later photos — and Turner used his time away to stuff a seat cushion under her jacket and pretend to be pregnant. The official Getty caption for the images literally reads: "Joe Jonas and girlfriend Sophie Turner who jokingly pretends being pregnant by putting a seat cushion under her vest attend the Serena and Venus Williams' third round match on day 5 of the 2018 tennis US Open."
Now, there's no way to know exactly what Turner said to Jonas when he returned, but wouldn't it be great if she just very seriously looked at him, and said, "So, I have some news...".
The duo then went on to give the players what looks like a standing cheer, while holding hands.
If it's true that pictures are worth a thousand words, then it's pretty clear from these photos that Turner and Jonas had the best time at the U.S. Open.