Nick Kroll On Body Positive 'Sing' Character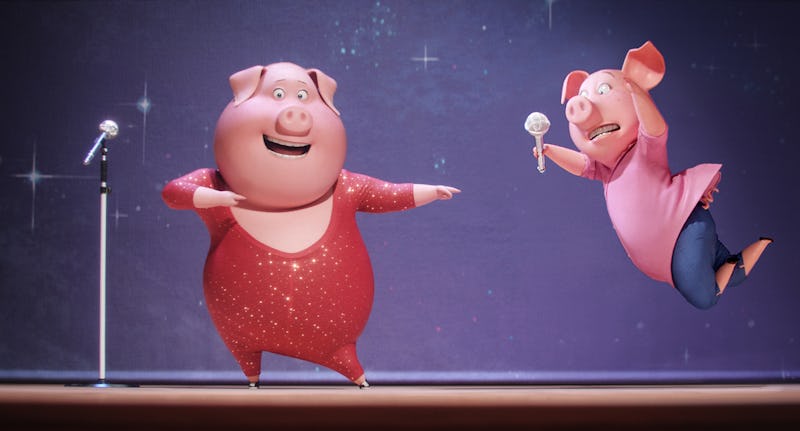 Illumination Studios
Comedic actor Nick Kroll is no stranger to animated films. Kroll took on the role of a singing pig in Sing most recently, and had a thing to say about self love and body positivity in a special behind-the-scenes clip. I know what you're thinking — and yes — the Sausage Party actor cleaned his often crude mouth for the role, but with a laugh, of course. In fact, when speaking about his character Gunter in the 2016 hit, the Oh Hello star couldn't help but crack a warm and fuzzy smile.
In case you're unfamiliar, Sing, (out on Digital HD and available on Blu-ray/ DVD March 21) is the story about an ambitious koala bear who throws a massive singing competition to save his beloved theater. Neighboring animals participate, most of whom haven't even thought about pursing a career in the arts — making for one heck of an entertaining show. Kroll's character Gunter, was made for the stage and his "piggy power" motivates everyone to give it their best shot — namely, Reese Witherspoon's reserved and inspiring character, Rosita.
Kroll sat down recently to talk about his life-of-the-party character, and all the things he admires about him. And if you aren't running to the theater to check out the film yet, you totally will by the end of the clip.
Along with Kroll and Witherspoon, the film also stars Matthew McConaughey, Scarlett Johansson, Seth MacFarlane, Jennifer Hudson and John C. Reilly. And it's mix of not-so child friendly jokes and awesome dance tracks makes it one to watch.
When talking about how Gunter fit in the film, Kroll said:
"Gunter seems to be not troubled about any emotional issues," Kroll said about his role. "He's just psyched to be there."
Gunter is oh so comfortable in the skin he's in, and doesn't look to anyone for validation. Even for a cartoon character, his heightened level of self love is crazy inspiring.
Kroll then went on to say:
"He's just a very fun, lively character who wants to dance, has no issues, loves his body, loves to perform and is there to sort of help Reese's [Witherspoon] character come out of her shell a little bit."
I'm amazed how Kroll is able to turn on that flamboyant, faux European accent so easily. Maybe he has a bit of Gunter living inside of him? One could hope. But, I'd be overjoyed to see him rock a sparkly, spandex unitard on a red carpet any day.