Nick Is Full Of Excuses On 'DWTS'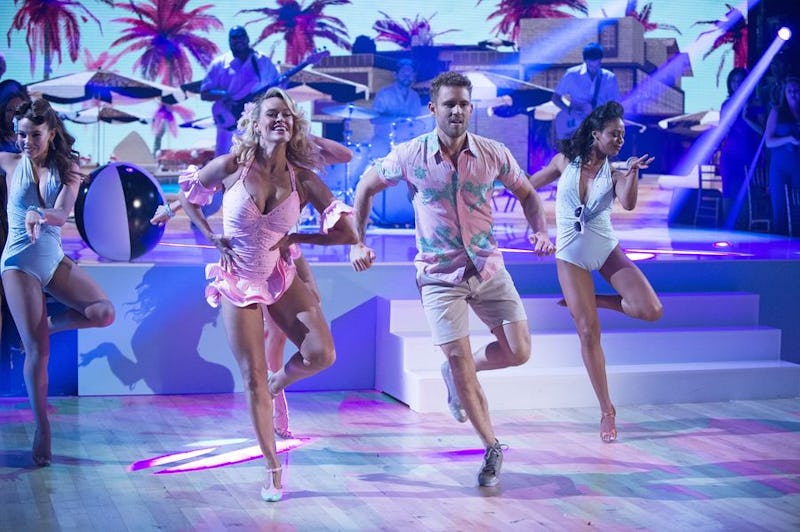 Eric McCandless/ABC
It's Week 7 of Dancing With The Stars, and Nick Viall was still around until the pesky double elimination. That was a good thing for our latest Bachelor, who, truthfully, I didn't know could dance at all. But he made it through the wilderness into the last weeks of competition. That being said, Nick's May 1 action movie-themed dance wasn't his absolute best. In fact, Nick blamed his poor performance on Dancing With The Stars on one common celebrity excuse — dehydration.
Nick's performance wasn't terrible terrible — I've seen far worse dances after my many years of watching the show. He just wasn't at the top of the heap! After the judges gave Nick and Peta their scores (which were solid eights, and not the worst scores of the evening, even), Nick had this puss on his face. When Erin Andrews asked what the look was all about, Nick said that his calves were all cramped up and he was dehydrated and that's why his jig (it wasn't a jig, I just like saying the word jig) was sub-par. Nick, after years of being on The Bachelor, The Bachelorette, and Bachelor In Paradise, you should know that being hydrated is important! It is always the contestant that drinks too much booze and not enough water that is not given a rose or a date on the first night! Water is key, whether you're looking for love or looking to win the Mirrorball trophy.
And, like I said, it's not like Nick's dance was that bad, but now that the end of the competition has come up, he wanted to be better. I get that. But he certainly has improved over the weeks. I think if Nick doubled up on his fluid intake he may have had a better chance at winning.