We're Not Talking Enough About Nick's 'DWTS' Outfit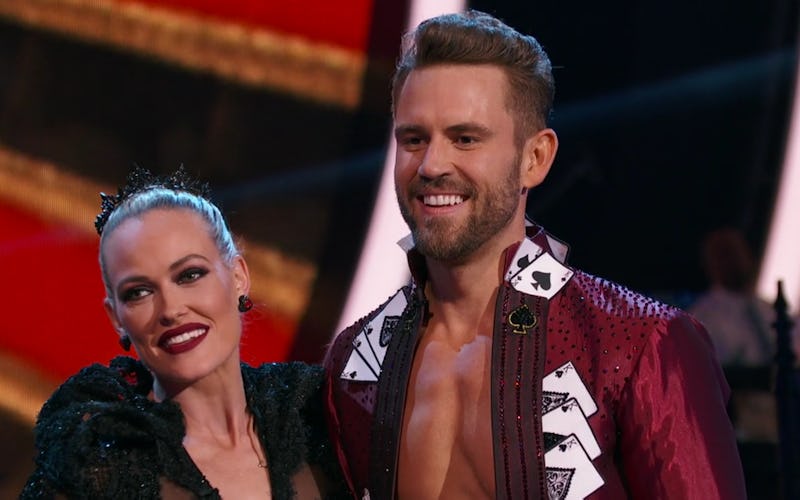 ABC
Winning the coveted mirror ball trophy on Dancing With The Stars is not an easy feat. It requires weeks of learning difficult dance routines and forcing yourself to come out of your comfort zone to master expert-level ballroom dances for the judges. Not to mention, contestants also have to wear flashy, and sometimes, outrageous costumes, just ask Nick Viall. The former Bachelor and his partner Peta tackled the tango on Monday's episode, and it was a sight to see. For the Vegas Night theme, Nick Viall's dance was set to Lady Gaga's "Poker Face," and he really committed to the song with his outfit choice. He donned a bedazzled playing card blazer, because of course. And, let me tell you, the sequins weren't even the best part. Nick opted to go shirtless in an effort to show his dedication to the episode's theme (or maybe just his dedication to showing off his abs, because he's done that most nights, too).
Nick isn't the first Bachelor to go shirtless on DWTS and he probably won't be the last. Chris Soules was fond of the move, too. But, I feel like Nick's shirtless look coupled with the card blazer and the Lady Gaga song is really just the full package. Check him out in all of his sequin glory.
I wasn't the only one who was blown away by Nick's ensemble. Judge Bruno Tonioli listed Nick's pecs as one of his favorite parts of his performance. Maybe it was the blazer or the words of encouragement that he received from Maks Chmerkovskiy in the beginning of the episode, but Nick really delivered this week. Judge Len Goodman, who called Nick out for having poor posture and messing up the movements last week, praised the star for his major improvement and showing more confidence on the dance floor. "I think when I can let my chest breathe I'm more relaxed," he told host Erin Andrews while waiting for his score from the judges. "It just feels more comfortable. It's a Bachelor thing."
Who knows what outfit we'll see Nick in next week, but I'm happy to see that he's coming out of his shirt, I mean, shell and becoming a better dancer each week.