These 'Bachelor' Engagement Selfies Are Adorbs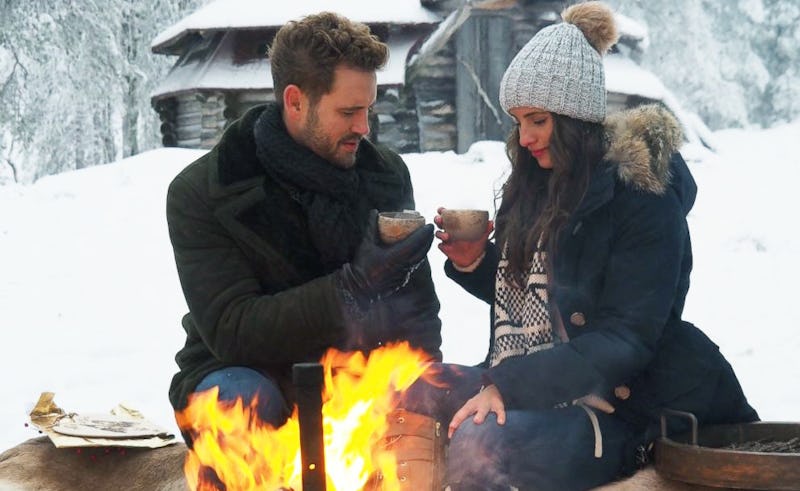 ABC
It's been 24 hours and, well, if you're still in shock that Nick Viall picked Vanessa Grimaldi over Raven Gates during the finale of Season 21 of The Bachelor, you're about to get a social media suckerpunch. On Monday night, Nick posted engagement selfies with his new fianceé to Instagram, and it sure is... something. "Holy sh*t she said yes!!" Nick wrote in the caption, flanked by several red heart emojis. "It's been a journey Bachelor National!! @vanessagrimaldi30 I love you!! #thebachelor." It sure has been a journey for all of us, but, from the look of this picture, I don't know if we can say if it's a happily every after for this couple... yet.
While Vanessa looks over the moon showing off her engagement ring with an adorable backwards pose, Nick looks... resigned. Seriously, check out that expression. Is that the face of pure, unfiltered joy? Is that the face of, "I seriously can't wait to spend my life with this woman, my heart, my soul, my best friend"? Is that the face of a man in love and ready to buy a house with a white picket fence and have 2.5 children with the enthusiastic girl behind him?
No. That's the face of someone who's just glad this is all over with. That face says loudly, "OK, I finally picked someone. Are you happy, America? Can you get off my case now?" Of course, maybe I'm just projecting after a season of watching Nick worry again and again that he might end up with no one at all, or end up getting his heart broken on live television again. All while we, you know, tried to push him toward one girl (Rachel, Rachel, Rachel) or another (Raven, Raven, Raven).
Incidentally, Vanessa posted an engagement selfie herself which had a little more personality and a lot more enthusiasm. Thrown over Nick's shoulder and showing off her bling, the caption reads "He swept me off my feet...literally! Love, love, love you! @nickviall." Nick, for his part, I think is smiling? Again, I'm sure he's glad to not go away empty-handed for once.
Who knows, guys? Maybe these two are actually meant for each other. Maybe they're actually both meant for each other in a way that reality TV editing didn't allow us to see. Maybe they'll live a happy and prosperous life together, and maybe Nick is finally done searching for love.
Either way, as Nick's face says in the first selfie, it's all over now. It was a long journey, but Bachelor Nation can breath a sigh of relief that Nick Viall has finally found love. Bring on Rachel Lindsay and a fresh new batch of roses.