Here's Where You Can Watch Nick Viall In His New Acting Career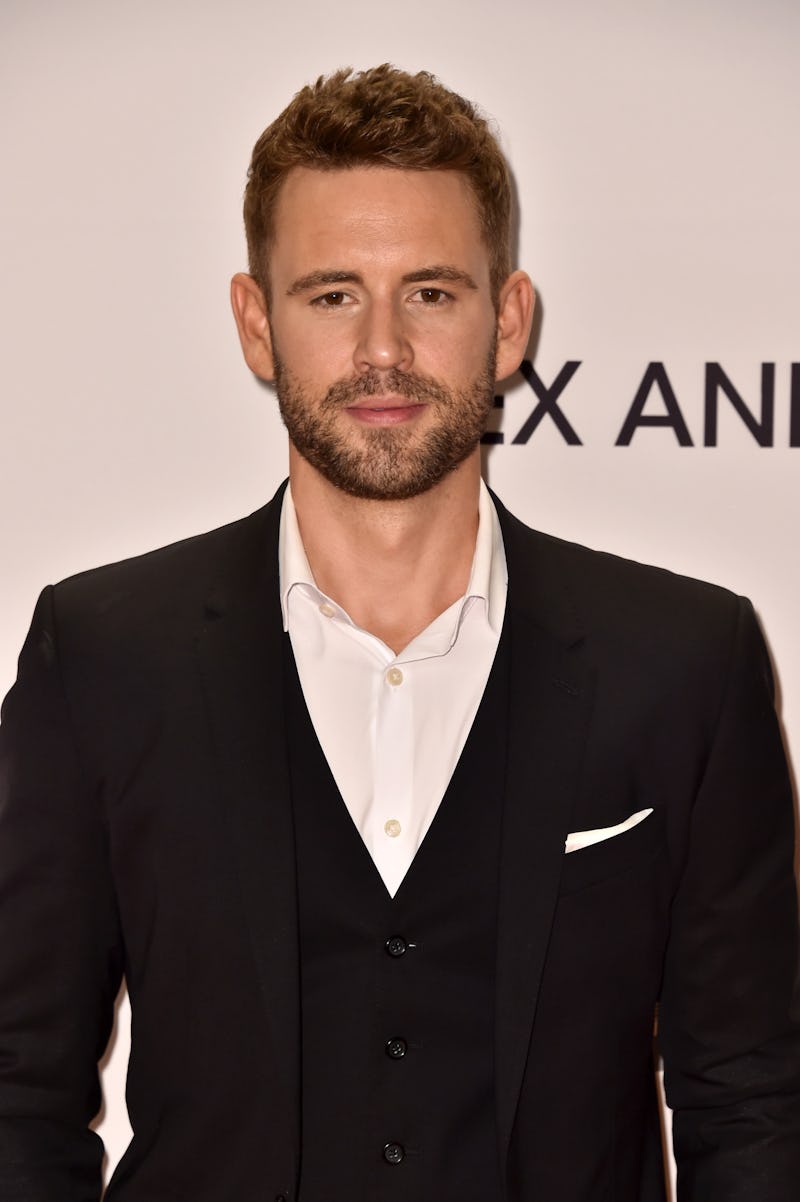 Alberto E. Rodriguez/Getty Images Entertainment/Getty Images
After two stints on The Bachelorette, a summer on Bachelor in Paradise, his own season of The Bachelor, and an attempt to win the Mirror Ball Trophy on Dancing With the Stars, Nick Viall has started making movie and TV appearances by parlaying his reality TV fame into some scripted roles. This means that his fans (and haters) get to see more of him, but in his new gigs there are no eliminations or roses involved.
Next up, Viall will be in a holiday movie called A Christmas Cruise that will premiere on ION on Saturday, December 16 at 9 p.m. It will also air a few other times during the holiday season. (The full schedule can be found here.)
The network describes the film's premise as follows:
When her best friend invites her along for a holiday themed sail, an aspiring novelist, Pam, unexpectedly finds the love of her life on board. But what will happen when the ship returns to port for Christmas?
Along with the five-time reality TV alum, Vivica A. Fox and soap opera actor Kristoff St. John will also appear in the movie.
Where does Viall come into the mix? According to Viall's IMDb page, the former reality TV star will be playing Bob, a "hotel cruise manager." Based on the trailer for A Christmas Cruise, it is very clear that Fox is the aspiring novelist who "unexpectedly finds the love of her life on board" and St. John is the man she has an interest in.
Unfortunately, Viall does not appear in the trailer, but he is listed in the main credits on the ION's site, so he does seem to be more than just a background actor. Maybe he will take on a similar role to the one he had during Bachelor In Paradise Season 3 as the person giving advice to whoever was trying to navigate a dating situation with a new love interest. Nothing has been revealed, but the movie will be out soon enough and the mystery around Viall's involvement will be solved.
This Christmas movie isn't the Bachelor alum's only scripted role lately. Here's what else he's been up to.
Speechless
Viall made an appearance on the ABC show Speechless in a November episode. He played the "young" and "hot" dean of a university, which is definitely a departure. (Well, the whole "dean of a college" aspect, not the "young" and "hot" part.) For anyone who missed the episode or just wants to watch Viall in action, there's a clip of Viall's character interacting with a prospective student on People's website.
A Commercial During Will & Grace
Viall also did a commercial with Sean Hayes, who was in character as Jack from Will & Grace. The Will & Grace/Honda/Bachelor crossover concept is a little tough to get past and understand, but after some driving shots, the former Bachelor appeared in the commercial. Jack and Viall's character were both in the waiting room at an acting audition. It was definitely a case of art imitating life.
The Real House Witches Of Salem
Back in 2015, Viall played himself in the comedic short The Real House Witches of Salem County, which was a supernatural spoof of the Real Housewives franchise with plenty of Bachelor and Bachelorette references thrown in for good measure. His character even utters the franchise's infamous phrase "I'm here for the right reasons" after a witch puts a spell on him and makes him go shirtless. That same witch also licks his chest. It is definitely an interesting role to say the least... Yes, it's Nick Viall playing Nick Viall here, but it is definitely a very different experience for anyone who's used to watching him date on TV.
Viall learned the ropes of being on a TV set and being in front of the camera during his many seasons on reality TV. Now, he is putting all of that experience to good use and giving scripted roles a shot.