Nick Viall Will Be Back On Your TV Screen This Christmas, So Prepare Accordingly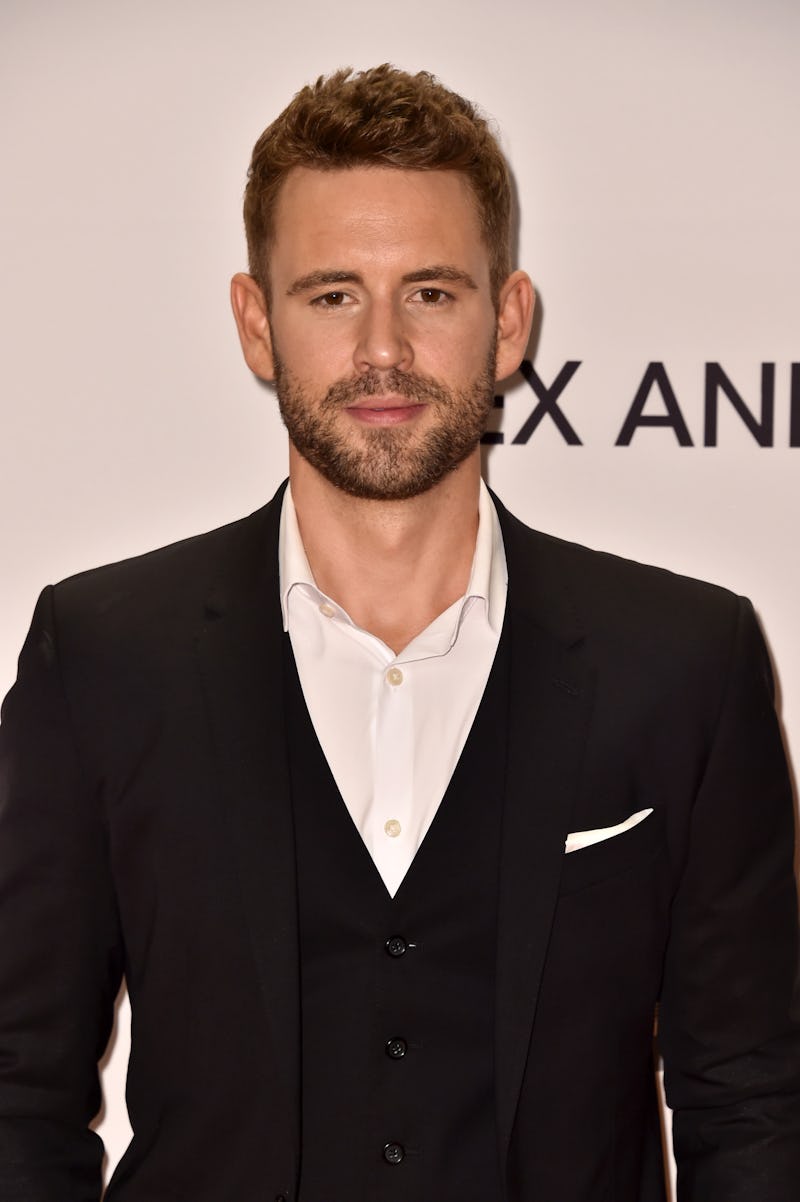 Alberto E. Rodriguez/Getty Images Entertainment/Getty Images
If your Christmas wish was to see the most recent Bachelor on your TV screen again, you must have been good this year, because it's coming true. Nick Viall will be in a Christmas TV movie called A Christmas Cruise, set to air on ION on Christmas Eve and Christmas Day. The reality star has never been one to shy away from a chance to hit the airwaves, but this appears to be his first foray into straight-up acting, so it opens up a whole new world of opportunities for the 37-year-old.
That said, it's a world that he's just dipping a toe into, so far. A Christmas Cruise stars Vivica A. Fox, as well as soap opera stars Jessica Morris (One Life to Live), Kristoff St. John (The Young and the Restless), and Rib Hillis (General Hospital) in the lead roles. To find Viall's name, you have to look further down the page — he'll be playing the cruise ship's captain. It's a character that's surely important to the plot, but the TV movie's blurb below makes no mention of the role, so you're left to your own speculation:
"When her best friend invites her along for a holiday themed sail, an aspiring novelist, Pam, unexpectedly finds the love of her life on board. But what will happen when the ship returns to port for Christmas?"
Indeed, what will happen? Will Captain Nick have a tiny dalliance with Pam or Becky, the movie's leads? Maybe a wink at The Bachelor with a scene that shows him deciding between multiple women? Or will he stick to the very important task of navigating the ship through romantically stormy waters? As you ponder those questions, here's a glimpse of Viall in his captain uniform.
Regardless of what happens plot-wise, the one thing that's certain is that the Wisconsin-native will make the most of this opportunity. After all, would you really have expected that Viall would go on to be one of the most familiar faces in the franchise when he first got out of the limo in Season 10 of The Bachelorette? At that point, all the way back in 2014, he was just one of 25 men vying for Andi Dorfman's heart. But he formed a lasting impression on the assistant district attorney and made it all the way to the end, before being eliminated as the runner-up. It's a feat he repeated on Season 11 of The Bachelorette, which he joined midway through to pursue Kaitlyn Bristowe, again making it to the finale before being passed over.
In fact, Viall has made it to the end in every Bachelor Nation show he's been a part of, including a redeeming showing on Bachelor in Paradise Season 3, and his own turn as Bachelor in 2017. And although the software salesman's engagement to Vanessa Grimaldi ended in August, he had already parlayed his Bachelor appearances into a turn on Dancing with the Stars. As has become a theme with Viall, he didn't win the show — he and his partner Peta were eliminated sixth — but he didn't let that slow him down.
Since being eliminated from DWTS, Viall has appeared on multiple talk shows, picked up a spot in a national, Will and Grace-themed Honda commercial, and reportedly filmed a cameo in the ABC sitcom Speechless, set to air later this month. There were even rumors that the reality TV alum was being considered for a second round helming The Bachelor, before Arie Luyendyk Jr. was announced as the Season 22 lead.
In short, it looks like Viall is just getting started on his career, and he's in no hurry to turn down work, so get used to seeing him on your television. Whether this project signals a new focus on acting or an intent to leverage the publicity to vault himself back onto The Bachelor remains to be seen. So hold off on labeling this a #rightreasons or #wrongreasons move just yet, and just admire the hustle.