Nicki Minaj Shares A Sweet Message With Blue Ivy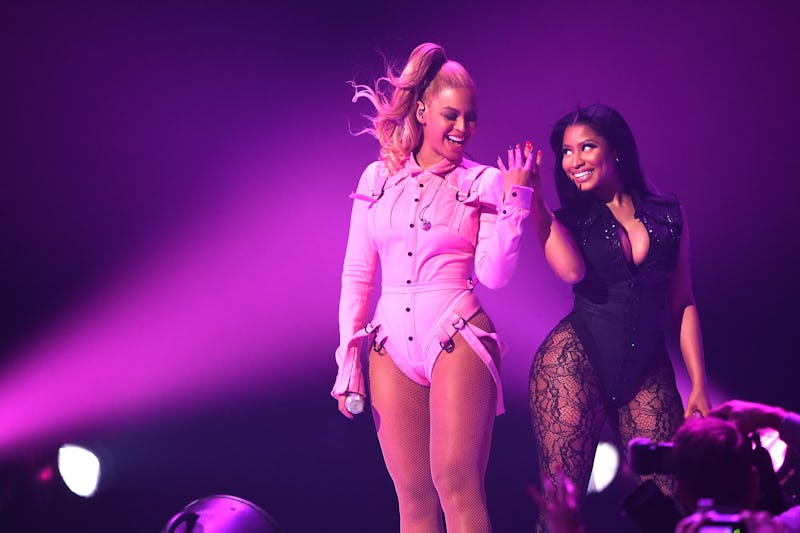 Jamie McCarthy/Getty Images Entertainment/Getty Images
On the 1st of February in the year 2017, her highness Beyoncé Giselle Knowles-Carter announced, with an Instagram that belongs in the Met, that she is with CHILDREN. Beyoncé is blessing us all with twins, because we deserve at least one good thing this year, dammit. Bey first posted a beautiful photo of herself looking like a fertility goddess in lingerie draped with a green chiffon veil against tons of flowers, and then blessed us all again on Thursday with the full set of photos from her epic pregnancy photo shoot, which adorably included daughter Blue Ivy Carter. Among those to congratulate Bey and Jay were... everyone, but also good friend to Bey, Nicki Minaj, who had a message, actually, for mini Bey. Minaj gave a shoutout to her girl Blue Ivy in a sweet Instagram post of her own, which is no surprise, because she has always loved baby Blue to pieces.
In an Instagram post using a photo of Blue Ivy from Beyoncé's pregnancy photo shoot, Minaj congratulated the 5-year old and told her she was going to do a great job helping with the twins.
"This beautiful little lady bug is so smart & special. You guys have no idea!" Nicki wrote. "So Dear Blue, you are going to make an AMAZING big sister. Love always."
And this isn't the first time Minaj has gushed about her friend's daughter. Back in 2014, Minaj showed up as a surprise guest performer on Bey and Jay's On The Run tour in Paris (for the luckiest audience ever), and she and Bey performed "Flawless." Minaj, Bey, Jay Z, and little Blue Ivy all spent time together after the show, and Minaj was over the moon about the experience when she talked to Hot97 about it. And she had some special words for Blue Ivy: "She is the sweetest, cutest, most precious little lamb."
She's not wrong! I know Minaj isn't Blue Ivy's godmother, but I nominate her to be godmother to the twins. You know that she would commit to some incredible fairy godmother looks. And as for Blue Ivy, she absolutely is a "beautiful little lady bug," and I can't wait to see her as a big sister.