Nicki Minaj Dropped Not One, But Two New Videos & Fans Can't Stop Praising Her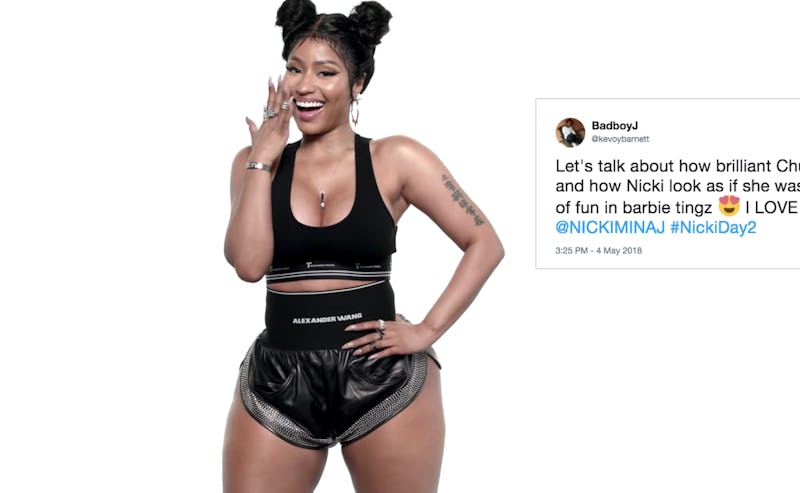 Nicki Minaj/YouTube; kevoybarnett/Twitter
Sometimes your favorite artist gives with both hands. Nicki Minaj already released not one, but two new singles in April, "Chun-Li" and "Barbie Tingz." On Friday, Minaj released two brand-new music videos to accompany the songs, and her fans are loving them.
"Chun-Li" — which was directed by photographer Steven Klein, according to Billboard — features Minaj in a series of regal-looking ensembles, as she and her dancers show off what seem to be some martial arts-inspired moves. "I knew you'd come," Minaj says in the video's spoken intro. "Somehow I just knew you'd find me, not knowing where I was or when I was coming back sent you crazy. I kept my spies on you though. I didn't like what they reported back," before she raps, "You play checkers, couldn't beat me playin' chess / Now I'm about to turn around and beat my chest / B*tch it's King Kong," over a thumping beat and bellowing synths.
In "Barbie Tingz," which, according to Pitchfork, the rapper directed herself alongside Giovanni Bianco, the creative director of Vogue Italia, Minaj brings the character from the single's cover art to life. Against a white backdrop, Minaj and her dancers sport various looks, from athletic wear to ball gowns. In one scene, Minaj plays the part of a particularly graceful marionette, dancing at the whim of her puppeteer as she raps,
"When it come to stealin' flows, these birds is fluent,
But they stutter when get asked 'bout the queen's influence
When it's clear they bite me, I'm flattered they like me
I don't wanna check b*tches, tell 'em wear their Nikes"
The track is relatively sparse, built on a pulsating beat accented by hand claps.
Upon the release of the videos, fans immediately took to Twitter to share their excitement. @kevoybarnett wrote, "Let's talk about how brilliant Chun-li video is and how Nicki look as if she was having tons of fun in barbie tingz ... I LOVE EM!" and @Minaj_Stan96 tweeted very enthusiastically,
"NICKI MINAJ ATE ATE ATE!!!! BOTH VIDEOS WERE FIRE NO ONE IS TOUCHING NICKI MINAJ NO ONE!! SHE JUST KEEPS PROVING DAY IN AND DAY OUT THAT SHE HAS NO COMPETITION WHATSOEVER!!! SHE IS THE QUEEN OF RAP!!"
@richeymusic commended the star's creativity, writing, "Nicki Minaj is such a vibrant, fun artist. she's so INTERESTING. one of the few artists keeping the music video alive. looks. choreography. creativity. Nicki and her team remind me of the golden age of the music video. I hope more artists stay on this track."
According to Rolling Stone, "Chun-Li" and "Barbie Tingz" are a taste of what's to come from Minaj's new LP. She began recording last December, but hasn't revealed many concrete details, and has yet to announce a release date.
Lyrically, both songs reference Minaj's stature in the rap game, so you may wonder if it's about her rumored feud with fellow rapper Cardi B. The two contributed verses to "Motorsport" by Migos, but have repeatedly been compared and pitted against each other. Cardi was quick to shut that down after Invasion of Privacy dropped, saying in a Beats 1 Radio interview, "Fans just keep doing it. Y'all want me to say something bad. Y'all want to annoy me to the fact that I say something bad. I'm not falling for that." Plus, back in September, Minaj congratulated Cardi on Twitter for breaking a Billboard record.
According to Vulture, neither of them are holding any grudges, and with Cardi B breaking sales records and more brand new music on the way from Minaj, there's room for both artists to shine.
Fans can watch Minaj do so when she performs as the musical guest on Saturday Night Live on May 19. And in the meantime, these videos are more than enough to keep them occupied.