Nicki Minaj & H&M May Collab Beyond The Met Gala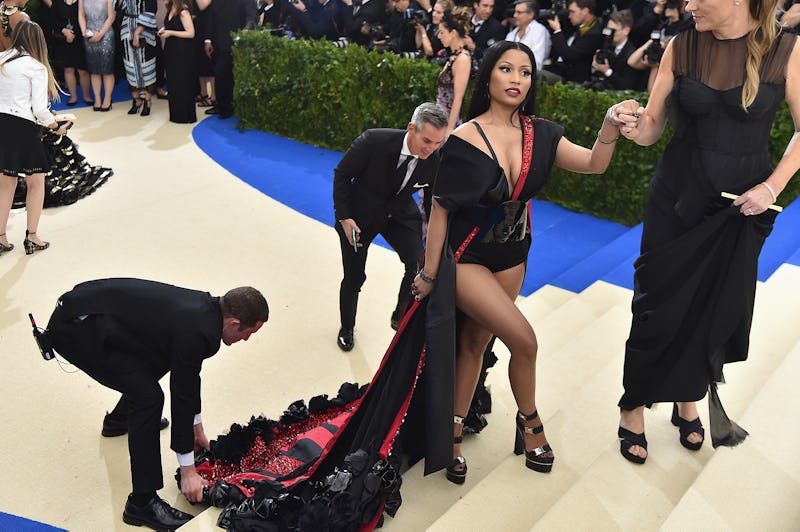 Theo Wargo/Getty Images Entertainment/Getty Images
H&M is a gold standard of fast fashion. The discount retailer translates runway looks to the street with lightning quickness. Lately, I am really associating H&M with upscale looks. Upon seeing Nicki Minaj's custom black and red H&M gown at the 2017 Met Gala, I was once again blown away by what the brand is able to do outside of basics and street style. Plus, how can we forget the way H&M mashed up with Balmain, causing "Balmainia" in 2015, and with Alexander Wang in 2014 for a primo high x low masstige athleisure hybrid.
But H&M dressing the rapper for one of the biggest fashion events of the calendar year doesn't seem to be the totality of their collab. Minaj teased a further partnership with H&M, revealing a scant few details.
"I have a special collaboration coming out with H&M this fall so they are dressing me for the night and they nailed it," Minaj declared during an interview about her H&M Met Gala dress, which she said was was comfortable even with that epic train!
Bustle reached out to H&M reps for further comment.
UPDATE: H&M responded via email, saying "We are very happy to have been collaborating with Nicki for this year's Met Gala... We really like Nicki and we are glad to have an ongoing dialogue with her, but we choose not to comment on future opportunities."
What could this alleged collab be? A clothing capsule? Minaj's Kmart clothing line was recently discontinued after several years, so Her Minajesty does have experience with a mass market clothing line and could be looking to return to that space. She could really cement her status as a rapper-cum-designer with a branded H&M collection, as well. Or could it be an H&M beauty range? Appearing in the brand's advertising or a campaign? Any of those options are possible. It's all speculative for now.
ICYMI, Minaj's gown nodded quite beautifully to the Met Gala theme. As Vogue noted, the ensemble featured a thick, black belt that boasted the face of Comme des Garçons' designer Rei Kawakubo, who was celebrated at the event.
H&M got it so right with this red carpet look. Obviously, they won't be creating couture dresses in a further collab with the rapper, because H&M's bread and butter is the mass market. But I am excited for what's next, if it's next! I also love and covet her three-strap platform heels.
This cold shoulder top from the Minaj x Kmart collection is still available on the store's site but that's about it from her collab there. It's just a reminder of what this consummate multi-tasker did in the mass market space.