Nicki Minaj Cleared The Air About Kylie Jenner, Finally Putting All That Drama To Rest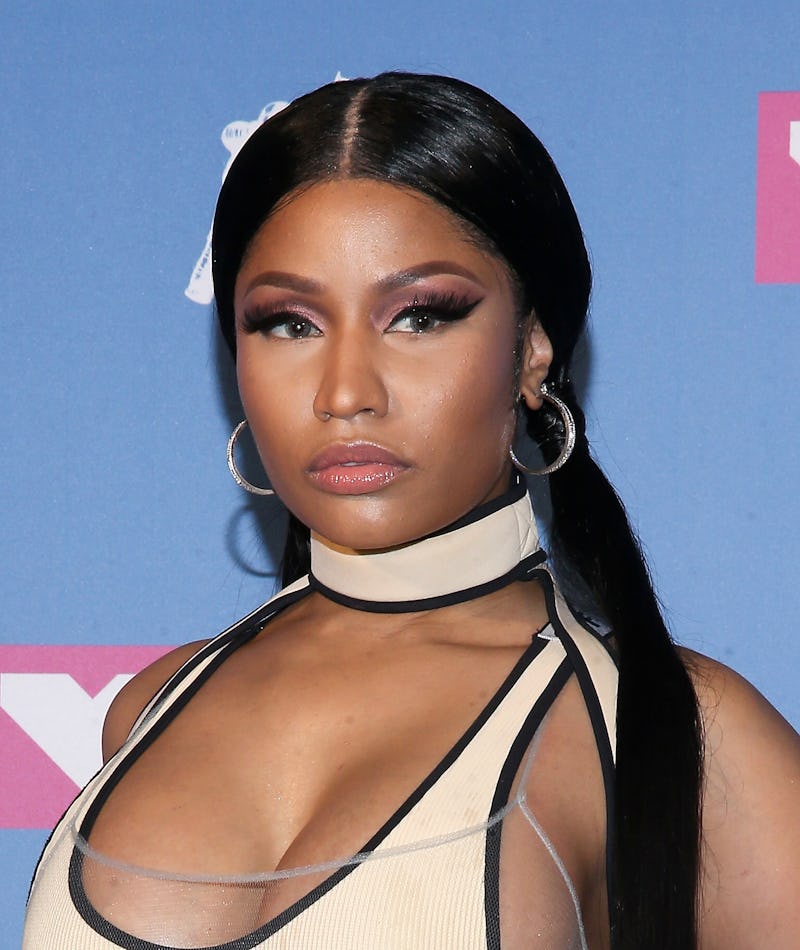 Paul Zimmerman/Getty Images Entertainment/Getty Images
There's been an update in the seemingly everlasting Nicki Minaj/Travis Scott and Kylie Jenner feud. This time, the drama has taken a more positive turn. As both JustJared and Entertainment Tonight noted, Nicki Minaj clarified her thoughts on Kylie Jenner. So in case you were wondering where the "Chun-Li" singer stood with the reality star, wonder no longer.
After the singer took aim at Jenner and her boyfriend in a previous episode of her Queen Radio show on Apple's Beats 1, Minaj spoke about the presumed beef she has with the Keeping Up With the Kardashians star in the latest episode on Thursday. In short, there's no bad blood on her end. Her clarification came about as she referenced a TMZ video that shows the reality star supposedly avoiding Minaj on the VMAs red carpet. Per JustJared, Minaj reportedly said,
"For the record, I f*cking love Kylie. And that's not gonna change. She has been put in an awkward situation."
She reportedly continued to explain, "We're not going to make something that it's not. We're not going to start any dumbass cat fights for your entertainment." Minaj also said, "This is strictly music, between musicians… She supported her man like she should. Me and my fans are not feeding into this."
In case you missed it, these comments are in direct reference to the singer's apparent feud with Scott. Minaj originally brought up this drama on Aug. 19, when she accused him of using Jenner and their daughter Stormi to help drive album sales for his release Astroworld (which beat Minaj's Queen for the number one spot on the Billboard charts). She claimed that the KUWTK star urging fans to come see her and Stormi on tour helped increase the sales of Astroworld. Minaj also believed the bundling of his album along with merchandise has helped sales for the album as well.
Despite referencing Jenner in her previous statements, Minaj clarified on Thursday's radio show that she has no issues with the reality star. "It's obvious she's gotta ride for her man," the Queen singer said, "She's a dope girl and has done nothing wrong." Well, at least that puts to rest any worries about any drama between these two celebs. (Although, no, that doesn't exactly settle things with Scott.)
On Thursday, Minaj's BFF Ariana Grande also took some time to clarify her feelings about Jenner and Scott after seemingly jumping into the drama recently. According to a fan video, Grande appeared to have shaded Scott at a recent listening session for her Sweetener album. Her manager, Scooter Braun, said that he believed her album would takeover the number one spot on the Billboard chart, per E! News. In response, the "God is a woman" singer replied, "We got three days left. You don't know what Travis could pull!"
Shortly after the news about this "shade" was released, Grande took to Twitter to clearly state that there's simply no drama to be found here. She wrote, "i adore travis & kylie and i love the astroworld album a joke issa joke watch the video, stop using me for clickbait so i can come online n celebrate my number one too pls ! hip hip hooray !"
So if you were wondering whether there was any beef between these singers and Jenner, take it from Grande and Minaj themselves: There's nothing dramatic to see here.