Raven Got Nick's Sister's Approval On 'Bachelor'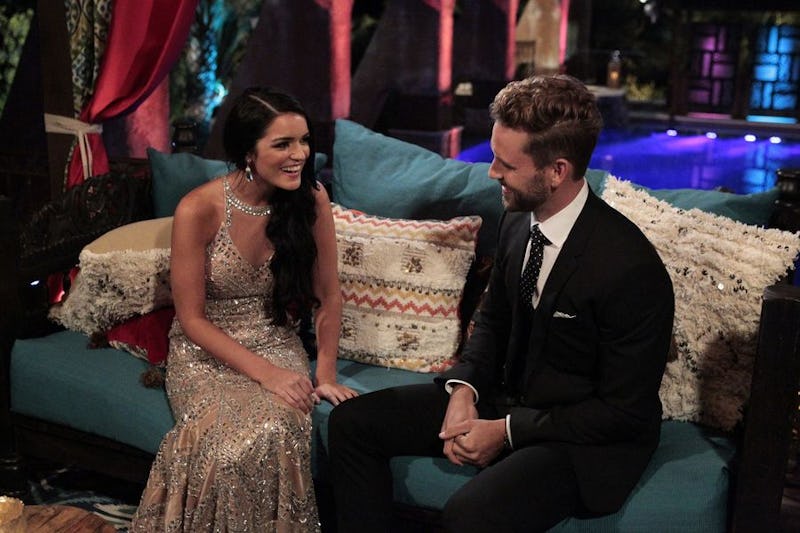 Rick Rowell/ABC
If it seems early in this season of The Bachelor for Nick's women to be meeting his family, it is, but it's definitely helping him figure out who he sees a possible future with. On Monday night's episode, the whole group traveled to Nick's hometown in Waukesha, Wisconsin to see where he's from, and one of the women already has a special in with one of the most important people in Nick's life. As it turns out, Nick's youngest sister, Bella, approves of Bachelor star Raven, and seeing them interact was kind of adorable.
During a one-on-one date, Raven and Nick went to one of Bella's soccer games, and it was off to a pretty good start because Bella and her friends invited them to go rollerskating with them afterwards. As soon as Nick mentioned that Bella's a "great judge of character," I knew her opinion would matter a lot to him. And when they got to the skating rink, Raven got some time to talk to Bella. She was pretty happy that Nick brought Raven to the soccer games because it meant there were more people there to cheer for her team. It was a pretty cute scene, all in all, and it's pretty clear Raven knows how to talk to kids without being awkward, which is important.
And after their chat, Bella's official review was in. She said, "I really liked Raven. She's funny and she's pretty. She's really nice, and I really want another sister-in-law." Funny. Pretty. Meets requirements of possibly becoming a sister-in-law. Yep, she's in!
Afterward, all three of them skated around together for awhile, which was basically the cutest thing I've ever seen. If it's up to Bella, Raven has this one in the bag!
If Nick does end up choosing Raven in the end, it's pretty clear that she will fit right in with his family. And if not? Whoever she is, she better pass Bella's tests.