Nicole Kidman's Awk Clap Explanation Is Relatable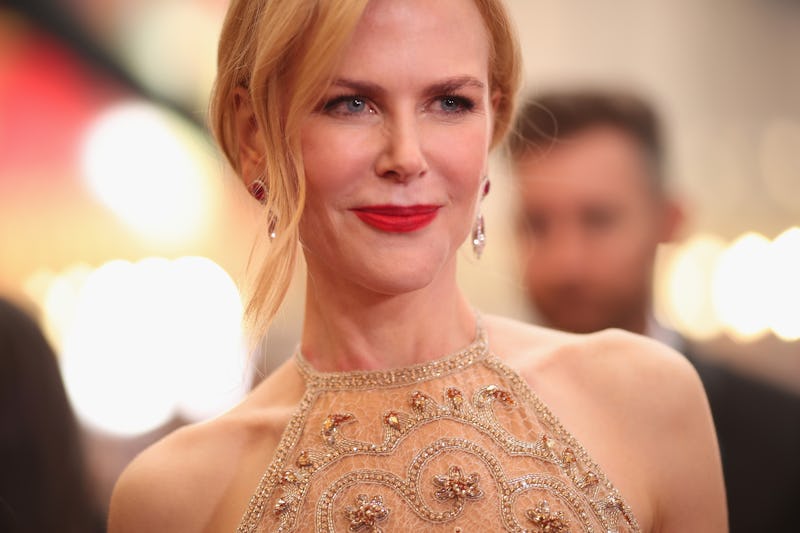 Christopher Polk/Getty Images Entertainment/Getty Images
Have you ever borrowed an item of clothing or an accessory from a friend, then spent the entire night you wore it absolutely scared to death that you were going to ruin it? Like avoiding red wine at all costs, putting a napkin down on the bus seat, or checking yourself in the reflection of every window just to make sure you haven't ruined said borrowed item yet? Well, that's pretty much what happened to Nicole Kidman when she tried to clap at the Oscars, only in a more highfalutin type of way, because yeah, she's Hollywood royalty.
Kidman finally addressed the viral GIF of her awkward clap during an interview on the Australian radio show Kyle and Jackie O, because obviously if she didn't, the memes and jokes would haunt her for life. Apparently, Kidman was wearing an expensive ring that didn't belong to her, and was worried about damaging it.
When asked about her Oscar clap, Kidman explained what really went down:
"Yes, I'm so glad you clarified that because it was really awkward! I was like, 'Gosh, I want to clap, I don't want to not be clapping,' which would be worse, right? 'Why isn't Nicole clapping?' So therefore, I'm clapping but it was really difficult because I had a huge ring on that was not my own so it was absolutely gorgeous and I was terrified of damaging it."
Like, totally relatable, amirite? Especially the part about her internal debate with herself about whether it's better or worse to be seen not clapping. I personally have those types of debates with myself about random things all the time.
And upon further inspection, her story seems to check out. If you look closely at the pics and GIFs from the ceremony, it does look like she's wearing a pretty large ring that doesn't seem very secure on her finger.
Kidman reportedly wore 119 carats' worth of Harry Winston diamonds to the Oscars, according to The Guardian, which included the diamond ring that caused the awkward clap.
After giving up the deets, Kidman went on throw some shade on all of us who were fascinated by whole situation. The actor said, "It's like, is there not more important things to be focused on than the seal clap?" What can I say, inquiring minds wanted to know, but now that Kidman has offered up an explanation, we can all finally move on.