Nicole Kidman's New Project Is Going To Give 'Big Little Lies' Fans Another Obsession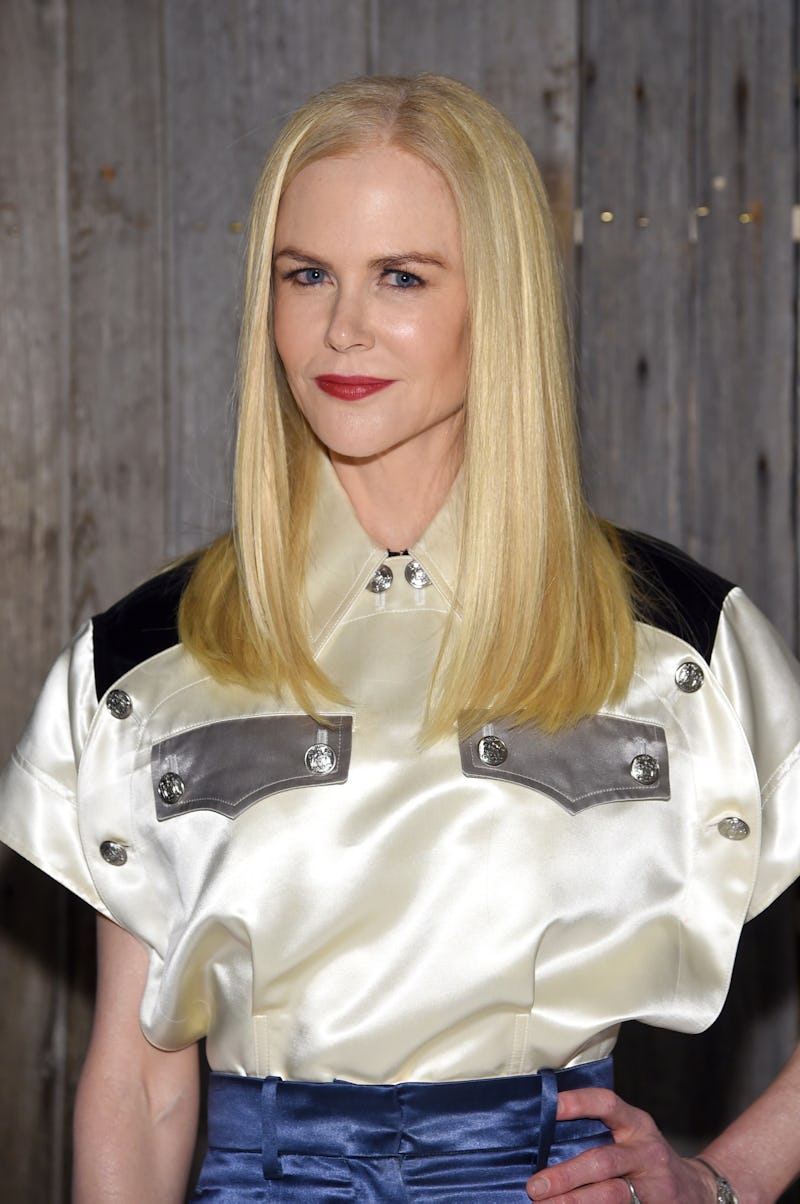 Jamie McCarthy/Getty Images Entertainment/Getty Images
Nicole Kidman and her Big Little Lies co-stars are hard at work on the show's second season, which is based on a book Liane Moriarty, but the actor might already be gearing up for another project with the author. Kidman will reportedly star in Nine Perfect Strangers, which mean's that she'll be reuniting with the author of Big Little Lies on an adaptation of her new novel, Variety reported on Friday.
According to the publication, Kidman's production company Blossom Films and Big Little Lies producer, Bruna Papandrea's Made Up Stories have signed a preemptive deal for the TV and film rights to Moriarty's book, Nine Perfect Strangers, which hits shelves in November.
Kidman will reportedly star in the project and executive produce with her producing partner Per Saari, as will Papandrea, alongside Steven Hutensky of Made Up Stories and Moriarty herself. The news is especially exciting for Big Little Lies fans, as Kidman, Saari, and Papandrea — along with Kidman's co-star and Papandrea's former producing partner, Reese Witherspoon — all served as executive producers on the HBO hit, so there's no question the project is in good hands.
"I'm so very happy and thrilled to once again be working with Nicole, Per and Bruna," said Moriarty in a statement, according to The Hollywood Reporter. "They are such talented, passionate people and I have no doubt that whatever they do with my Nine Perfect Strangers, it will be brilliant. I'm honored by their faith in this book — even before I'd written 'the end' they believed in it, and I just feel very lucky to have had them come into my life."
Moriarty's novel centers on a group of people at a health resort, where they're gathered for various reasons, some wanting to lose weight and others taking a break from their lives to regroup. Kidman will reportedly play the story's protagonist, Frances Welty, a successful romance novelist whose sales have taken a dip and who is suffering from both back pain and heartache.
A source told THR that the project was most likely headed to the small screen, though nothing has been confirmed. In fact, Moriarty's book hasn't even been released yet, and there's no word yet on when the project might premiere.
Meanwhile, Kidman's Blossom Films is working with Witherspoon and Papandrea on another Moriarty-penned project, turning the author's 2016 novel Truly, Madly, Guilty into a limited series, according to Deadline. Kidman also recently inked a first-look deal with Amazon Studios to develop original series exclusively on Amazon Prime Video, as well as feature films that will be released in theaters.
In the meantime, Kidman and her castmates, including Witherspoon, Shailene Woodley, Laura Dern, Zoë Kravitz, and new addition Meryl Streep, are busy filming the second season of Big Little Lies, which will premiere in 2019. The show has proven a force of nature, winning a slew of Emmys and Golden Globes and urging HBO to address pay disparities across their programs.
While the timeline for Nine Perfect Strangers is still unknown, Big Little Lies fans can get excited for another project from the series' dream team, and, if nothing else, another chance to see what is sure to be another great Kidman performance.