Nicole Kidman Just Teased Two Very Important Cameos In 'Big Little Lies' Season 2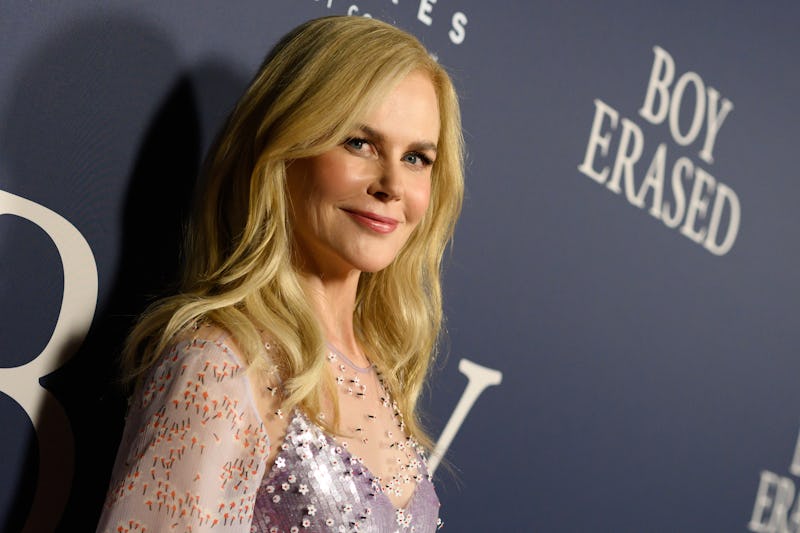 Emma McIntyre/Getty Images Entertainment/Getty Images
The stars of Big Little Lies are known for keeping information about the series tightly under wraps, however, Nicole Kidman recently shared an interesting detail about Season 2 while appearing on Ellen DeGeneres' talk show on Tuesday, Oct. 30, and it involves two very special members of her family. Kidman revealed that her daughters will appear in the show's highly anticipated second season, but as for who Nicole Kidman's daughters will play in Big Little Lies, fans will just have to wait and see.
The topic was broached after the Moulin Rouge star mentioned that her role in the upcoming DC Comics film Aquaman (where she plays the titular character's mother) is the only part she's had that's truly impressed her daughters (whom she shares with her husband Keith Urban) and helped legitimized her as a big-time actress in their eyes. Upon mentioning her daughters — Faith Margaret, who is 7 years old, and Sunday Rose, who is 10 — it's then that Kidman admitted that the two of them have spent a little time on the Big Little Lies set, and not just to say hi to the cast. "They were in as extras in Big Little Lies, which I've never told anyone, and I'm not being a big mouth," Kidman stated to DeGeneres and the audience.
Considering the fact that they're extras and will only be making a brief cameo, it's safe to say that the parts they'll be playing won't serve any major role or purpose. Odds are they'll probably be a couple of students at the elementary school who can be spotted in the background during a scene or two. They most likely won't even have any lines, but still, just knowing that they'll make an appearance is pretty exciting, and something eagle-eyed fans are sure to look out for when the show returns next year.
However, that doesn't necessarily mean Kidman is ready for her kids to fully step into the celebrity spotlight just yet. When she mentioned how much her daughters want to be on Ellen, the talk show host immediately responded saying that they are more than welcome to do so at any time. But Kidman was quick to shoot that idea down, exclaiming, "They're not allowed!" So it may be a few more years (at least) before that happens.
Their cameo also wasn't the only piece of information Kidman shared during her visit with DeGeneres. The conversation also covered the topic of Meryl Streep, who will appear in Big Little Lies Season 2 as Perry's mother and Kidman's on-screen mother-in-law. But while the relationship between their characters may be more than a little tense, Kidman shared just how excited Streep was to become a member of the cast. In fact, according to Kidman, Streep accepted the part without even reading the script. "She was like, 'I want to be in the coven,'" Kidman recalled. Naturally, they were more than happy to have her.
Suffice it to say that with Streep and Kidman's daughters joining Season 2, there are now even more reasons than ever to look forward to the new season of Big Little Lies.