'Night Comes On' & 'The Hate U Give' Star Dominique Fishback Wants To Be The Next Meryl Streep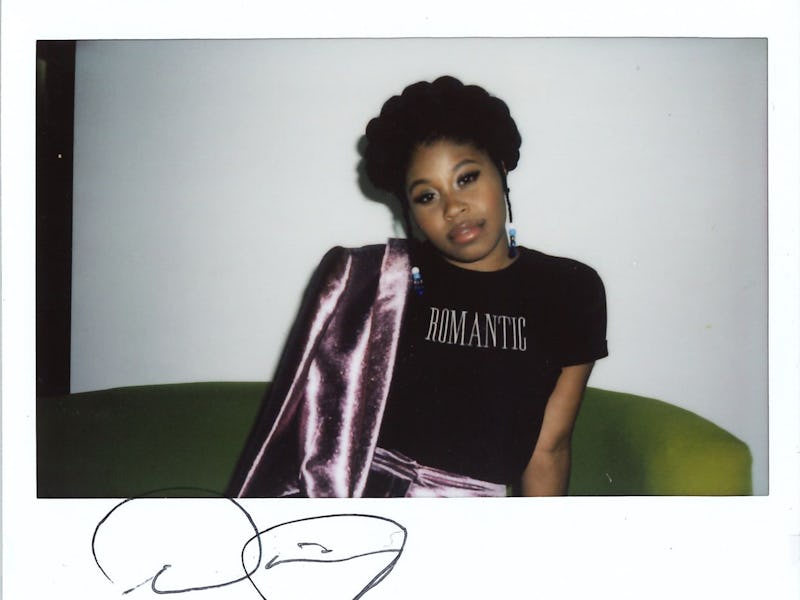 When celebrities hang out with Bustle editors, we want to give them the chance to leave their mark. Literally. So we hand them a pen, a piece of paper, a few questions, and ask them to get creative. The rest is up to them. This time, Night Comes On and The Hate U Give actor Dominique Fishback is leaving her mark in the Bustle Booth.
This fall, Dominique Fishback is starring in not one, but two movies that are poised to spur conversations about race, police brutality, and the criminal justice system. It's a huge moment in the 27-year-old's career, as in addition to Night Comes On and The Hate U Give, Fishback also appears in Season 2 of HBO's The Deuce, out in September. The actor is jumping from one major role to the next, and it's not by chance; she's taking every opportunity she gets to show off new sides of herself.
"You look at [Meryl Streep] and she transforms with everything she does, so I said, 'I want to do that,'" Fishback explains, while visiting the Bustle office in late July. "And so I hope that when people watch the stuff that I do they see the person. They don't see Dominique. They see a living, breathing person or someone who has lived before."
Although Fishback says she wanted to take on lighter fare following parts on The Deuce Season 1 and HBO's miniseries Show Me a Hero, she was too drawn to these new, serious projects to say no. In Night Comes On (out now), the actor plays Angel, a teen released from juvenile detention the night before her 18th birthday and bent on revenge. In The Hate U Give (out Oct. 13), meanwhile, Fishback is Kenya, the "life of the party" psuedo-sister to Amandla Stenberg's unlikely activist Starr.
Both roles were people the actor says she felt she could do "justice" to, and in the case of Kenya, an importance chance to portray a character who encourages others to explore activism. "She's been built to survive and try to find happiness in any way that she can get it," Fishback explains of Kenya. As a result, the character channels her envy and insecurities into educating Starr about what it means to stand up for your community.
For Fishback, projects involving activism and race is familiar territory. Her one-woman show Subverted, which premiered on Off-Off Broadway in 2014, discussed the destruction of black identity by drawing comparisons between a modern-day experience and slavery — with Fishback casually playing 22 characters. And now, The Hate U Give is another way for the actor to shed light on topics like racism and police brutality.
"To get the opportunity to continue to advocate or be a part of a story that's advocating for a topic that I'm so deeply connected to was a great honor," Fishback says. "You know, you think that, 'maybe I could only do serious work if I'm on HBO or I could only do serious work that matters or activist work if I'm on stage and I'm writing my own stuff.' But here it was, an opportunity to do a mainstream movie and I got to do that. So, I was just over the moon."
Although Fishback's schedule clearly doesn't have many gaps at he moment, it's clear that she is just getting started. She dreams of collaborating with actors like Streep and Denzel Washington, and guest-starring on shows like Jane the Virgin. She wants an HBO special eventually, and a Broadway transfer for Subverted, and she's working on a film that she's written and plans to star in about an '60s love story between a young girl and a Black Panther.
"I pray that I could be a vessel for these people, these characters, and if I can do that and be a true vessel for them then, I feel great," Fishback says of her many projects. Unquestionably, the actor is one to watch — even if you might miss her, mid-transformation. Check out her Bustle Booth below.