This YA Book Was The Most Searched-For Title On Goodreads In 2017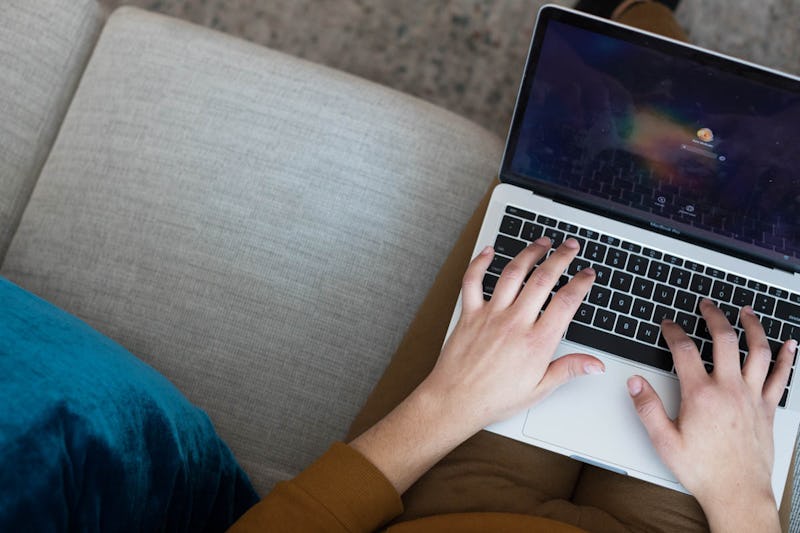 Ashley Batz/Bustle
According to data provided to Bustle by Goodreads, Angie Thomas' debut novel, The Hate U Give was the most searched-for book of 2017 and, basically, the most popular book of the year on the site. That should come as no surprise to anyone who remembers the book shot to the No. 1 spot on The New York Times Best-Seller List back in March, but if you haven't read — or even heard of — The Hate You Give, perhaps the information below will convince you to pick it up at your local bookstore.
Goodreads' data shows that The Hate U Give was the most searched-for 2017 book on the website this year. It also received the highest number of five-star reviews given to any new book in 2017, and was added to more users' Want To Read shelves than any other new book this year. As you might have guessed, The Hate U Give also won two 2017 Goodreads Choice Awards for Best Young Adult Fiction and Best Debut Author.
The Hate U Give centers on Starr, a 16-year-old black girl attending a majority-white prep school on scholarship and balancing the two disparate lives she leads at school and at home. When she witnesses the death of her childhood friend Khalil at the hands of police, Starr must choose between staying silent or speaking the truth and possibly endangering her own life.
The hype for Angie Thomas' first novel started when it was still in its beginning stages. In 2015, she became the one of the winners of the first Walter Dean Myers Grant, granted by We Need Diverse Books to sponsor Own Voices content, or books about marginalized characters written by authors who share those marginalizations. According to Angie Thomas' Goodreads profile, 13 different publishers bid for the chance to publish The Hate U Give, which was ultimately acquired by HarperCollins imprint Balzer + Bray.
The Hate U Give by Angie Thomas, $11, Amazon
Naturally, a book with such close ties to current events did not hit store shelves without its share of controversy. The Katy Independent School District of Katy, Texas allegedly banned The Hate U Give from 25 middle- and high-school libraries after one parent complained about drug use and explicit language. According to the Office of Intellectual Freedom, Superintendent Lance Hindt did not follow district policy when making the decision to pull the book. The Katy Independent School District has not restored Thomas' book at the time of this writing.
A film adaptation of The Hate U Give is currently in development, and will feature Amandla Stenberg and Algee Smith as Starr and Khalil.