This Book About A Dangerously Unstable President Was Written In 1965 — & It's Being Rereleased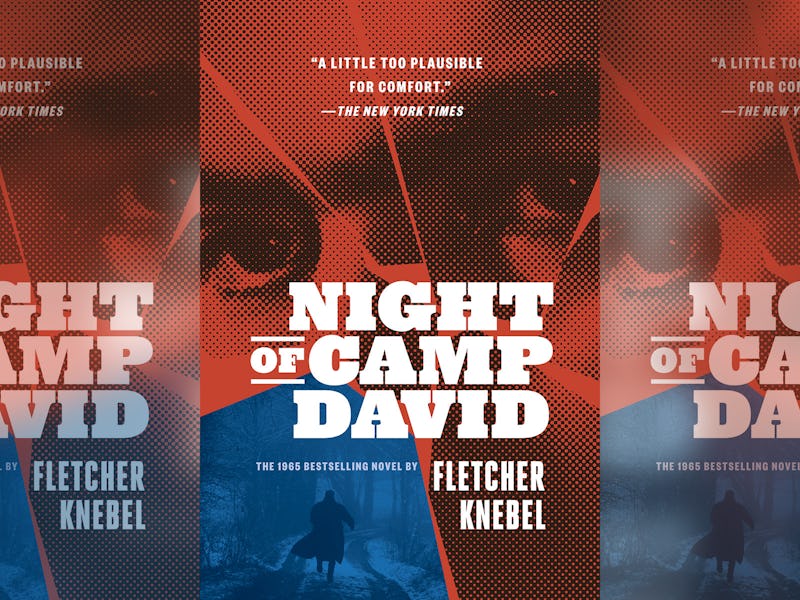 A number of dystopian novels, including The Handmaid's Tale and Nineteen Eighty-Four, have surged in popularity since Donald J. Trump won the presidency in 2016. Now, one in-demand novel about a dangerously unstable president is being rereleased. Copies of Fletcher Knebel's Night of Camp David, a 1965 thriller about a president on the edge of sanity, have been listed for as much as $340 on Amazon. Now, a reprint edition from Penguin Random House imprint Vintage Books is available for pre-order in advance of its Nov. 20 release date, and is priced much more reasonable at $15.95 for the paperback edition.
The novel begins with Senator Jim MacVeagh, an Iowa Democrat, being summoned to Camp David by President Mark Hollenbach. MacVeagh is in line to become Hollenbach's next V.P., but he begins to have concerns when the president shows signs of intense paranoia. Hollenbach behaves erratically, attempts to sever ties with American allies in Western Europe, and expresses his intention to cozy up with the Soviet Union. He believes the media has conspired with his political enemies against him. MacVeagh, the only man to notice Hollenbach's slow unwinding, tries to warn other politicians and the president's advisors, but to no avail. The only other person with evidence of his mental decline is Rita, MacVeagh's mistress, but both she and the senator come under scrutiny when Hollenbach tasks the FBI with investigating their relationship.
Fans of political thriller novels may relate Night of Camp David to another Knebel novel, 1962's Seven Days in May, which he co-wrote with Charles W. Bailey II. In that novel, a group of anti-Communists in the Pentagon stage a military coup after President Jordan Lyman signs a disarmament treaty with the Soviet Union to end the Cold War. Seven Days in May was made into a film in 1964.
Night of Camp David feels eerily relevant today, at a time when the president makes constant veiled — and not-so-veiled — threats against the media outlets and figures who criticize him. According to The New York Times, one contemporary "critic complained that [Knebel's novel] was too realistic, writing that 'as a suspense novel it is probably a great deal too honest for its own good.'" Given that "[t]he book spent 18 weeks on the best-seller list" when it was first released, one can only imagine how popular Knebel's novel will be today.
Night of Camp David will be rereleased by Vintage Books on Nov. 20. The book is available for pre-order today.