Nina Dobrev Is Inspired By Vin Diesel's 'XXX' Role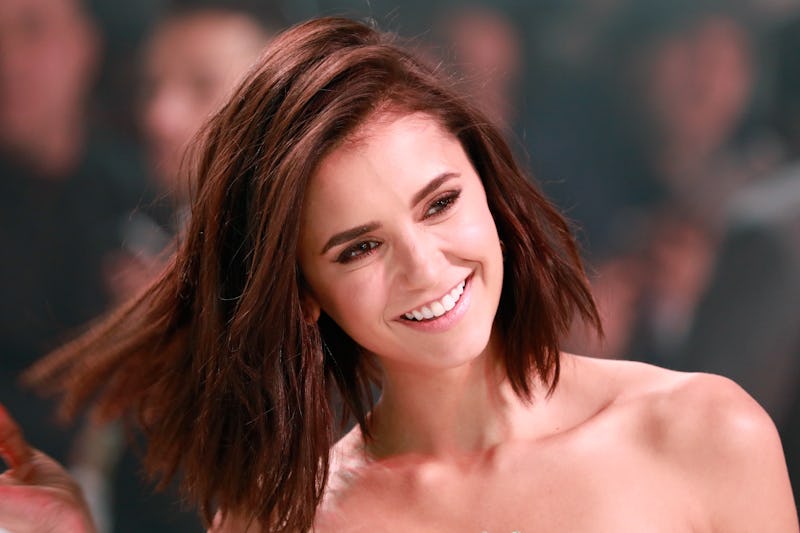 John Phillips/Getty Images Entertainment/Getty Images
Picture this: It's 2002 and 13-year-old Nina Dobrev is watching Vin Diesel as Xander Cage. She hasn't yet started a career in show business, but still, she's fascinated, wide-eyed, and completely inspired by Diesel's fearless character. Little does teenage Dobrev know, Xander Cage would not only motivate her to become a badass both on and off screen, but that he'd also be a colleague of hers one day.
Flash forward to 2017, Dobrev joins Diesel along with actors like Ruby Rose and Donnie Yen in the third installment of the XXX franchise, Return of Xander Cage, in theaters since January 20th. For Dobrev, it's a dream come true. I sit down with the actor who's understandably as giddy as she is proud to discuss her work in the film. Although she plays the clumsy brainiac Becky, she says she's "dying" to take on a Xander-inspired action character sometime soon.
Yes, she's a self-admitted adrenaline junkie, but it's Xander's attitude that inspires Dobrev most. Diesel's character could be seen as a gun and chick-bearing bro, but Dobrev doesn't completely see him that way. She explains why looking at Xander's core is motivating for all people — men and women — and why she's honored to finally join his crew.
Dobrev describes Xander Cage as her first "character crush" when she watched him in the original 2002 film XXX — looks aside. "What I love about his character was the fact that he's just a regular guy," Dobrev says. She acknowledges that he's a criminal of sorts, but says "the law ended up knocking on his door asking him to work for them" because he was a rebel with a cause. Thus, he's inspiration not just for men, but for women as well.
"He's crazy, but he's willing to do things others wouldn't," she says. "The fact that a regular person could do these extraordinary things, [who's] not a superhero, I thought that was pretty cool." She recalls being blown away while watching him when she was a teen. "I thought, 'Wow. If this guy can do it, I can do something like that. I wanna be in a movie like that one day.'" And now, she's doing just that.
The fact that she wants in on the action is just a bonus. "If that were me, I'd be the one playing with all the toys. I'm very adventurous and a risk-taker and adrenaline junkie in so many ways," the 28-year-old states. Dobrev says her take-charge mentality even led to a moment in the final action scene where her character Becky shines. She "begged" the director, saying, "I'm in the corner hiding. Give me a gun, give me something." Next thing she knew, an intense new scene was added, and she loved it. "It definitely gave me a taste of what it must be like to be on the forefront of the battlefield."
And of course, besides his effortless way with a gun, Xander cage is known for being just as smooth with the ladies. There's no judgement coming from Dobrev, in fact, she gives him props. "I think people who are single and wanna have a great time and have fun — power to you, do your thing."
I sense a female Xander Cage is in the making, and if it isn't, it definitely should be.