No, Billy Bush, You Can't Use #MeToo To Get Back On TV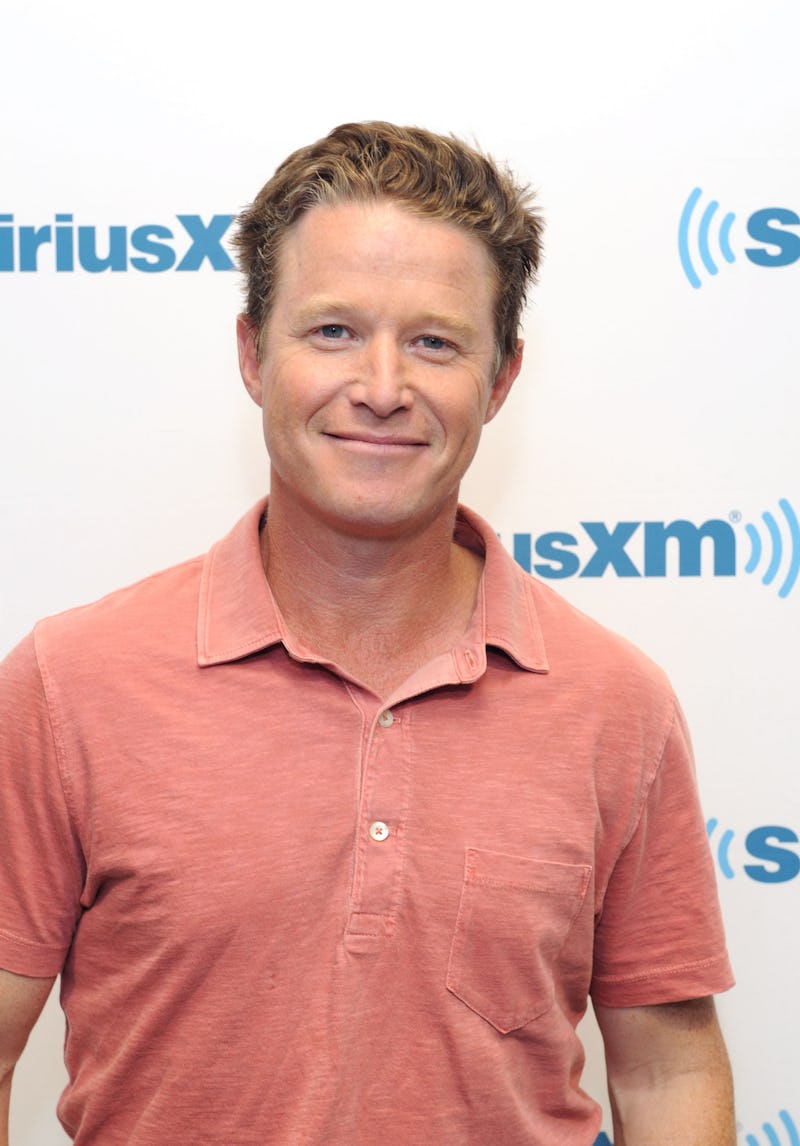 Craig Barritt/Getty Images Entertainment/Getty Images
Billy Bush watched his career go up in flames when a now-infamous tape from his Access Hollywood days was released last October. Meanwhile, President Trump cruised into the White House. Now, a year later, Bush is trying to make a comeback by acting sympathetic to the #MeToo movement. Sorry, Billy Bush — you won't be welcomed back with open arms.
The disgraced TV host returned to the spotlight over the weekend to call out the president for reportedly questioning the authenticity of the tape featuring him brag about sexual assault in 2005. "He said it. 'Grab 'em by the pussy,'" Bush wrote in a New York Times op-ed. Bush went on to describe how he never thought Trump was fit for office, how he now believes the more than a dozen women who have accused Trump of sexual assault, and how he's a changed man.
You don't get to joke about sexual assault, hide away for a year, and then make an effortless comeback. That's not how this is going to play out — for Bush, or anyone else.
Bush's op-ed, along with his scheduled appearance on The Late Show with Stephen Colbert Monday night, is intended to make headlines. As you might recall, Bush was also caught joking about sexual assault and ogling women's bodies on that tape. But Bush has already made it clear that he believes his way back into the public's good graces — and back onto America's screens — is by disavowing Trump and making a show of standing up for women.
Unfortunately for him, that won't be the case.
Bush argues in his op-ed that he and other men who witnessed Trump bragging about grabbing and kissing women without consent didn't believe the Apprentice host was serious. But after reading about Trump's alleged actions from his multiple accusers, he realized that it wasn't a joke. "Surely, we thought, none of this was real," Bush wrote. "We now know better."
Even if Bush is telling the truth, and even if he thought they were just two guys talking hypothetically about women's body parts, he doesn't get a pass. The reason rape culture continues to thrive in America is because men think it's a joke — meanwhile, women know the reality all too well. Laughing about sexual assault and failing to call out others for doing so makes you responsible for perpetuating violence against women, and that won't be erased by 12 months of "reawakening."
You don't get to joke about sexual assault, hide away for a year, and then make an effortless comeback. That's not how this is going to play out — for Bush, or anyone else.
Bush wrote that the past year has been "an odyssey" that's made him a better man and a better father. "Today is about reckoning," he wrote. And he's right — America is in the midst of a national reckoning about how men in power feel entitled to women's bodies. Those complicit in the very issue America is grappling with don't get to suddenly rebrand themselves as feminist allies.
The former TODAY co-host explicitly said earlier this year that he wants "to return to the job that I love, which is television," and he's obviously making moves to do exactly that. But's not going to be that simple.
Considering the mask has been ripped off of numerous vocal male allies accused of sexual assault or harassment in recent weeks, it's reasonable to be skeptical of men trying to use the #MeToo movement to make over their public persona — especially those already known to degrade women. Of course, both men and women need to take action to change the way society treats women, but it's high time women were given the microphone (and the TV contracts).
It's great that Bush spent the past year bettering himself, but believing women is the bare minimum. I, for one, am done accepting the bare minimum.
Editor's Note: This op-ed does not reflect the views of BDG Media and is part of a larger, feminist discourse on today's political climate.