Trump Says He's "Very Happy" Women Are Coming Forward About Sexual Assault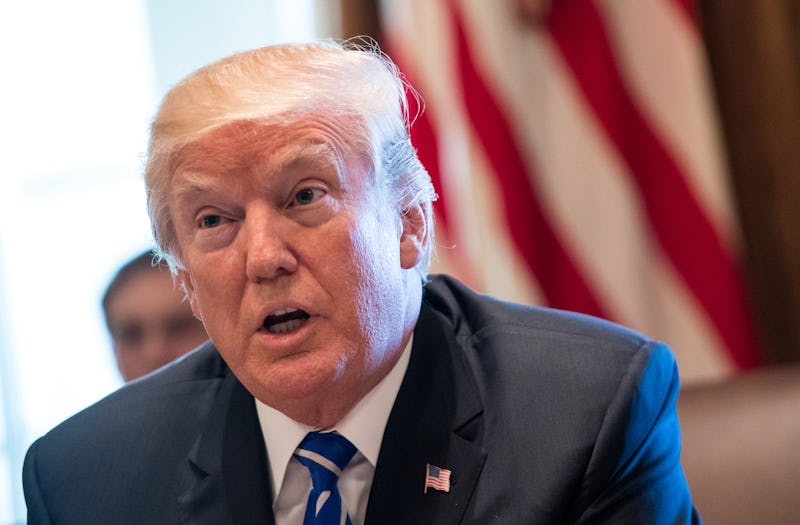 Pool/Getty Images News/Getty Images
The public downfall of film executive Harvey Weinstein last month began a national conversation about sexual harassment and assault that hasn't let up. Because allegations against politicians, celebrities, and media personalities have made headlines almost every day, it was inevitable the president would be asked about the pervasive issue. And in a news conference Tuesday, President Trump said he's "very happy" sexual assault is in the spotlight, despite the fact that he's been accused of sexually assaulting multiple women and was caught on tape bragging about it. (Trump has denied all allegations of sexual assault, and the White House has called his accusers liars.)
"Women are very special," Trump told reporters Tuesday, and continued:
I think it's a very special time, a lot of things are coming out, and I think that's good for our society and I think it's very, very good for women, and I'm very happy a lot of these things are coming out. I'm very happy it's being exposed.
The president's statement came just after he defended Alabama Senate candidate Roy Moore, who has been accused of sexually assault by two women and of making inappropriate sexual advances by four women. Moore has repeatedly denied every claim, and Trump backed him up Tuesday. "He says it didn't happen, and you know, you have to listen to him also," the president said.
Before speaking to the press, Trump reportedly expressed doubts about Moore's accusers in private, too. While talking to White House officials, the president expressed suspicion about why women would come forward with decades-old allegations weeks before the Alabama special election, according to The Hill. Trump made the same argument in 2016, claiming the Access Hollywood tape in which he's heard bragging about grabbing women without consent was "nothing more than a distraction."
At least 17 women have publicly accused Trump of kissing or groping them without consent. He has repeatedly denied every allegation of assault, and the White House claimed last month that every woman accusing the president is lying.
The president himself said as much, in a press conference:
All I can say is it's totally fake news. It's just fake. It's fake. It's made-up stuff, and it's disgraceful, what happens, but that happens in the world of politics.
Trump was also accused of walking into the dressing rooms of teenage Miss Universe contestants while they were changing, which he admitted in an interview with Howard Stern in 2005. "Well, I'll tell you the funniest is that before a show, I'll go backstage and everyone's getting dressed, and everything else," he said. "No men are anywhere, and I'm allowed to go in because I'm the owner of the pageant and therefore I'm inspecting it."
On top of these allegations, old video footage shows 46-year-old Trump saying about a 10-year-old girl, "I am going to be dating her in 10 years. Can you believe it?" He's even made similar comments about his own daughter, too— Trump told The View in a 2006 interview:
I've said that if Ivanka weren't my daughter, perhaps I'd be dating her.
Despite allegations of sexual misconduct spanning decades and multiple recordings showing the president making degrading remarks about women, he continues to deny any wrongdoing, while supporting an accused child molester and commenting that "women are very special." The hypocrisy of powerful men being called out and facing public scrutiny for abusing women in recent weeks, as the most powerful man in America remains in office with more than a dozen women having accused him of sexual misconduct, has not been lost on women.
Trump is right that men facing repercussions for abusing their power is "good for our society," but those who believe his accusers want the same accountability to extend to the White House.