Noah Centineo Reenacted This Iconic 'Love Actually' Scene & It Will Make You Swoon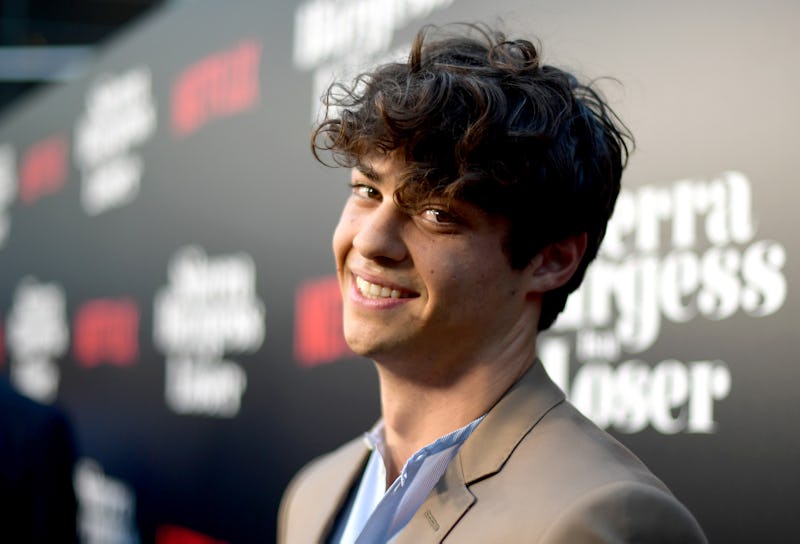 Matt Winkelmeyer/Getty Images Entertainment/Getty Images
Is it possible to make a classic movie scene even more iconic? Because it may have just been done. To All The Boys I've Loved Before heartthrob Noah Centineo recreated Love Actually's most famous scene and it's the earliest, most unexpected Christmas present fans are going to get.
In the BuzzFeed video, Centineo reenacts the classic Love Actually scene between Juliet (Keira Knightley) and Mark (Andrew Lincoln), in which Mark holds up a series of signs to Juliet in secret, professing his love for her on Christmas. In the video, Centineo plays both Juliet and Mark and recreates the two-minute scene shot-for-shot. It's as strange, entertaining, and quirky as it is nostalgic.
Over the last few weeks, Centineo's charming character from To All The Boys I've Loved Before Peter Kavinsky has been deemed "your new Internet boyfriend" by, well, pretty much everyone, making audiences collectively go wild. Now, Centineo is taking his good looks and charisma to Sierra Burgess Is a Loser, another Netflix rom-com and a modern retelling of the Cyrano de Bergerac story set in high school.
But with this new video, it's official: Noah Centineo isn't just rallying to bring the rom-com back, he's striving for the title of Rom-Com King. And, as proven in this video, he may just have obtained such status.
Here he is playing a smitten Mark:
Who hasn't dreamed of Noah Centineo standing on their doorstep calling them perfect?
Now, the only difference between this video and the actual Love Actually scene (other than the two Centineos) is one of the signs. Gone are the photos of models from Love Actually. Instead, the video replaces them with photos of Centineo's To All The Boys and Sierra Burgess co-stars, Shannon Purser and Lana Condor.
It's really all fans ever needed.
Naturally, fans are reacting as one would expect them to. People have responded to the video with tweets like, "THIS IS ICONIC OMG" and "My cheeks Hurt." One fan wrote, "OMFGDJDJSJDJDHFHFF thank you this is everything I've ever wanted in a video. This just made my whole week, I can't even." And another, a little unsure of what they watched, still fell in love: "wtf did i just watch but love."
Since the Netflix adaptation of Jenny Han's 2014 novel debuted on August 17, a whole new subdivision of the internet was created: one dedicated to the one, the only, Peter Kavinsky. There are now Twitter, Tumblr, and Instagram accounts dedicated to the character who made audiences believe in love again. His relationship with Lara Jean (Lana Condor) was so pure and heartwarming, it's been nothing short of infectious. Centineo is here for the rom-com's message. "To find that, I'm totally behind that concept," he recently told Teen Vogue. "Finding your own Peter Kavinsky, finding your own Lara Jean. I'm 100% behind that."
Still, the actor is a little skeptical of the internet hype. "I feel like everything that happens on the internet nowadays is so fleeting that, sure, maybe getting a Peter Kavinsky is a goal now, but I wouldn't be surprised if a week from now it really dies down," he told the magazine. Yeah, well, we'll see about that. Even Netflix is fangirling over its new star (its current Twitter bio is: "this is now a Peter Kavinsky stan account").
It seems Noah Centineo can pretty much do anything and it would still be charming. And lucky for the internet, he doesn't seem to be going anywhere.