21 Tweets That Prove Peter Kavinsky Of 'To All The Boys I've Loved Before' Is The Best BF Ever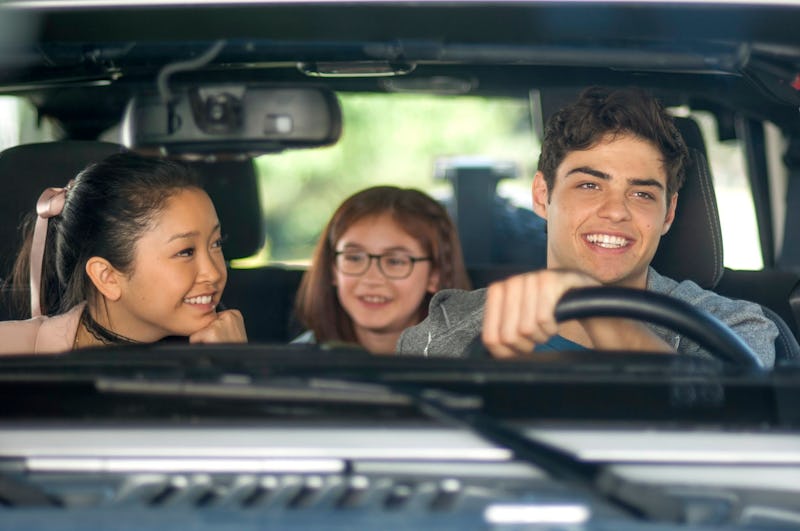 Courtesy of Netflix
There are few things that bring the world together. Hholidays like New Year's Eve or Christmastime sometimes do the trick, as do events like the Olympics or when Beyoncé releases an album. However, Netflix just came out with a movie that collectively has united the internet and given everyone joy and hope and pure love in the process. That rom-com goes by the name of To All The Boys I've Loved Before and it is nothing short of a masterpiece. And Peter Kavinsky from To All The Boys I've Loved Before is just the icing on this beautifully charming rom-com cake. There's a consensus that he is the boyfriend we've been missing, and the heartthrob we all want in our lives.
To recap if you don't have a Netflix account or somehow had no internet this weekend, To All The Boys I've Loved Before is about Lara Jean, a junior in high school, who writes notes to the boys she has an undeniable crush on. There are five of them, and she never sends the letters, preferring to use them as a coping mechanism to try to work through those feelings and then hide them away in her closet. All is well until one day, her letters find themselves mailed and in the hands of those past crushes.
One of those is the lacrosse-playing jock Peter Kavinsky, now known as your new Internet Boyfriend. Kavinsky, as played by Noah Centineo, is suave, cute, and has a great smile. On top of that, viewers soon find out that he's sensitive and thoughtful, and also going through a bit more than what you can see on the surface. And all of Twitter basically exploded with its newfound love for this man.
Even Netflix knows what they're doing to its viewers.
The reaction to All The Boys I've Loved Before on Twitter has been loud and very positive, ranging from the hopeful "Rom-coms have been saved!" to the obsessive "To All The Boys I've Loved has been on repeat." But among it all, everyone agreed that Peter Kavinsky was one of the best parts of the movie, with serious Internet boyfriend potential, and here are just a few reasons why.
1. The Way He Calls Lara Jean "Covey"
Nicknames are usually whatever. But the way Peter says "Covey" like it just naturally is meant to be said by him and him alone? It's everything.
2. That Back Pocket Spin
Choreographed danced are great and all, but this twirl? This effortless "come hither" move that was done in front of the whole high school? Be still my beating heart!
3. Peter Kavinsky Is All The Feels
The emotional toll of this movie wasn't apparent at first, but now it's very real. What's it called when you're coming off the high of watching To All The Boys I've Loved Before for the seventh time?
4. He Gets Better Every Time
Stop everything you're doing and watch this. You won't regret it.
5. That Hot Tub Scene
This one speaks for itself.
6. He's The Dream
No matter how strong, the Kavinsky-effect is stronger. Facts.
7. He'll Make You Believe In Love
Even though none of us could walk away with Peter Kavinsky as our boyfriend, Lara Jean did. And what a pair they made (aka, the cutest).
8. Peter & Lara Jean Are The New Ariana Grande & Pete Davidson
Again, that damn Kavinsky is hard to resist. No wonder anyone with that type of swagger could steal our hearts as well.
9. Did We Mention The Hot Tub Scene Though?
And BDE, you say? That hot tub scene was the BDE-est.
10. He's Great Phone Background Material
Lara Jean and Peter Kavinsky made sure to make their fake relationship official with their cell phones. Unfortunately, it's not that simple in real life, sorry girl.
11. Peter Is So Good, It's Impossible To Pick A Best Moment
This one sparked debate, because any Peter Kavinsky moment is a great Peter Kavinsky moment. But this is a pretty fair roundup (although the omission of the way he says "Girl come on, you know I already got it" is pretty egregious).
12. The Way He Looks At Lara Jean
The looks! The smolder! It's almost too much.
13. He's A Considerate Pillow Fighter
A man who knows how to save the popcorn and then commence a pillow fight is the right one. Peter Kavinsky is definitely the one.
14. It's Impossible Not To Fall In Love With Him
It's hopeless to resist. Just go with it, don't fight.
15. He's So Into Lara Jean, It's Adorable
Because of this newfound need to be with Peter, everyone was just screaming as soon as this part happened. Lara Jean, please open your heart to this boy; he just wants to love you!
16. He Makes Mundane Comments Super Romantic
Boy has game, and also makes your heart melt with just a little line like this one. It's almost like pure magic.
17. We All Deserve A Peter Kavinsky
Yes. Yes we do.
18. He "Already Got It"
Again with the ranking, but instead this one does include "I already got it." Accurate!
19. He's "Never Second Best"
Oh, another line? "You were never second best," with all the agony in his voice will haunt you and kill your heart every time.
20. He'll Buy You Yogurt
If your significant other doesn't do this, are they even your S.O.? They certainly aren't a Peter Kavinsky.
21. He's The Only Pure Man In The World
Peter Kavinsky has not only united the internet, but also given all of us a new hope in love. What a cinematic hero.