Officials Arrested This Woman For Rescuing & Treating Pets During Hurricane Florence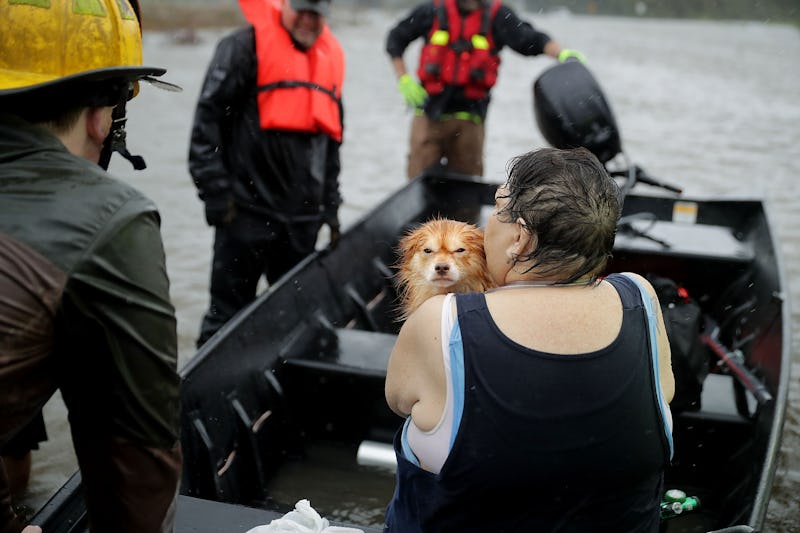 Chip Somodevilla/Getty Images News/Getty Images
The founder of a non-profit animal shelter came under scrutiny after she reportedly sheltered and took care of 27 animals in the wake of Hurricane Florence. North Carolina's Tammie Hedges' animal rescue attempt led to her being arrested after a Wayne County Animal Services official "developed serious concerns" on a visit to her shelter "Crazy's Claws N Paws" in Goldsboro, according to The Washington Post.
Per The Post, Hedges was taking care of a total of 10 dogs and 17 cats after Florence hit North Carolina. This reportedly took place in a warehouse that Hedges temporarily restructured to take in pets that were either displaced by the hurricane or surrendered by owners who were unable to take them as they evacuated their homes.
According to Wayne County spokesman Joel Gillie who spoke with The Post, the county had room for taking in displaced animals. On the county's Facebook page, though, it gave a caveat: the shelter would not take animals surrendered by pet owners.
A volunteer for Hedges' non-profit, Kathie Davidson, told The Post that the animals were either ill or injured. In one case, Davidson said Hedges used an ointment to presumably heal a cat with a bleeding neck. This attempt, along with a few others, to help a wounded animal was viewed as violation of law by Wayne County officials. Bustle has reached out to the Wayne County Sheriff's Office for comment.
The Post reported Hedges faced 12 charges, but most notably she was charged with administering veterinary medicine without an official license. Hedges was arrested on Sept. 21, according to the newspaper. In an updated statement on Facebook on the same day, Hedges' non-profit said that she had been released on a $10,000 bond.
In comments to The Washington Post, Davidson said that the hurricane left Hedges with no other choice but to help the animals. "She had to do what she did," Davidson said. "If she hadn't done what she did, then they'll be charging her with animal neglect and cruelty. The Wayne County animal shelter has taken issue with that because it wasn't a hundred percent by the book and by the law."
"What was she supposed to do?" Davidson said. "The animals were sick and hurting."
On the Facebook page for her non-profit, Hedges wrote, "Myself, along with independent rescuers, and volunteers came together during this natural disaster to save animals. We had a plan. We had the calls for help, but we didn't know where to put the animals."
While local authorities may not have commended Hedges' animal rescue plan, other observers showered her with praise. So far, a GoFundMe post created for Hedges by Raina Nyliram has exceeded its $20,000 goal.
In another petition created anonymously on Care2's website, over 13,000 people have signed the call not to penalize Hedges. In the post, signatories said that Hedges "works with struggling low-income families by helping them to pay veterinary bills, buy pet supplies, and assisting with other needs."
While talking to The Washington Post, Davidson remained unwavering in her support for Hedges. "She loves animals and wants to help them," Davidson said. "She takes it to heart. She cries for days when she loses an animal."
"We just want to go back to what we do," Davidson added. "That's our mission now, to get past this, to get back to doing what we do."