North Korea "Sentenced" Trump To Death After He Called Kim Jong Un "Short And Fat"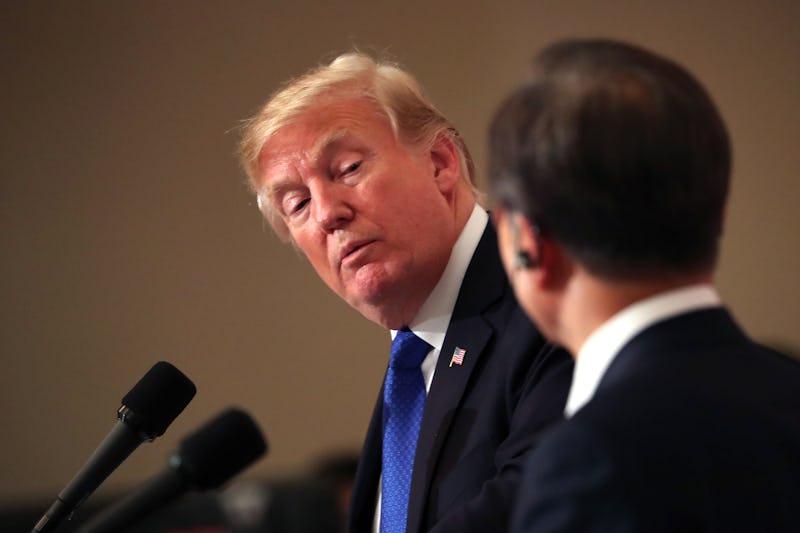 Chung Sung-Jun/Getty Images News/Getty Images
As President Trump's 12-day tour of Asia came to a close, it was unclear what tangible progress he made toward deescalating U.S.-North Korea tensions. President Trump calling North Korea a "cruel dictatorship" while in South Korea, and sarcastically tweeting that he would never call Kim Jong Un "short and fat" didn't help smooth things over, either. Now, a North Korean state newspaper "sentenced" Trump to death for his jabs at the nation's supreme leader.
"The worst crime for which he can never be pardoned is that he dared [to] malignantly hurt the dignity of the supreme leadership," read an editorial in Rodong Sinmun, the official paper of the Central Committee of the Workers' Party of Korea. "He should know that he is just a hideous criminal sentenced to death by the Korean people."
The editorial also criticized Trump for not visiting the demilitarized zone (known as the DMZ) serving as the border between the two Koreas. Although U.S. officials typically tour the area when in South Korea, a White House official told CNN last month it was unlikely the commander-in-chief would go due to scheduling conflicts.
Rodong Sinmun saw it as a sign of weakness, however.
He was just too scared to face the glaring eyes of our troops.
Since taking office, Trump has continuously tweeted about the threat North Korea poses to the U.S., calling it a "rogue nation" and an "embarrassment to China." The unfiltered tweets led some to worry that World War III would start on Twitter if the president continued to taunt Kim.
Those fears were intensified during Trump's Asia tour, when he posted:
Why would Kim Jong-un insult me by calling me "old," when I would NEVER call him "short and fat?" Oh well, I try so hard to be his friend - and maybe someday that will happen!
His sarcasm was a direct response to a statement from North Korea's Foreign Ministry calling Trump an "old lunatic." The statement added that Trump's "reckless remarks" make North Korean leaders:
...more sure that our choice to promote economic construction at the same time as building up our nuclear force is all the more righteous, and it pushes us to speed up the effort to complete our nuclear force.
All the back and forth sent mixed messages about how Trump was dealing with North Korea. The same day, Trump said during a news conference in Vietnam that he would like to friends with Kim, even though it "might be a strange thing to happen."
The goal of the president's five-nation tour of Asia, in part, was to work with other nations to stop North Korea from building up its nuclear arsenal. And despite insulting the nation's leader online and subsequently being "sentenced" to death, Trump believes he made progress on the trip — in fact, he called his tour of Asia successful in two separate tweets within 24 hours of returning to Washington.
"Our great country is respected in Asia," Trump tweeted Wednesday morning. "You will see the fruits of our long but successful trip for many years to come!"
White House Counselor Kellyanne Conway mimicked Trump's belief, telling ABC News' This Week that Trump's tweet calling Kim "short and fat" was justified since he was insulted first. She added that people should look at the full context of the trip, not just the battle of words between the two world leaders. "The president is very focused on global security and combating terrorism and most importantly, containing a nuclearized North Korea," she said.
Trump has yet to comment on being "sentenced" to death.