Kellyanne Conway Says Trump Called Kim Jong-Un Short & Fat Because Kim Started It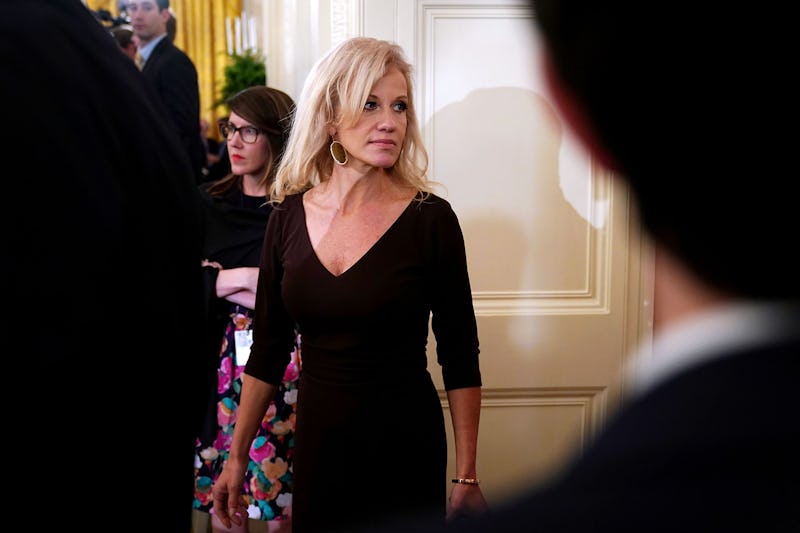 Chip Somodevilla/Getty Images News/Getty Images
President Donald Trump only insulted North Korean leader Kim Jong Un because he'd insulted him first, White House Counselor Kellyanne Conway said Sunday in an interview on ABC News' "This Week." Trump's recent underhanded insult of the North Korean dictator has brought the two leaders' ongoing war of words to sarcastic new levels.
"Why would Kim Jong-un insult me by calling me 'old,' when I would NEVER call him 'short and fat?'" the president wrote in a tweet published to his official account Saturday. "Oh well, I try so hard to be his friend - and maybe someday that will happen!"
Amid criticisms he was once again harming the US' already fragile relationship with Pyongyang, Conway defended President Trump's latest barb. "That was the president just responding the way he does to someone who insulted him first," Conway told ABC News' "This Week."
When asked if the tweet was helpful, Conway moved to redirect focus to the overall nature of Trump's trip. "What's helpful in full context is a 13-day trip where the president is very focused on global security and combating terrorism and most importantly, containing a nuclearized North Korea," Conway said. "I look at the full context of his trip."
Trump's tweet was reportedly a response to a statement issued by North Korea's Foreign Ministry after Trump warned Pyongyang not to underestimate or try the United States in a speech before South Korea's National Assembly.
"The reckless remarks by a dotard like Trump can never frighten us or put a stop to our advance," North Korean state news agency KCNA reported a spokesperson for the country's Foreign Ministry had said in response to Trump's speech. According to Vox, the word dotard translates in Korean to mean "old lunatic."
Although Trump claimed he was trying "so hard to be [Kim's] friend" in his tweet Sunday, this isn't the first time Trump has traded insults with North Korea's dictator. In July, Trump publicly pondered if Kim didn't "have anything better to do with his life" than attempt missile launches in a tweet. And earlier this fall Trump referred to Kim as "rocket man" and "little rocket man" on multiple occasions, including during a speech to the United Nations General Assembly on Sept. 19.
"The United States has great strength and patience, but if it is forced to defend itself or its allies, we will have no choice but to totally destroy North Korea," Trump told the UN. "Rocket Man is on a suicide mission for himself and for his regime."
On Sept. 21, just two days after Trump's UN speech, Kim issued a rare statement via the North Korean state news agency KCNA in which he called Trump "mentally deranged," "unfit," and "a rogue and a gangster... rather than a politician." Kim went on to refer to Trump as a hard of hearing "dotard."
In a tweet published on Sept. 22, Trump responded by claiming Kim "is obviously a madman."
Yet just a few hours after indirectly calling Kim "short and fat" over Twitter, Trump stressed the need for "progress, not provocation" during a press conference in Vietnam. Trump said the United States wanted "stability, not chaos" and "peace, not war." At that same press conference the president also did not rule out the possibility of becoming friends with the North Korean dictator.
"That might be a strange thing to happen but it's a possibility," Trump said. "If it did happen it could be a good thing, I can tell you, for North Korea. But it could also be good for a lot of other places and be good for the rest the world. It could be something that could happen." Although the president stressed he didn't know if such a friendship would happen, he said "it would be very, very nice."