NPR Tweeted The Declaration Of Independence & Some People Got Really Upset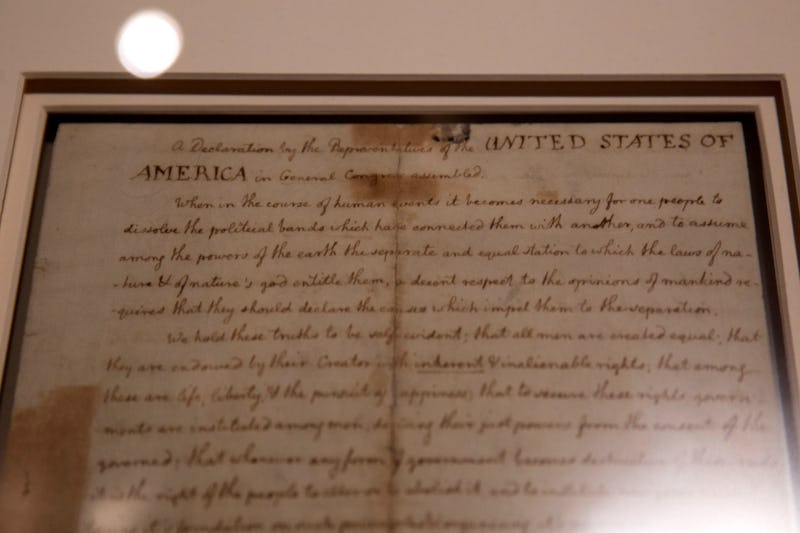 Dan Kitwood/Getty Images News/Getty Images
NPR's Fourth of July tweets caused much confusion among a certain segment of public radio opponents on Wednesday afternoon. In celebration of the founding of America, on Tuesday, the radio broadcaster tweeted the entirety of the Declaration of Independence. But some on Twitter accused NPR of provoking violence, or, as other media outlets pointed out, calling for Trump's removal.
While tweeting the famous founding document, NPR received several hateful tweets that ranged from "Horsechit" [sic] to "Glad you are being defunded. You have never been balanced on your show." (Note that NPR is not a "show," but a syndicator to a network of affiliates.) According to Minnesota Public Radio, another Twitter user even called the Declaration of Independence "trash."
"Seriously, this is the dumbest idea I have ever seen on Twitter," one user said in response to NPR's Declaration of Independence tweets. "Literally no one is going to read 5000 tweets about this trash."
A particularly explosive quote from the Declaration of Independence was a line, referring to Britain's King George III, that stated: "A Prince whose character is thus marked by every act which may define a Tyrant, is unfit to be the ruler of a free people." According to BuzzFeed News, it received the most likes, retweets, and responses.
The tweets referring to NPR's potential defunding allude to proposals in President Donald Trump's budget to slash federal funding to public media to nothing. However, according to a Fortune report, the national radio syndicate does not depend much on federal funding for in its revenue model; only a mere fraction — 1 percent — of NPR's revenue comes from the government. According to heads of the Corporation of Public Broadcasting, which funnels government money to public media, smaller regional radio stations would be the hardest hit.
Patricia Harrison, president and CEO of the Corporation for Public Broadcasting, said in a statement back in May:
Local public media stations, beginning with those serving rural communities and small towns, would cease to exist. Ultimately what would also cease to exist is high-quality commercial free early childhood content focused on educating our youngest citizens, and access to lifelong learning for all.
According to public media advocates, the Corporation of Public Broadcasting, which is involved with public television as well as radio, cost each citizen about $1.35 per year.
As for the negative replies to NPR's Declaration of Independence tweets, many have been deleted from Twitter. But their impression lives on, with many on Twitter noting how they could not believe that this historical founding document's words could have been mistaken.