Joey Fatone's Latest Comments Will Get You Excited About A Potential *NSYNC Reunion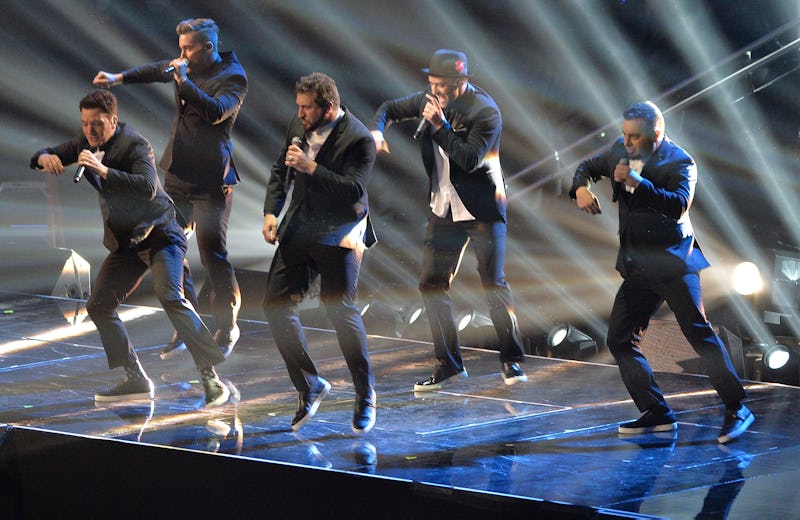 Rick Diamond/Getty Images Entertainment/Getty Images
Hot off the heels of the news that Justin Timberlake will be performing at the 2018 Super Bowl halftime show, speculation arose as to what exactly his halftime show will entail. And in a recent clip from TMZ regarding the upcoming Super Bowl, Joey Fatone mentioned that *NSYNC could potentially reunite, seeing as though he and Timberlake were formerly topping the charts together in the boy band. Um, yes please! Whoever's in charge of securing talent for the game needs to make this happen.
When asked whether he was interested in some kind of collaboration at the Super Bowl, Fatone replied, "If it's right, then we do it. If everybody can't do it, then we don't do it." That's totally fair. The only right way to do it would be to have a reunion where everyone from the band is involved. Fatone even mentioned that it's similar to when the band reunited at the MTV Video Music Awards in 2013. Everyone reunited then, which is why it was so awesome. If it isn't the whole group, it's not exactly a reunion of *NSYNC more than it would be a collab between Timberlake and a couple of his former *NSYNC bandmates.
Fatone also joked around that the group has "done the Super Bowl before", and they did perform during the halftime show before in 2001. Clearly, Fatone's comments aren't a confirmation of *NSYNC actually reuniting at the Super Bowl, and even if they do end up performing alongside their former fellow boy bander, fans probably won't know it until it actually happens. Though, Fatone also didn't outright deny the possibility of a collaboration and is obviously open to it, which is a good sign that *NSYNC fans could see a live rendition of "Bye Bye Bye" at the biggest game of the year.
Fatone isn't the only member of the band to recently talk about the group reuniting at some point. When asked about whether a reunion tour would happen with the group, Lance Bass told InStyle in September 2017 that, "anything is possible." A whole tour may not be on the horizon anytime soon, but since Timberlake's halftime performance is coming up soon, it makes sense that it would just be the perfect time for a reunion if everyone is open to it.
This wouldn't be the first time that *NSYNC reunited for a show-stopping performance. As Fatone touched upon in the clip from TMZ, the crew reunited at the MTV Video Music Awards in 2013 and performed a rendition of some of their popular hits. Whoever is organizing the Super Bowl performance should take note, even Taylor Swift and Lady Gaga couldn't help but jam out along during this exciting reunion.
While this performance was one of a kind in that it reunited the band for a live performance, it's not like the men of *NSYNC haven't kept in touch over the years. The guys got together in August 2016 to celebrate JC Chasez's birthday, as seen in Timberlake's Instagram photo, below.
Even though it wasn't another performance, fans of the band were still stoked to see the band back together like this. One fan commented on the Instagram photo with, "STILL ICONIC". Another fan wrote, "What a flash back of you guys! ... #reunion?" It's safe to say that fans would be totally down for the band to join Timberlake when he takes the Super Bowl stage.
It might sound like a long-shot right now, but it's not like this kind of musical reunion hasn't happened before. In February 2013, Beyoncé put on a spectacular performance during the big game and her former girl group Destiny's Child made a triumphant reunion during the show, making the crowd go wild. The group sang "Bootylicious" and "Independent Women Part I". It was a Super Bowl performance for the ages.
Super Bowl performances of years past have also had their fair share of special guests, like when Missy Elliot joined Katy Perry on stage or when Nicki Minaj and M.I.A. sang along during Madonna's set. There's definitely some precedent for having special guests and reuniting with your former bandmates, so it's not so out of the realm of possibility for *NSYNC to reunite alongside Timberlake. Honestly, it would tear up some hearts if this Super Bowl reunion didn't happen.