Stop Everything: *NSYNC May Be Reuniting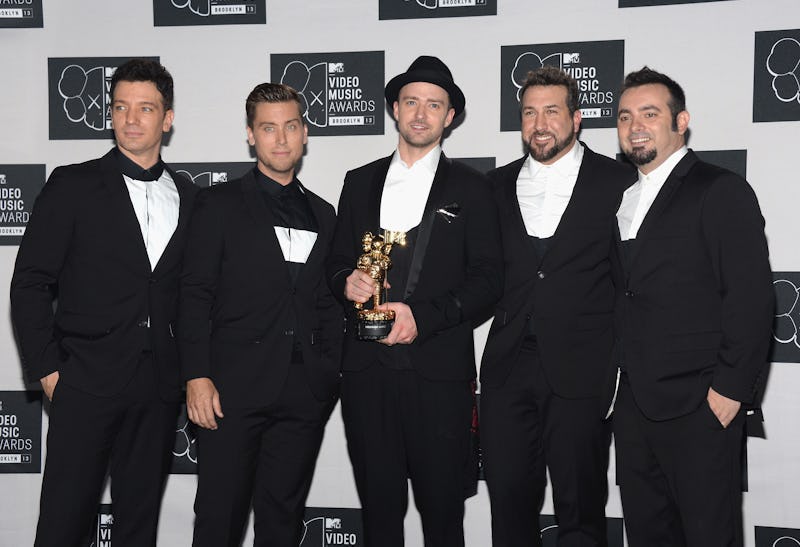 Jamie McCarthy/Getty Images Entertainment/Getty Images
This is not a drill: *NSYNC is reportedly reuniting. Well, sort of. Lance Bass told Entertainment Tonight that the former members are planning a special music release for the upcoming anniversary of Home For Christmas, which hits its 20-year mark in November 2018. They're also organizing a reunion appearance to receive a star on the Hollywood Walk of Fame. Bass told ET:
"We're coming out with a really cool vinyl edition of our Christmas album because it's coming up on the 20 years of that [1998 Home for Christmas] album. And then we're going to be getting our star on the [Hollywood] Walk of Fame this year at some point."
The singer explained that the only holdup is the boys' lack of organizational skills, as they've yet to decide on a date:
"We're terrible at planning things ... We're five guys, so for us to make a decision about anything is really hard, so we just need to do it. So hopefully maybe around Christmas time. It'll be fun to see everybody again."
Another big reveal from the interview? Bass and the guys — Justin Timberlake, Chris Kirkpatrick, Joey Fatone, and JC Chasez, lest you ever forgot — talk daily. Even 15 years after they announced their indefinite hiatus, they're still close as ever. My elementary school heart just melted.
"I would have to shoot you if you saw the stuff we wrote to each other," Bass told ET. "We bag on each other all day long. We find pictures on Instagram of us from the '90s and so we're always giving it to each other ... those guys are my brothers and so we act like immature brothers all the time."
It's pretty impressive that they manage to talk so often despite their busy schedules. Timberlake is a certified megastar, Chasez has been active on television, Fatone is a regular TV host, Kirkpatrick has built a career in voice acting, and Bass recently launched his own dating show and is currently competing on My Kitchen Rules.
Their reunions may be few and far between, but it's touching that they make the time to stay good friends along the way.