Military Men Are Reportedly STILL Sharing Nude Photos Of Their Female Colleagues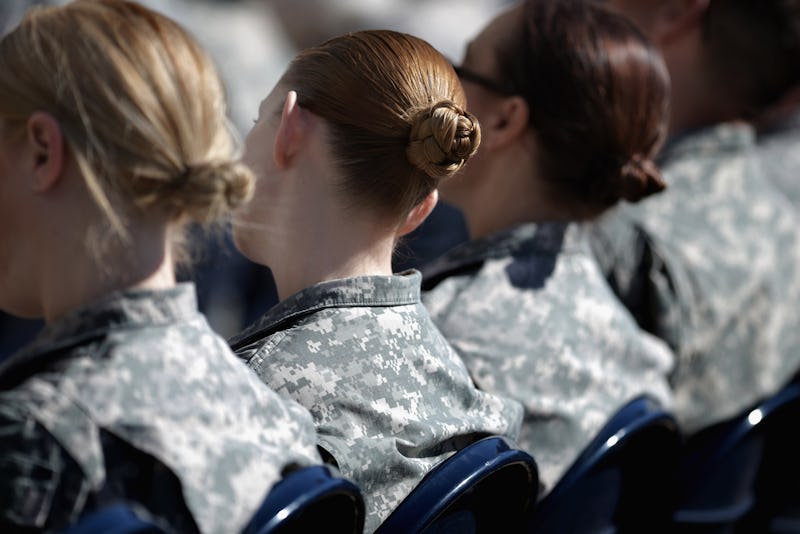 Chip Somodevilla/Getty Images News/Getty Images
Despite a number of media reports, policy changes, an investigation by the Department of Defense, and even one Marine being punished in a summary court-martial, sexually explicit photos of female service members continue to be posted and shared online. According to a new report from VICE News, hundreds of naked or half-naked photographs of female service members are currently being shared online via a Dropbox folder.
A Dropbox folder named "Hoes Hoin" reportedly contains more than 250 images of women who, according to VICE, appear to serve in all branches of the U.S. military. Despite the sexual nature of the photographs — the majority feature women semi- or fully naked — their subjects remain largely identifiable, VICE reported.
In some of the photos, the woman depicted is engaging in a sexual act. Others are reportedly selfies or nude photos taken by another person, while others are side-by-side comparisons of the same woman in uniform and naked. There are reportedly three subfolders named for specific women within the Dropbox folder.
According to VICE, a link to the folder was first shared in February on a private men-only Facebook group named "Blame Marines United (Non-Butthurt Edition)." Marines United was a private Facebook group that was exposed by the nonprofit news organization The War Horse in March of 2017 for posting explicit photographs of female service members without their knowledge or consent. The group was quickly shut down, although groups with a similar agenda continue to pop up. In fact, according to VICE, some administrators behind the Facebook group where the Dropbox folder was first shared earlier this year were also administrators for the original Marines United group.
"Blame Marines United (Non-Butthurt Edition)" was shut down by Facebook on Tuesday after former Marine Sgt. and cofounder of the advocacy group #NotinmyMarineCorps, Erin Kirk-Cuomo, filed a complaint with the social media network.
This latest report comes almost exactly one year after the Department of Defense began investigating reports alleging servicemen were posting explicit images of female colleagues — including some taken without the women's permission or knowledge — online. According to Reveal News, explicit photos of female Marines began being posted to a private Facebook group known as Marines United and a military forum on Anon-IB, an image-sharing message board mainly used to share non-consensual photographs of naked or half-naked women. The images are believed to have begun popping up online shortly after female infantry Marines were assigned to an infantry battalion for the first time in U.S. history in January of 2017.
The Marines reportedly aren't the only ones found to be exposing female service members. In January, The Daily Beast reported IP addresses linked to Navy computers had been used to access Anon-IB up until as late as the end of 2017. Posts made from IP addresses registered to Navy computers included one teasing nude pictures of a female service member and several asking other users to share any explicit images they may have of specific women, the report said. According to the U.S. Navy, using Navy IT resources to access pornography constitutes a violation of the Uniform Code of Military Justice.
Moreover, women in industries beyond military service are also being targeted in similar acts of revenge porn. Two now-former House of Representative staff members were indicted in July for allegedly posting nude photographs and an explicit video of a congresswoman online without her knowledge or consent. One of those staffers was sentenced earlier this week to a prison sentence of nearly two years on charges of conspiracy and cyberstalking, the Washington Post reported.
However, so far, few service members appear to have been disciplined for sharing explicit photographs or videos of their female colleagues, and even when they are the punishment appears light. One Marine who pleaded guilty to posting explicit images in the Marines United Facebook group was sentenced to 10 days of confinement, downgraded by three ranks, and forced to take a two-thirds cut in pay for just one month.
According to the veteran news site Task and Purpose, only 55 Marines have been disciplined for what the military calls "social media misconduct." And so it appears that despite the Department of Defense's investigation and a move to criminalize the act through a policy change, a number of service members appear to have continued to share explicit photos of their female colleagues online.