Nutella Just Launched Limited Edition Holiday Jars — Here's Where To Find Them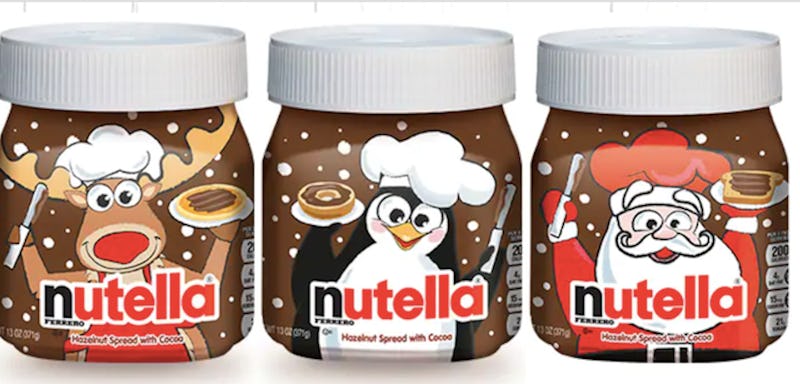 Nutella
The best gifts are sometimes the ones you didn't even know you wanted. Kicking off the jolly season of giving is an early present from everyone's beloved spread. It's not a holiday inspired flavor being bestowed upon our pantry. This time it's the wrapping that's the gift. The new Nutella holiday jars are here, and they're the best gift I could ever ask for. Because, well, just look at them.
Is this not Christmas music to your ears? The recently debuted jars will be around for a limited time only. That said, it would be in your best interest to collect them all while they're still in stock. Because I am almost positive that a Nutella jar with a penguin in a chef's hat who has prepared what seems to be a bagel slathered in Nutella will sell out as soon as possible. I'm practically half way out the door on my way to get one right now.
Joining the penguin in this festive crew is Santa Claus and a reindeer, who appears to have the same red nose as Rudolph. Both have prepared toast smeared in Nutella. Both don a chef's hat. And the entire crew are surrounded by falling snowflakes. If Nutella in its standard form makes you happy, prepare to be put into a more jolly ~spirit~ when it's packaged in these new, limited time holiday jars.
Because Nutella itself is perfect, let's be clear that what's in these holiday jars is the same as any other year round jar of Nutella. You'll be digging your spoon into the familiar, dreamy chocolate hazelnut spread. It's only the outside that's be given a cheerful makeover. Which is delightful for many reasons, especially if you tend to turn your home into a North Pole annex the day after Thanksgiving. These jars can help with that.
Though they're not actual ornaments to decorate a tree with, Santa Claus in a chef's hat counts as holiday decor. Meaning, don't waste it once you're through with your jar (which, realistically, will be very quickly). Instead, wash it out and use the jar to hold a bouquet of candy canes! Such creativity will practically get you hired to work in Santa's workshop.
In addition to the limited time holiday jars, Nutella is also lighting up our lives with mini Nutella jars, capped with a red or green top. These are, of course, the perfect stocking stuffer. Why not stuff an entire stocking entirely with mini Nutella jars? That's one way to tell someone you love that they've been very, very, very nice this year.
Per Nutella, customers should be able to find these jars at participating major retailers nationwide — and, for what it's worth, versions of the red and green top ones do appear to be on sale right now on Amazon. Otherwise, check the spreadable and seasonal aisles of your local grocery!
The Nutella holiday craze does not stop at red and green capped mini jars. Without spreading the chocolate-hazelnut too thin, Nutella has also opened a cafe in New York City. This paradise — I mean, cafe — opened its glorious, golden gates — I mean, Nutella jar shaped door — on Nov. 14. Inside is a wonderland of all things Nutella. Bustle's own Emma Lord checked out Nutella's new digs in Union Square.
On the menu? Grilled banana bread drizzled with Nutella. Frozen Nutella pops. A hazelnut blondie. And a create-your-own station to end all create-your-own stations. Planning your trip to NYC yet? An additional perk to your Nutella Cafe ~experience~? Beyond sitting down to fill up, you can also complete some holiday shopping.
The cafe doubles as a gift shop full of merchandise for the Nutella stans in your life. You'll find mugs and gift sets. Emma reports amongst these options are, "Nutella jars that say "New York" and "I love you" on them." 'Tis the season to get nutty for the holidays.