NYX Is Launching 3 Brand New Lip Products & They're All Under $10 — EXCLUSIVE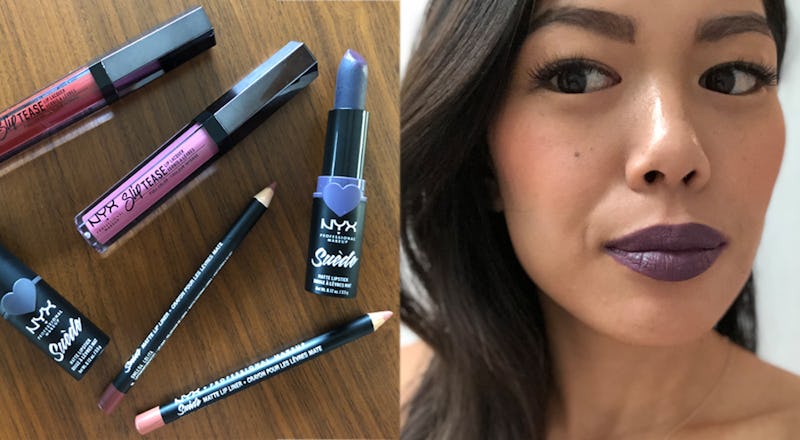 Sara Tan
If you have used any NYX Professional Makeup products, you are fully aware that their lippies are near perfection. From their jumbo lip pencils to their soft lip creams, NYX has truly figured out how to create some of the best lip formulas for gals and guys on a beauty budget. And because they can't be stopped, the major makeup brand is launching not one, but three new lip products, just in time for summer. On June 21, NYX will launch Slip Tease Full Color Lip Lacquer, Suede Matte Lipstick, and new shades of their Suede Matte Lip Liner. Oh, and here's some more exciting news — they all won't cost you more than $10. If you're wondering what sets these new products apart from the rest of the lip creams, lipsticks, and lip liners in NYX's line-up, I tested them to find out.
The Suede Matte Lip Liner is technically not anything new, but now they come in 72 (!!!) colors. Did you even know there were 72 possible lip shades that you could wear? Basically, if you're wearing a lipstick, no matter the brand, there is a very, very good chance NYX will have a lip liner to match it — and what's more annoying than not having a lip liner to match your lip color? But besides having a broad range of shades, the Suede Matte Lip Liner's formula is worth celebrating alone. It's smooth and velvety, like suede (hence the name), has a ton of pigment when applied, and leaves a matte finish on your lip. There's nothing fancy about the actual pencil (you can sharpen it when it becomes dull) but it gets the job done, and at $4 a pop, no less.
The Suede Matte Lip Liner was such a hit, it inspired an entirely new product — the Suede Matte Lipstick. It's a brand new formula that was created to match how the lip liner looks and feels — matte and velvety. They come in 24 shades (which all have matching lip liners, duh), ranging from a light nude to a dark olive. In other words, no matter the look you're trying to achieve, they've probably got a color for you. Although it is a powdery-matte finish, it still feels super soft and lightweight when you wear it, so it's a great option for summer if you're looking for a comfortable matte lip. And because NYX doesn't skip on packaging details, the case is adorbs — it's got a matching heart on the front, perfect for social media snaps and being able to quickly identify what color the lippie is.
This product is currently available at all NYX Professional Makeup stores and will be available to purchase on NYXCosmetics.com on July 3.
Last, but certainly not least is the Slip Tease Full Color Lip Lacquer. When you open the tube, you'll be hit with a subtle, but yummy vanilla-mint scent — kind of like your favorite flavored lip balm growing up as a kid. But there's nothing childish about the way this formula looks and feels. It's super pigmented for a lip color that feels light on and leaves a glossy finish, but it's also not a lip gloss. It's more of a comfortable, pigmented liquid lip that's got some shine to it. I usually like to wear a coat of clear gloss over a lipstick during the warmer days, to sheer out the color and make my pout look a little more hydrated. This lip lacquer formula cuts that process in half. It also features an hourglass-shaped lip applicator — round at the top and thin in the middle — that makes putting this on super easy. You won't need a mirror and because it's so rich in color, one swipe will do.
If you're looking for some fun lippies to include in your everyday makeup rotation for summer (or year-round), these new NYX lippies are a great addition. And thanks to its affordability, you can treat yourself to more than just one shade or experiment with new colors you may not have thought you could pull off before.