Bustle's Beauty Editors Tested A New $8 Concealer — Here Are Our Thoughts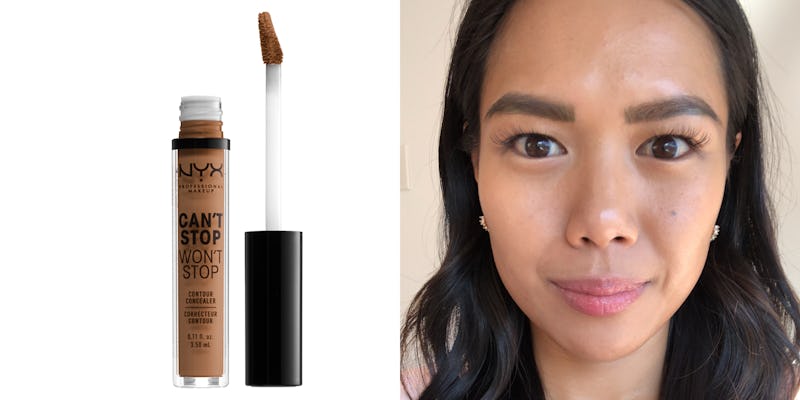 NYX Professional Makeup/Sara Tan
If there is one makeup product I get asked most about as a beauty editor, it's definitely concealer. After all, it can be a little tricky when it comes to finding one that fits all your needs. When choosing a concealer, there are a lot of factors to consider, from the formula and coverage, to the shade and price point. There are a handful of cult-favorite concealers that beauty lovers swear by, but for the most part, people are still on what seems to be a never-ending quest to find the "perfect" one for every day. With the brand's newest launch, NYX Professional Makeup hopes to end that search.
On Wednesday, Nov. 28, the L.A.-based, influencer-loved brand launched its Can't Stop Won't Stop Contour Concealer, a creamy, lightweight formula that is an extension of the brand's popular foundation of the same name. The concealer can be used with foundation or alone, as a tool to cover up blemishes or highlight and contour the skin. It has a blendable, matte finish that can allegedly last for up to 24 hours and comes in 24 different shades.
The Can't Stop Won't Stop Concealer boasts a lengthy list of promises, so the beauty team at Bustle decided to put it to the test.
Here's what five different beauty editors thought of NYX Professional Makeup's newest concealer product.
Sara Tan, Senior Fashion & Beauty Editor
Can't Stop Won't Stop Shade: Medium Olive
First off, my review. I don't usually wear concealer (unless I need it to cover up blemishes) because I often find that many are too thick and cakey, and I prefer face makeup that leaves a lightweight, dewy finish. I was seriously impressed with Can't Stop Won't Stop, however — it felt much lighter than many other concealers I've tried before. I was also able to use my fingers to blend it into my skin, which was a major plus. I applied it under my eyes, on my forehead, and under my nose. Although it has a matte finish, it didn't feel drying at all and as promised, it lasted all day. I will definitely be using this concealer when I don't feel like wearing a full face of foundation.
Kara McGrath, Executive Editor, Fashion & Beauty
Can't Stop Won't Stop Shade: Natural and Alabaster
Kara McGrath also loved the formula of this concealer. "It's suuuuper creamy, and easy to blend using just your finger! It gives medium coverage, which worked great for my undereyes (the only place I usually wear concealers) because it didn't look cakey," she shares. McGrath did have to mix two shades — Natural and Alabaster — to get one that fit her skin tone. Otherwise, she thinks this product is a "very good, everyday concealer."
Kayla Greaves, Contributing Fashion & Beauty Features Editor
Can't Stop Won't Stop Shade: Warm Honey
"I must say, this is a good concealer — especially if you're looking for a quality full-coverage product on a budget," Kayla Greaves tells me after she uses Can't Stop Won't Stop for the first time. Like McGrath and me, Greaves also found that the formula was blendable sans beauty sponges or makeup brushes. "It was still super easy to apply just using clean fingers and didn't end up looking streaky or patchy once it dried," she shares. Greaves doesn't wear much face makeup, but plans on using the concealer again to cover future blemishes. "And since it comes in 24 shades, I can comfortably recommend it to others as well," she adds.
Katie Dupere, Associate Fashion & Beauty Editor
Can't Stop Won't Stop Shade: Light Ivory and Vanilla
Katie Dupere is super picky when it comes to concealers, but actually "really liked" this formula. Like McGrath, Dupere used two different shades — Light Ivory "to conceal any spots and redness" and the lighter Vanilla shade "for under-eye coverage." Dupere found the concealer to be full-coverage, so she used a hydrating spray to make sure it blended well on any dry areas. "After application, you could feel that it was tacky enough to grip other product without annoying slippage, making it the perfect base for powders," Dupere adds. She usually feels like her dark circles are still visible even after concealer, but found that Can't Stop Won't Stop really canceled them out. "I will definitely use these again and add them to my regular rotation of more expensive concealers," Dupere shares.
Olivia Muenter, Senior Fashion & Beauty Editor
Can't Stop Won't Stop Shade: Fair
Olivia Muenter says that Can't Stop Won't Stop reminded her very much of a "much more expensive concealer" that she loves and uses regularly. "I used the concealer with no foundation and it was easily blended into the skin with not a lot of effort, which I really appreciated," she says. Is there anything more satisfying than finding a perfect budget dupe? (The answer is no.)
So there you have it, concealer searchers — Can't Stop Won't Stop received stellar reviews across the board, from blendability to coverage. And at $8.50 a tube, there really isn't an excuse to not try it out for yourself.