That Obama Coffee Table Book Everyone Loves Is Sold Out On B&N And Amazon Right Now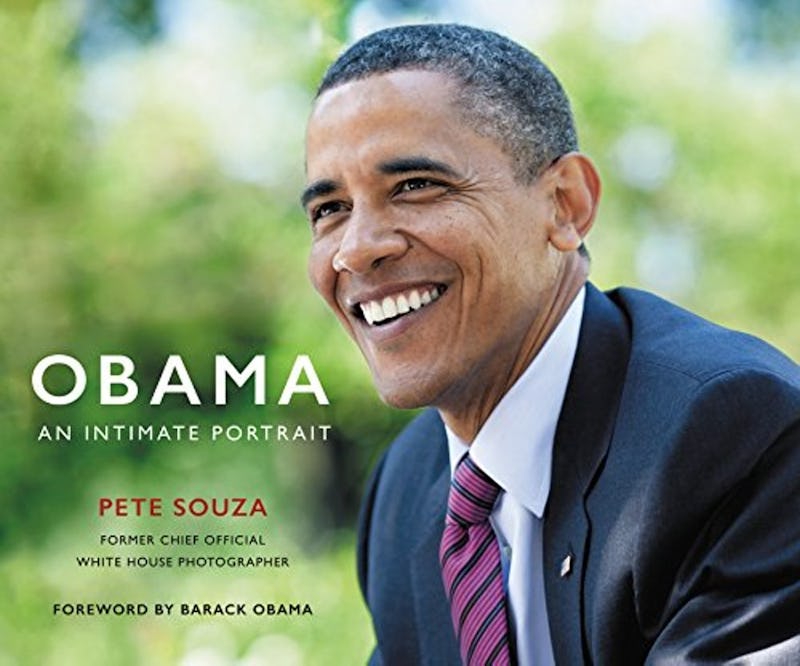 Every holiday season, there are a few hot-ticket items that so many people have on their wish lists, they become nearly impossible to find. This year, one of those items, White House photographer Pete Souza's book Obama: An Intimate Portrait, is so popular, publisher Little, Brown is allegedly struggling to keep up with demand. If you were planning on gifting it this holiday, I hope you already got a copy, because getting your hands on this must-have present will be harder than finding a Hallmark holiday movie that doesn't make you cry. Bustle reached out to a representative of Little, Brown, but had not heard back as of publication time.
A popular item among holiday shoppers, Obama: An Intimate Portrait features hundreds of high-quality photos of America's first black president, making it the perfect gift for politics nerds, history buffs, photography-lovers, or really anyone who misses the days of Obama's White House. The book is so popular, in fact, that according to a report from Publisher's Weekly, independent booksellers had a difficult time getting their hands of new copies over the weekend. As of Monday, even online bookselling giants Amazon and Barnes & Noble listed the title as temporarily out of stock.
A #1 New York Times bestseller, Obama: An Intimate Portrait is a stunning fine-art quality, oversize format, hardcover collectible book with over 300 of White House photographer Pete Souza's most iconic photos of President Obama during his historical time in office. Over the course of eight years, Souza was at Obama's side almost every day and took nearly two million photos of the former president, the best of which he included in his must-have collection. Reproduced in the highest quality, his selections, which include thoughtful captions that explain each scene, range from the most intimate family moments the President spent with his wife and daughters, to the most politically significant ones in the Oval Office. It even features photos of Obama and his closest advisors in the Situation Room during the raid that killed Osama bin Laden, and the moment the president first heard about the Sandy Hook Elementary School shooting. The book also includes a touching foreword from President Obama himself.
Obama: An Intimate Portrait by Pete Souza, $30, Amazon
Emotional and inspiring, Obama is a breathtaking insider look at what life was like for President Obama during his historic tenure in the White House, and it seems like now more than ever, readers are craving the nostalgia it provides. Released November 7, Obama has already sold almost 163,000 copies, according to NPD BookScan data. Last week alone, 24,000 went flying off the shelves as more and more people began to check names off of their holiday shopping lists.
If you aren't one of the lucky ones to have already secured your copy of Obama, Souza's Instagram account is a great place to find stunning photos of the former president. Since leaving the White House, the photographer has been using his personal account to share old photos of Obama, often times as a response to a new story about current president. In a recent post that showed President Obama receiving an update about terror threats to the U.S., Souza took a jab at Trump by including the description "The TV was off and he wasn't tweeting some nonsense," in his caption.
If you are one of the many people trying to make sure Obama makes it under the Christmas tree, you're going to want to put in a pre-order ASAP. Barnes & Noble currently lists the book as available as of Dec. 15, while Amazon lists it as "Temporarily out of stock," and promises to deliver any orders "when available."