Obama's Photographer Is At It Again, This Time Shading Trump's Boy Scouts Speech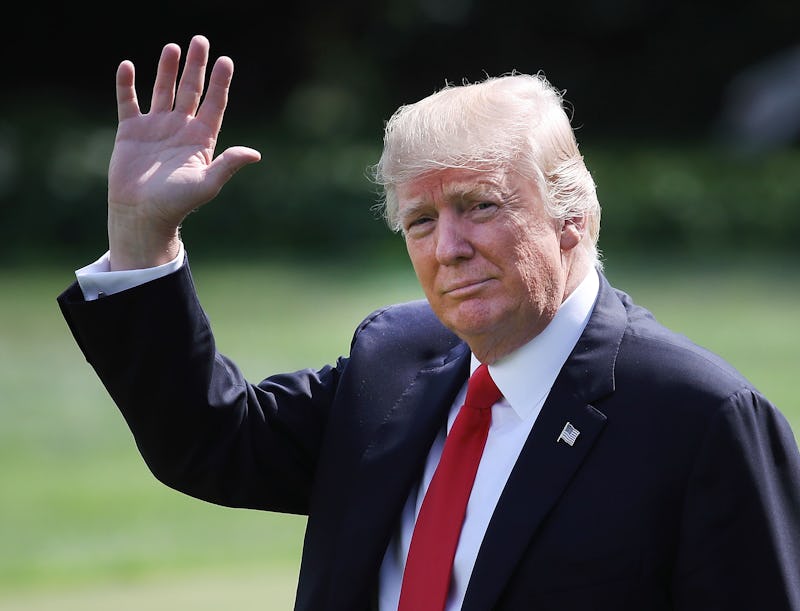 Mark Wilson/Getty Images News/Getty Images
Former White House photographer Pete Souza may not no longer be following President Obama around for perfect candid shots, but that doesn't mean he's stepped aside when it comes to political commentary. After President Trump's politically charged Boy Scouts Jamboree speech, Souza posted a photo of Obama shaking hands with a Cub Scout at the White House on his personal Instagram account, with a caption that read: "I can assure you, POTUS was not telling this Cub Scout and the Boy Scouts who followed about his electoral college victory."
Souza's photo was a not-so-veiled response to Trump's speech to the Boy Scouts of America at the Jamboree event in West Virginia on Monday. In his speech — which was widely criticized — the president said, "Who the hell wants to talk about politics when I'm in front of the Boy Scouts?" He then proceeded to do just that, with topics ranging from his election win, presidential election opponent Hillary Clinton, "fake news," and Obamacare. Trump also joked that he would fire Health and Human Services Secretary Tom Price if the Senate didn't vote to repeal Obamacare on Tuesday.
Trump also called out Obama during the speech, claiming that the former president never visited a Jamboree during his time in office, eliciting boos from the crowd. Obama did not attend a Jamboree, but sent a video in 2010, The Hill noted.
According to the BBC, the Boy Scouts of America holds the Jamboree every four years, and invites scouts aged 12-18 to attend. Reports estimated about 35,000 attended this year.
Some former Boy Scouts reacted angrily to Trump's speech because it talked about politics and his electoral win during his speech. Connecticut Sen. Chris Murphy tweeted, "As a Scout leader, my stomach is in knots about what Trump did today. If you haven't watched it yet, don't. It's icky."
In response, Boy Scouts of America released a statement on Tuesday morning that insisted on its "wholly non-partisan" position:
The Boy Scouts of America are wholly non-partisan and does not promote any one position, product, service, political candidate or philosophy. The invitation for the sitting U.S. President to visit the National Jamboree is a long-standing tradition and is in no way an endorsement of any political party or specific policies.
Over the past few months, Souza has used his Instagram account to call out differences between President Obama and his successor. Souza's take on Monday is right on par with some of his previous comments of Trump. In the past, he's taken aim at Trump's meeting with the Pope, national security practices, and even the way Trump and wife Melania don't hold hands.