Obama Just Got Real About What Makes His & Trump's Vision Of America So Different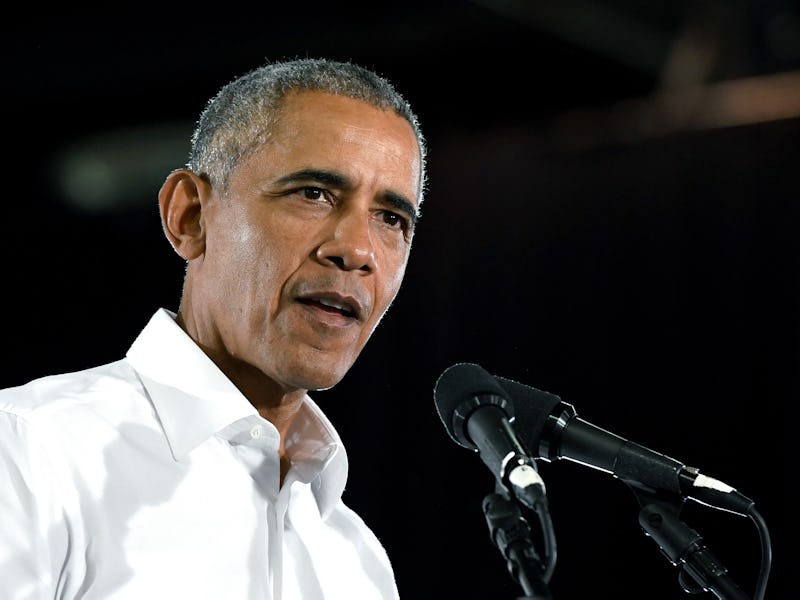 Ethan Miller/Getty Images News/Getty Images
During a recent live taping of "The Axe Files" podcast, former President Barack Obama asserted that Trump's vision of America is "obviously not" reflective of his own vision for the country. Obama's response served to further illustrate the vast differences between the current president and his predecessor.
David Axelrod, the host of the podcast and Obama's former campaign strategist and presidential advisor, interviewed the 44th president in front of an audience at the University of Chicago on Tuesday, CNN reported. During the interview, Obama shared his own vision of the United States, saying:
What's unique about America is our aspirations to be a large, successful, multi-racial, multi-cultural, multi-ethnic, multi-religious, pluralistic democracy.
Axelrod then asked Obama whether he thinks his own vision is representative of Trump's. "No, obviously not," Obama replied. "We have contrasting visions about what America is." The former president then added that, ultimately, he believes his vision for the country has the most support among Americans. As Obama described:
But what I would say is that the majority of Americans believe in that story and there is power in that story ... But as divided as we appear right now ... the truth of the matter is, that the majority of Americans think that people should be judged on the basis of their character, not their color or gender. The majority of Americans believe that ... we should consistently do our best to make sure every child has equal opportunity in this society ...
Obama has also previously implied that he inherently disagrees with how Trump perceives the United States. As Reuters reported, during a press conference on July 22, 2016, then-President Obama responded to Trump and the GOP's vision of America presented the night prior at the Republican National Convention. Obama said that he believes that portraying the United States as harrowing and chaotic doesn't reflect the experiences and opinions of most Americans. Without mentioning Trump by name, Obama asserted (via Reuters):
This idea that America is somehow on the verge of collapse, this vision of violence and chaos everywhere, doesn't really jibe with the experience of most people ...
In his interview with Axelrod, the former president also touched on a host of other issues. He offered extensive praise for Nancy Pelosi, who is currently seeking to become Speaker of the House again, despite objections from some members of her party. "I think Nancy Pelosi, when the history is written, will go down as one of the most effective legislative leaders that we – this country's ever seen," Obama said. "... Her skill, tenacity, toughness, vision is remarkable ..."
Among other interview topics, Obama also expressed his support for ending the Senate filibuster, his indignation at congressional inaction on gun control, and his admiration for the campaign run by the Democratic Texas Senate candidate Beto O'Rourke.
Overall, Obama's interview with Axelrod offered an in-depth reflection on how the former president perceives the trajectory of the United States. The 44th president made it quite apparent that, ultimately, he believes a vision of the country more reflective of his own — and less representative of Trump's — will win out.