Obama Made History With His Beautiful Tweet About Charlottesville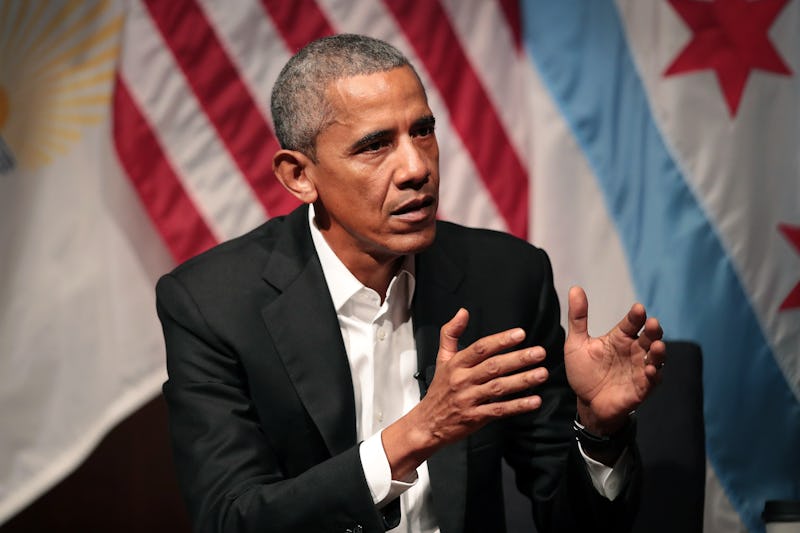 Scott Olson/Getty Images News/Getty Images
Barack Obama may not be in the public eye nearly as much as he was when he held the most powerful position in the country, but the former president has made it a point to console the American people in the wake of national tragedies since he left office. Apparently, his messages are being heard loud and clear — at least, according to Twitter. Obama's response to the Charlottesville violence this weekend is one of the most popular Tweets in history, a fact that underscores just how meaningful his commentary is to many Americans in an increasingly divided nation.
UPDATE: On Tuesday night, Obama's first Tweet following the violence in Charlottesville became the number one most liked Tweet in Twitter's history.
"No one is born hating another person because of the color of his skin or his background or his religion," Obama tweeted, quoting former South African President Nelson Mandela next to a picture of himself smiling at four children.
He continued the extremely relevant quote in a series of Tweets.
People must learn to hate, and if they can learn to hate, they can be taught to love … For love comes more naturally to the human heart than its opposite.
The first Tweet in the series has been liked more than 2.6 million times since Tuesday afternoon. According to Favstar, a site that tracks Twitter popularity, the anti-hate message is the second-most-liked Tweet in the history of the social networking site, falling just behind Ariana Grande's statement about the terror attack at her concert in Manchester, England.
Additionally, Obama's Tweet has been retweeted over a million times, making it the seventh-most-retweeted post in history.
Obama has used the social media platform to send messages of "faith," "love," and "character" to the American people in recent months, often in the midst of controversial issues that have divided national opinion. In June, Obama composed a Tweet about the importance of promoting the Affordable Care Act in the midst of a potential GOP repeal vote, and earlier that month, the he encouraged Americans to commit to "reducing gun violence" on National Gun Violence Awareness Day.
Obama's Twitter account couldn't be more different from the Twitter account of President Donald Trump. While Trump has been quick to rush to the platform to attack members of his own Cabinet and news organizations, Obama's account often offers measured statements that speak directly to the American people about issues that might worry them. If likes and retweets are any indication, Obama's social media use seems to be giving Trump a run for his money.