The Obamas Are "Disgusted" By Harvey Weinstein Allegations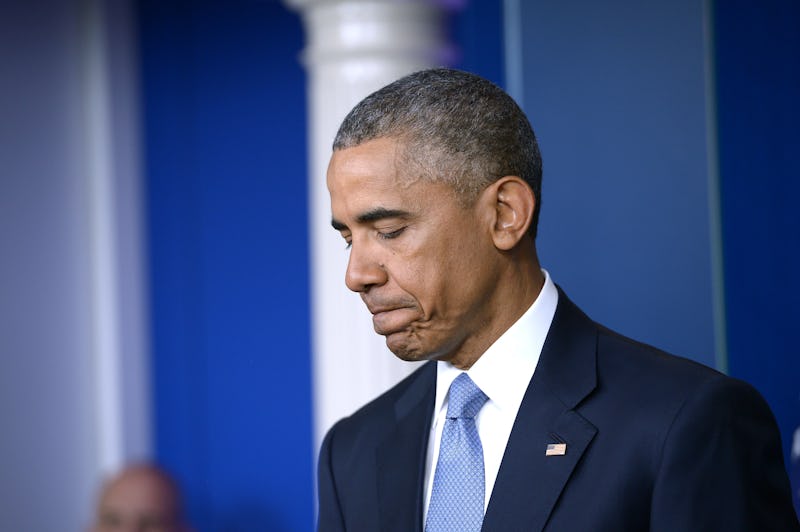 MANDEL NGAN/AFP/Getty Images
On Tuesday evening, former president Barack Obama broke his silence on allegations against Harvey Weinstein concerning sexual harassment. In a statement that condemned Weinstein, Obama said, "Michelle and I have been disgusted by the recent reports about Harvey Weinstein."
"Any man," he went on, "who demeans and degrades women in such fashion needs to be condemned and held accountable, regardless of wealth or status. We should celebrate the courage of women who have come forward to tell these painful stories. And we all need to build a culture — including by empowering our girls and teaching our boys decency and respect — so we can make such behavior less prevalent in the future."
The disturbing allegations of sexual harassment against Weinstein first appeared in a detailed report published by The New York Times on October 5. Weinstein responded by "sincerely" apologizing for his behavior while also claiming that some of the previous allegations were "patently false."
"I appreciate the way I've behaved with colleagues in the past has caused a lot of pain, and I sincerely apologize for it. Though I'm trying to do better, I know I have a long way to go," Weinstein said. The film mogul told TheWrap that he planned to sue The New York Times for apparently not giving him abundant time to respond to the accusations.
On Tuesday, Weinstein's spokesperson Sallie Hofmeister said, "Any allegations of non-consensual sex are unequivocally denied by Mr. Weinstein. Mr. Weinstein has further confirmed that there were never any acts of retaliation against any women for refusing his advances. He will not be available for further comments, as he is taking the time to focus on his family, on getting counseling and rebuilding his life."
A spokesperson for The New York Times responded to Weinstein's declared intention to sue and said, "We are confident in the accuracy and fairness of our reporting. Mr. Weinstein had ample time to respond to specific allegations, which dealt with events that he had first-hand knowledge of, before our story published. We published his entire response, which acknowledges a history he now regrets. But the real issue is whether the story is accurate. Mr. Weinstein has not challenged any facts in our story."
On Sunday, Weinstein was removed from The Weinstein Company after its directors — Lance Maerov, Robert Weinstein, Tarak Ben Ammar, and Richard Koenigsberg — released a statement that said, "In light of new information about misconduct by Harvey Weinstein that has emerged in the past few days, the directors of The Weinstein Company — Robert Weinstein, Lance Maerov, Richard Koenigsberg and Tarak Ben Ammar — have determined, and have informed Harvey Weinstein, that his employment with The Weinstein Company is terminated, effective immediately."
The former president's condemnation of Weinstein is particularly noteworthy as Malia Obama reportedly interned at the film producer's company shortly after Obama ended his presidency this year.
According to TMZ, Obama's daughter was a diligent intern at the company who remained "ensconced in the production [and] development department." It is also important to remember that Malia's internship initiated for The Weinstein Company months before the actual report surfaced.
The former president's statement against Weinstein might allay some of the right-wing speculation that Democrats were supposedly silent about the scathing report against the film producer. A customary glance at social media chatter about the Times' report indicates that a few conservatives have expressed criticism for the initial silence from Obama's end. These observers on the right end of the political spectrum believe that Weinstein, who had been a major donor and fundraiser for Democrats, is being shielded from rebuke by prominent liberals.
If you or someone you know has been sexually assaulted, call the National Sexual Assault Telephone Hotline at 800-656-HOPE (4673) or visit online.rainn.org.